Charlotte Hornets Snap Four Game Skid With Home Win Over the Knicks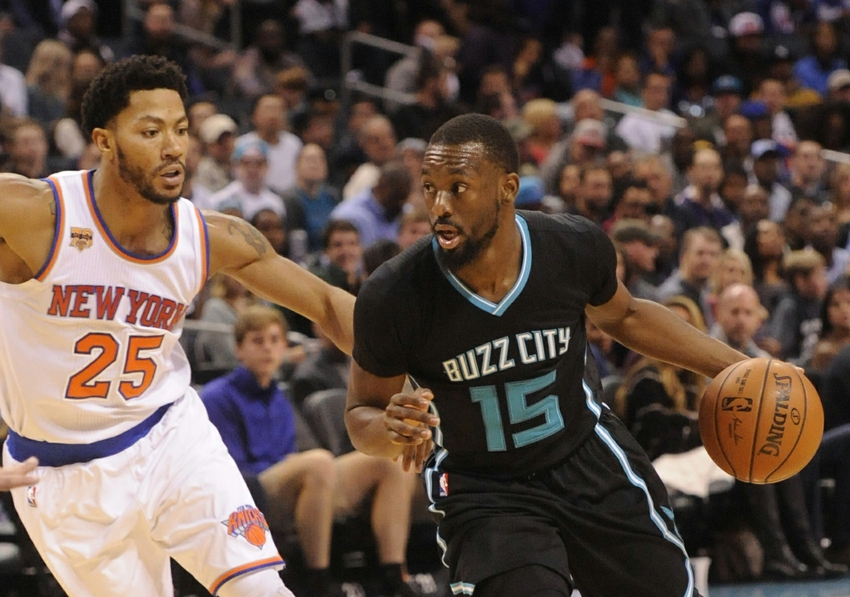 The Charlotte Hornets put an end to their four-game losing streak as they were able to defeat the New York Knicks at home with some help from Jeremy Lamb.
VS.
| | | | | | |
| --- | --- | --- | --- | --- | --- |
| | 1 | 2 | 3 | 4 | T |
| Hornets | 38 | 20 | 17 | 32 | 107 |
| Knicks | 22 | 25 | 24 | 31 | 102 |
The Charlotte Hornets (9-7) defeated the New York Knicks (8-8) to snap their four-game losing streak and get revenge against the team they lost to the night before. In the second game of a home and home series, the Hornets outlasted the Knicks in Buzz City. Despite being shorthanded, Charlotte found a way to get the victory with the help of Jeremy Lamb who had a career game.
For the first time this season, the Hornets were without both Nicolas Batum (eye injury) and Marvin Williams (hyperextended left knee/bone bruise). It was a tough task without two regular starters but Jeremy Lamb and Frank Kaminsky stepped into the starting line-up to try and replace their production. Lamb had an incredible performance filling in for Nic in this one as he had his best game of the season.
The Hornets jumped out to and early 24-7 lead in the first quarter as they were hot out of the gates. New York slowly battled their way back into the game and finally managed to take an 84-82 lead in the fourth quarter. That was the only time Charlotte trailed in this one as they quickly regained the lead and didn't look back. Big plays from Kemba Walker and Frank Kaminsky down the stretch sealed the close win for the home team while the Knicks didn't have enough left in the tank.
More from Swarm and Sting
Jeremy Lamb got his first start of the season and recorded a first half double-double with 11 points and 11 rebounds. He didn't stop there and finished the game with 18 points and a career-high 17 rebounds which are the most by any guard this season. Only Kevin Durant has a 17+ point and 17+ rebound game this year from a wing position. The former UCONN star was in elite company with his stellar outing.
Kemba Walker helped lead Charlotte with a game-high 28 points. Frank Kaminsky chipped in 14 points and Cody Zeller grabbed a double-double with 11 points and 10 rebounds. Michael Kidd-Gilchrist added 11 points and eight rebounds in this one.
The New York Knicks were led by Kristaps Porzingis who scored 25 points and grabbed six rebounds. Carmelo Anthony finished with 18 points and eight rebounds while Derrick Rose had a near triple-double with 18 points, eight rebounds, and eight assists. Former Hornet, Courtney Lee, scored 14 points and Brandon Jennings added 12 off of the bench.
Highlight of the Game:
It's all #BuzzCity at half on #NBALeaguePass. They hold a 58-47 lead over the @nyknicks behind Kemba's 18p. Porzingis has 12p. pic.twitter.com/HBDtC5Whmk

— NBA (@NBA) November 27, 2016
Tweet of the Game:
J Lamb is 11 & 11
11 points
11 rebounds
He's earned quality minutes even with a healthy batum.

— Brandon Simmons (@BSimmons25) November 27, 2016
Quick Stings
This is Charlotte's first win in the second half of a back-to-back this season.
Lamb recorded his first double-double of the season and his second in his Hornets' career.
Zeller has scored in double-digits in 11 of 13 games played this year.
Charlotte recorded their first sellout (19,195) of the season.
The Hornets shot (35-80) 43.8% from the field and (8-22) 36.4% from the three-point line.
With the win, the Hornets tie the season series with New York at one game apiece. The two teams will meet once more this season on January 27th in the Big Apple. For now, Charlotte managed to get some revenge against the Knicks, who beat them in overtime the night prior.
In their next match, the Charlotte Hornets will hit the road to take on the Memphis Grizzlies. After losing to them just a week ago at home, Steve Clifford's side will be looking to get one back. With some confidence and momentum from the win over New York, Charlotte may be able to improve upon their 4-3 road record in Memphis.
This article originally appeared on