Charlotte Hornets Planning to Keep Aaron Harrison and Treveon Graham on Roster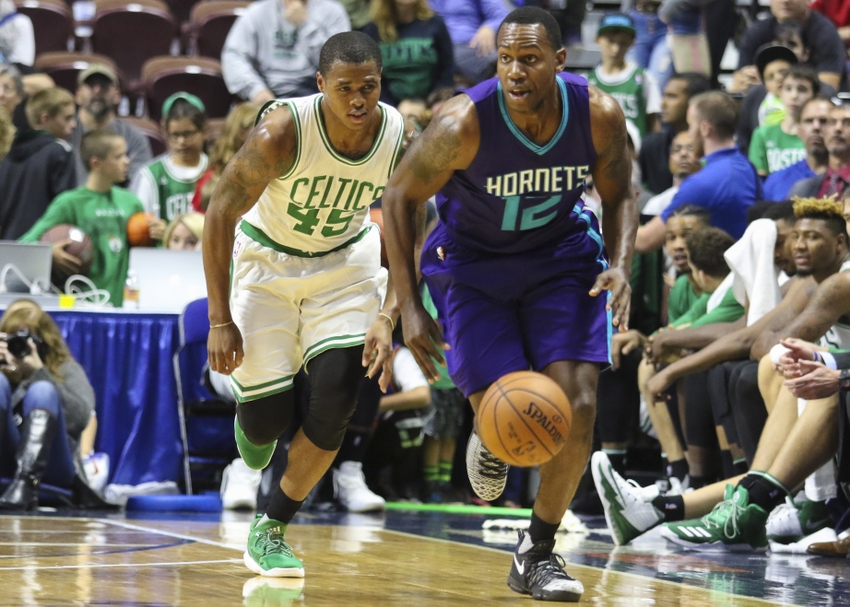 The Charlotte Hornets are reportedly planning to keep Aaron harrison and Treveon Graham on their 15-man opening night roster.
According to Adrian Wojnarowski of Yahoo and The Vertical, "Charlotte is planning to keep Aaron Harrison and Treveon Graham on the 15-man opening night roster." The Charlotte Hornets must trim their roster from 18 to 15 by the start of the regular season. Previously, Rick Bonnell of the Charlotte Observer also tweeted that Harrison and Graham were the likely candidates to not be cut.
The Hornets have already made one cut from their training camp roster in Andrew Andrews who is likely heading to Europe. If the news is true then Mike Tobey, Perry Ellis, and Rasheed Sulaimon will each be waived. They could end up playing for the Greensboro Swarm in the D-League this season.
Keeping Harrison was almost automatic as the team's pretty high on the young guard. They signed the undrafted free agent last year because of his potential and promising play in the summer league. Additionally, Graham was not granted the same luxury as he battled for the final roster spot.
More from Swarm and Sting
Aaron Harrison appeared in four of the team's seven preseason games this year. He averaged 16.7 minutes per game and 4.8 points per game. He only shot 31.3% from the field and struggled to find a rhythm. The young guard also had difficult during the summer league.
If the former Kentucky Wildcat wants to keep a spot on the roster going forward, he will need to up his game. While Harrison has plenty of potential, he needs to improve his production to become a consistent contributor.
Graham played in three games this preseason and averaged 4.7 points per game. He shot 50% from the field and 25% from the three-point line in 11.3 minutes per game. While he didn't see much court action, Steve Clifford values his defensive ability.
If these are in fact the final two players to fill out the roster, then everything will be in place for opening night. The Charlotte Hornets' team will consist of Kemba Walker, Nicolas Batum, Michael Kidd-Gilchrist, Marvin Williams, Roy Hibbert, Ramon Sessions, Jeremy Lamb, Marco Belinelli, Frank Kaminsky, Cody Zeller, Spencer Hawes, Brian Roberts, and Christian Wood.
Both Harrison and Graham may see plenty of time in the D-League this season as they continue to develop their games. It is unlikely that they will be used much with the Charlotte Hornets in the regular season but hey may be called upon if an injury occurs. It will be interesting to watch them play with the Greensboro Swarm and the Hornets.
This article originally appeared on