Charlotte Hornets: Nicolas Batum is Slumping but it isn't Anything to Worry About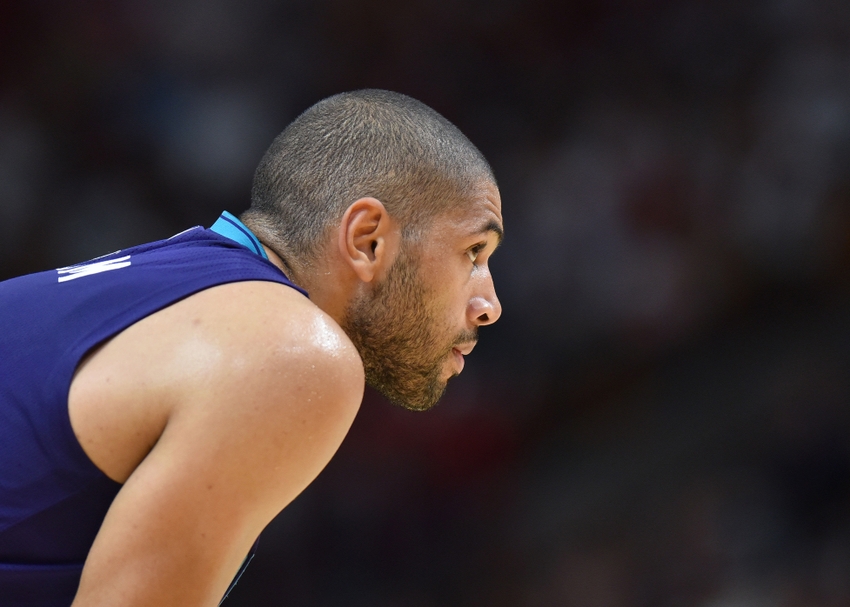 Nicolas Batum hasn't had the start most expected this season for the Charlotte Hornets but it also isn't anything to worry about.
After signing a mega-deal this past summer, many expected Nicolas Batum to take on a bigger role with the Charlotte Hornets in the 2016-17 season. That hasn't happened and he is actually slumping to start the year but people shouldn't be worried. Nic is playing his game and his "slump" is merely a below average run that should fix itself sooner than later.
Batum averaged 14.9 points per game, a team-high 5.8 assists per game, and 6.1 rebounds per game last season while shooting 42.6% from the field and 34.8% from the three-point line. He was rewarded by the Hornets with a five-year, $120 million contract in the offseason.
Even with the big deal, Steve Clifford and Nic made it clear that his role would not change for the team going forward. They have stuck to that mantra this year and his role with Charlotte has remained the same and that, in part, has led to a bit of a slump.
More from Swarm and Sting
In the first seven games of the 2016 campaign, the France international is only averaging 12.7 PPG, 4.6 APG, and 5.7 RPG on only 36.4% shooting from the field and 27.5% from deep. Those numbers, while good, aren't great, especially his shooting percentages. Despite his early run of games, the Charlotte Hornets still have a 6-1 record on the year, which is their best start to a season in franchise history.
If you look at last season, Batum also had somewhat slow start to the season. Granted it was his first year in a new system and with a new team, he only averaged 13.1 PPG, 4.1 APG, and 6.7 RPG in his first seven games. He did so only shooting 39.1% from the field. Those numbers aren't far off from this year's and he has lowered his turnovers per game to 2.0 from 2.9 last season.
Another encouraging factor is that the team is successful despite Batum's slump. If he was truly in a slump, he would be forcing shots, playing outside of the system, and committing multiple turnovers. Those things aren't happening. This "slump" is only a small sample size that can be attributed to a slight dip in shooting numbers.
I would be more concerned about the slump if the team was struggling and Nic's assist numbers were down and turnovers were up. That would truly be a slump. Batum tends to pick up his game later in the season as we saw last year. He has already had a 20-point and 18-point game this season. Nicolas is continuing his all-around play of defending, playmaking, and rebounding.
This article originally appeared on