Charlotte Hornets: Marco Belinelli Has Made Jeremy Lamb Expendable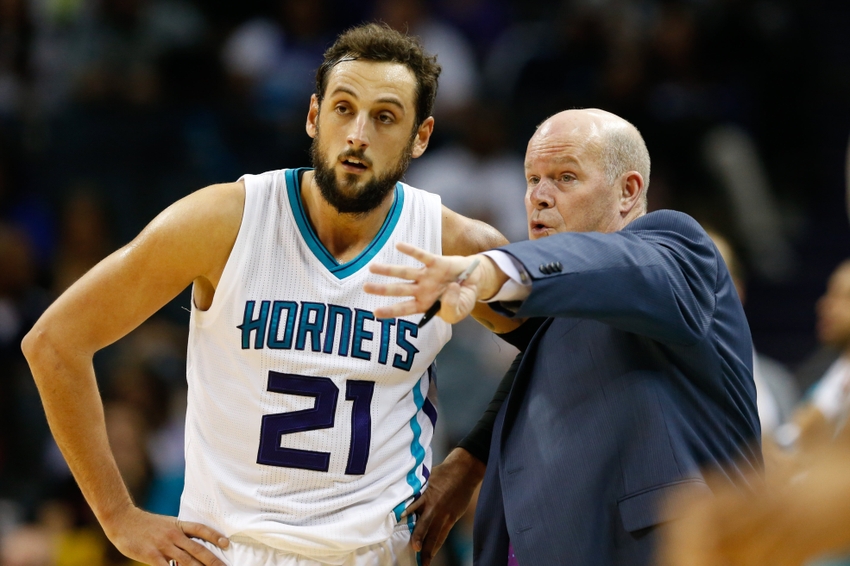 With the emergence of Marco Belinelli as the Charlotte Hornets' sixth man, Jeremy Lamb has become expendable and it's only a matter of time before trade rumors surface.
Marco Belinelli has become the clear-cut sixth man for the Charlotte Hornets with his outstanding play this so far this season. As for what that means for Jeremy Lamb, he is now healthy but isn't seeing game action. If you ask me, it is only a matter of time before he is traded this season as his role has been taken over and his time with the team may be up.
It has been known for some time now that Steve Clifford has never favored Lamb's less than spectacular defensive effort. Jeremy was able to overshadow his poor defense with his scoring ability on the offensive end. Now that the Hornets have found an upgrade in both shooting and defending off the bench in Belinelli, Lamb's become expendable.
Coming into the 2016-17 season, it seemed as though Coach Clifford would play both Marco and Jeremy with the second unit. That plan quickly came to an end as Lamb suffered a hamstring injury in the third game of the season and missed a number of weeks. HIs absence allowed Belinelli to make his emergence as the team's sixth man. Even before his injury, the former UCONN star only played sparingly, aside from the Miami Heat game.
More from Swarm and Sting
This change even started as far back as last season. Belinelli wasn't yet with the Hornets but Clifford was already making the switch away from Lamb and towards other wing players such as Troy Daniels. Once the offseason trade for Marco was made, some questioned the move but it has already paid dividends for Charlotte. And they may have found their Jeremy Lamb's replacement.
The Italy international has had a stellar year so far with his new team. Belinelli is shooting a career-high 49.2% from the three-point line as his long range shooting ability gives Charlotte an extra deep threat and helps spread the floor for Kemba Walker. Even though Marco isn't known for his play on the defensive end of the court, he has played well on that side of the ball this season and is considerably better than Lamb.
Multiple times last season, this preseason, and even this year, Jeremy has gotten completely lost on defense. He constantly loses his man and at times shows minimal effort. While his offensive ability and athletism are off the charts, Steve Clifford clearly sides with the guy who gives his all on both ends of the floor. Lamb's shortcomings on defense have led to him falling out of the rotation.
Here's a comparison of their stats so far this season:
Lamb: 5.8 PPG, 3.8 RPG, 0.8 APG, 11.8 MPG, 40% FG/ 0% 3PG/ 75% FT
Belinelli: 10.8 PPG, 2.9 RPG, 2.0 APG, 26.2 MPG, 43.3% FG/ 49.2% 3PG/ 84.6% FT
It was obvious that the front office was looking to move Jeremy Lamb this summer as he was involved in a number of trade rumors. Expect those to pick up once again as his playing time diminishes and the trade deadline draws near. A trade involving Lamb could be the best thing for both sides if he gets minutes elsewhere and the Charlotte Hornets strengthen their squad.
Lamb doesn't have a place with this Charlotte Hornets' team unless an injury occurs. The experiment with Jeremy worked well for awhile but it is clear that Marco Belinelli has secured the sixth man role going forward. Once again, this must be mentioned, Rich Cho is a genius.
This article originally appeared on