Charlotte Hornets Look to Extend Their Preseason Win Streak Against the Miami Heat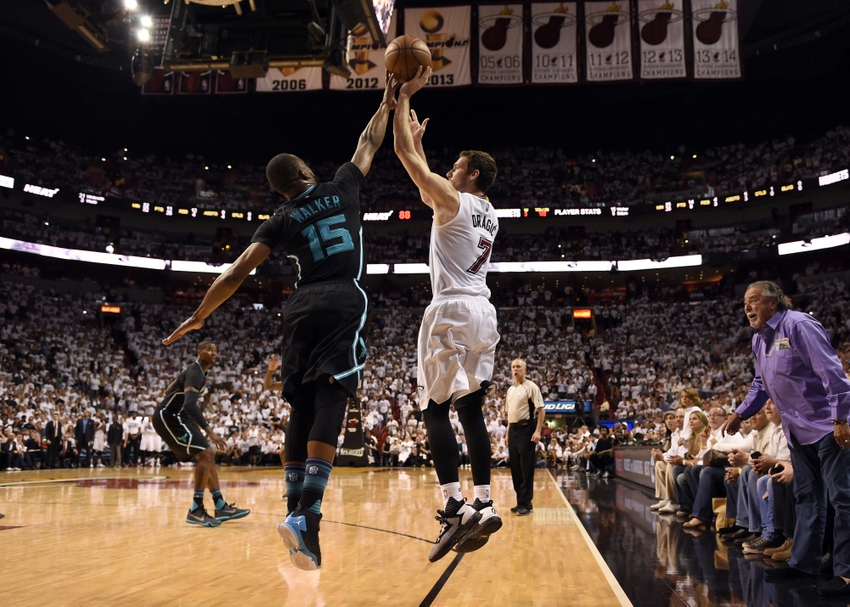 The Charlotte Hornets are set to take on the Miami Heat in their sixth preseason game this year as they look to extend their two game win streak.
The Charlotte Hornets return home for their sixth exhibition game when they face off against the Miami Heat. Before the regular season gets underway, these two sides will be taking their heated rivalry into preseason action. The Queen City team will be looking to extend their current win streak.
After losing their first three preseason games, the Hornets have rebounded and have been victorious in their past two matches. A third straight win against a division rival would be a huge boost of confidence for Charlotte going into the 2016 campaign. The Southeast foes will take on each other four times this season.
The Charlotte Hornets will be without Marvin Williams who suffered a broken left middle finger in the their last preseason game. Cody Zeller (right knee) and Brian Roberts (left hamstring) will also be out against Miami. Perry Ellis may make his preseason debut for the team in this one as he is not listed on the injury report after recovering from sports hernia surgery.
More from Swarm and Sting
Where and When:
Charlotte Hornets (2-3) vs Miami Heat (4-2)
7:00 p.m. EST, Thursday, October 20th, 2016 – Spectrum Arena
Match-up to Watch:
Frank Kaminsky vs Justise Winslow
Although these two players won't be guarding each other, their play will be compared for years to come. Kaminsky was taken only one spot ahead of Winslow in the 2015 draft. They each had decent rookie seasons and their stats/play was compared all year long. The same will be done in 2016-17 and for their careers. Whoever has the better night, could lead their team to victory as both will likely see plenty of minutes.
Prediction:
The Hornets are on a bit of a roll as they have won their last two preseason games but the Heat are also coming off of a win in their last match. Miami's 2-0 on the road during exhibition games and their 4-2 record gives them a leg up on Charlotte. With that being said, I think that the home team will come out on top.
The Charlotte Hornets will probably play their starters plenty of minutes even without Marvin Williams in the line-up. Their shooting has lacked but their defensive game has picked up as of late. Steve Clifford's side has also been one of the best rebounding teams (4th) in the league this preseason.
This article originally appeared on