Charlotte Hornets Look to Continue Their Hot Start Against Toronto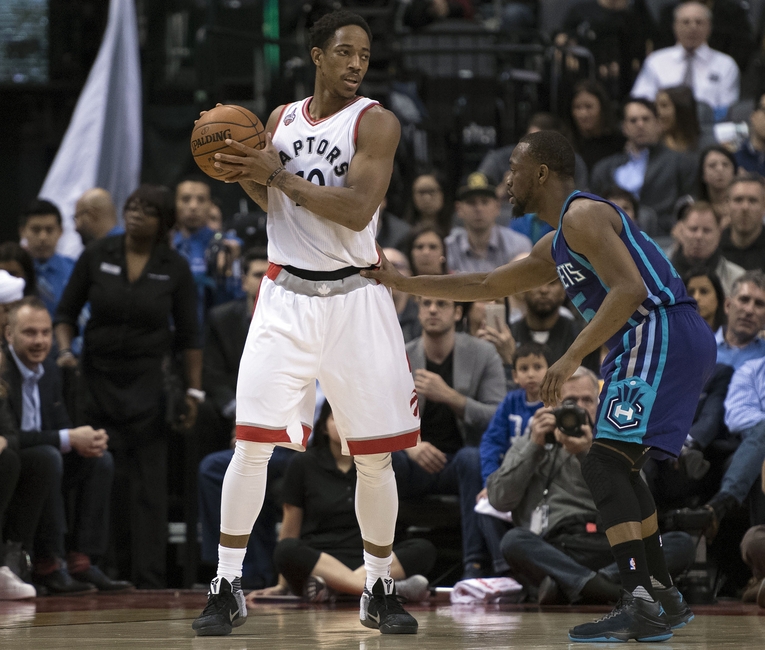 After a strong start to the season, the Charlotte Hornets look to extend their four-game win streak against the Toronto Raptors in the final game of their current three-game homestand.
The Charlotte Hornets (6-1) are sizzling. Tonight they hope to build on their surprising 6-1 start. Preseason most people picked the Hornets to barely make the playoffs. As it stands in this early season they are tied with the Cleveland Cavaliers for tops in the east. The Hornets want to keep the magic going as they welcome one of their top nemesis the Toronto Raptors (5-2).
No MKG
Unfortunately, as the Hornets face this extremely dangerous rival they will be without their top defender. Michael Kidd-Gilchrist will be out of the lineup to rest his sore back. His help defending scoring dynamo DeMar DeRozan will be greatly missed as well as his team-leading 8.0 rebounds per game.
The Return of Big Roy
On a positive note, Roy Hibbert returns tonight to bolster the center position. Roy had been out the last five games with knee soreness. He looks to continue the path to rejuvenating his career. So far the signs are looking positive.
Kemba vs DeRozan
These two dynamic young guards have been putting the NBA on notice this season. Kemba is tied with Kyrie Irving at 23.9 points per game while DeMar is leading the league with 34.1. Here is to hoping Mr. DeRozan gets nowhere near his average tonight. Kemba, like DeMar, is making his pitch for the 2017 All-Atar. And if he keeps up the play he has put on display so far I don't see how he will be denied.
He is a top scorer in the league and his team is tops in the east. These two dynamic guards are sure to put on a show for us tonight. However, despite the powerhouse scoring that DeMar DeRozan provides I expect that the Hornets will continue their winning ways. Kemba just has too much help. If Bench Force 1 continues their stellar play, Charlotte wins a tightly fought game that may go into overtime.
More from Swarm and Sting
This article originally appeared on