Charlotte Hornets: Kemba Walker Ranked on Sports Illustrated's Top-100 NBA Players List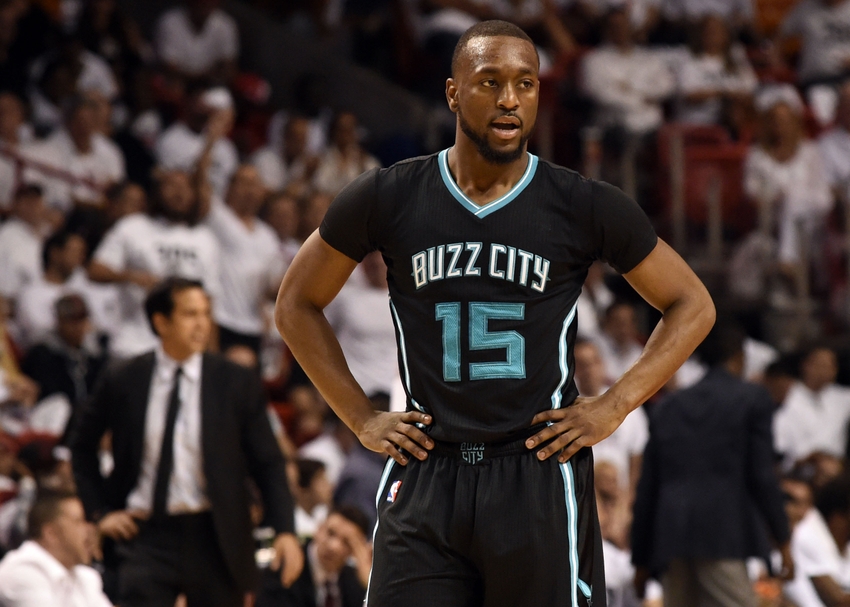 Charlotte Hornets' star point guard, Kemba Walker, was ranked in Sports Illustrated's top-100 NBA player for the 2016-17 season.
Sports Illustrated released their top-100 NBA players list for the upcoming season and Kemba Walker's name made an appearance on the rankings. The Charlotte Hornets' point guard came in at #36 and is the highest rankings player on the team. After a career season, Walker shot up the rankings compared to last year.
Kemba wasn't ranked in last year's edition of SI's top-100 NBA players but after averaging career highs in points per game, rebounds per game, shooting percentage from the field, and from the three-point line. His increased efficiency was the main reason for his drastic improvement. He also reinvented his game by adding another wrinkle in his developed outside shot.
The 6'1 point guard finally realized his potential last season after four years in the NBA. His fifth career season with Charlotte showcased how great he can be but he must improve on it this year. Hornets' head coach, Steve Clifford, brought out the best in all of the team last season but none more than Kemba.
More from Swarm and Sting
Many critics questioned Walker's game and style of play during his first few seasons in the league. Now that he has made it work for him and the team, both enjoyed a successful year in 2015. He is the lifeblood of the Hornets and he has helped bring the team up from the depths of the Eastern Conference.
The 26-year old averaged 20.9 points per game, 5.2 assists per game, and 4.4 rebounds per game this past season. He made 81 starts for Charlotte and averaged 35.6 minutes per game. Kemba also shot 42.7% from the field, 37.1% from the three-point line, and 84.7% from the free throw line.
Ben Golliver shared his thoughts on a few positives and negatives of Walker's game:
+ In 2015-16, posted career highs in points, rebounds, FT attempts, FG%, 3P%, TS%, offensive rating, Player Efficiency Rating and Win Shares.
+ Ranked No. 6 with 142 points in the clutch, improving his FG% in clutch situations from 28.2% (2014-15) to 39.2% (2015-16)
– His first shot at winning a playoff series slipped away in demoralizing fashion
– Will need to adjust to a reconfigured rotation after losing Courtney Lee, Jeremy Lin and Al Jefferson
For Kemba's improvement to continue, he will likely need to be an all-star next season. Walker is already the best player on the Charlotte Hornets but pushing his game to all-star level will bring the team to another tier in the Eastern Conference. It will be interesting to see if his development can continue to grow.
This article originally appeared on