Charlotte Hornets: Jeremy Lamb Providing Scoring Boost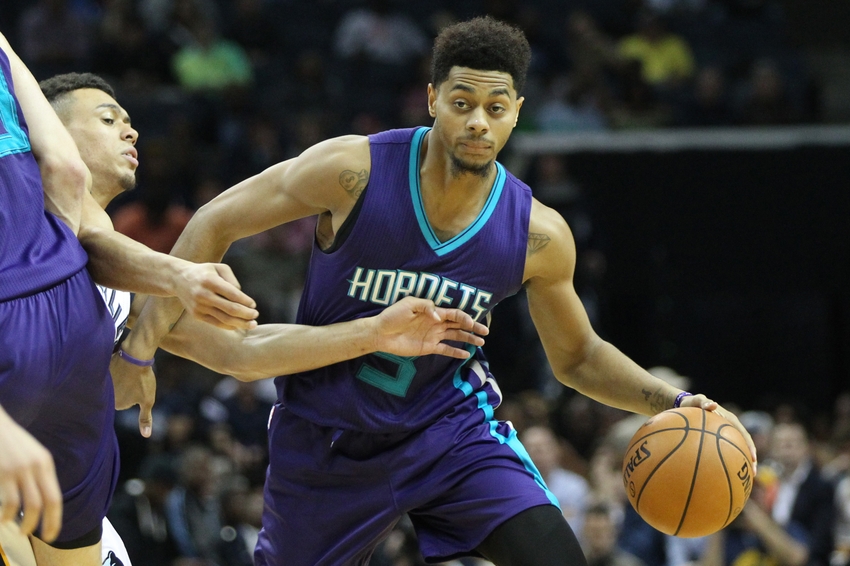 Since his return from a hamstring injury, Jeremy Lamb has been scoring at a high level for the Charlotte Hornets. How long will this hot streak last?
The 2016-17 season did not start out great for Charlotte Hornets reserve wing Jeremy Lamb. Lamb had a poor performance on opening night against the Milwaukee Bucks; he shot 0-for-4 from the field and scored no points.
He followed that up with a solid performance against the Miami Heat, a poor performance against the Boston Celtics. Then he strained his hamstring.
Not how he expected to start the season. This is somewhat of a make-or-break season for Lamb. Throughout his NBA career, his impressive offensive skill set has often been outweighed by inconsistency and poor defense.
He clearly has talent. The flashes have just been too inconsistent for him to carve out a permanent role.
After a summer filled with diligent work this was the season where he would rewrite those narratives. The hamstring injury delayed that process. This was the thing Lamb was trying to avoid with his offseason work.
He told NBA.com that physical strength was something he'd been working on all offseason. He wanted to stay healthy for an entire season.
That's the NBA for you. Sometimes you slip on a wet spot and your season changes. Stephen Curry knows a thing or two about that.
Last week, Lamb finally returned from injury. After a mere six minutes against the San Antonio Spurs Wednesday and a DNP Friday against the New York Knicks in Madison Square Garden, Lamb was inserted into the starting lineup against the Knicks Saturday evening in Charlotte.
An eye injury to Nicolas Batum provided the opportunity.
What followed was perhaps the best all-around game of Lamb's Hornets career. He exploded for 18 points on 8-for-15 shooting and collected 17 rebounds. He helped the Hornets defeat the Knicks 107-102, snapping a four-game losing streak.
Monday evening against the Memphis Grizzlies he was back at it. This time Lamb scored 21 points on 7-for-11 shooting and was 2-for-5 from three-point range.
Once again Lamb's contributions helped lead the Hornets to victory, giving them back-to-back wins during a time when panic was starting to set in throughout certain sections the fan base. I remained very calm (that is a lie).
Lamb's full arsenal of offensive gifts were on display. He knocked down threes. He made some mid-range jumpers. He moved well off the ball leading to some easy buckets at the rim, including a particularly exhilarating "alley-oop" courtesy of Batum.
Lamb's versatility as a scorer is what makes him so valuable to Charlotte's second unit, especially in the backcourt rotation. They have some nice pieces, but they're all fairly one-dimensional.
Ramon Sessions can get to the rim, but can't do much else. Marco Belinelli is a great outside shooter, but if those shots aren't falling he loses some of his value. Lamb is Charlotte's offensive Swiss army knife.
For all of his faults, Lamb is fun to watch when he's on one of his hot streaks. What about his defense?
His defense was impressive against the Grizzlies. He made mistakes as he usually does, but the effort was there. He displayed intense ball pressure, on-time rotations and hard closeouts on three-point shooters, a few things that are usually missing from his game.
Steve Clifford knows Lamb can score. The points are nice, but increased effort on defense is what's going to keep him in the rotation. He doesn't have to be elite. He just has to be average.
It's been exciting to watch Lamb seemingly come into his own, but it's only a two game sample. We've seen this from him before. Last season he started hot, but fizzled as the wear and tear of a long season bogged him down.
The key for Lamb is to stay healthy. That's easier said than done.
Maybe this is what Jeremy Lamb is as an NBA player. A talented scorer that goes through hot and cold streaks. The Hornets will take that as long as his defensive effort remains consistent. With injuries nipping at several different players on the roster there will be minutes for Jeremy Lamb.
He just has to continue to make the most of them.
This article originally appeared on