Charlotte Hornets: Has Bench Force One Been Revitalized?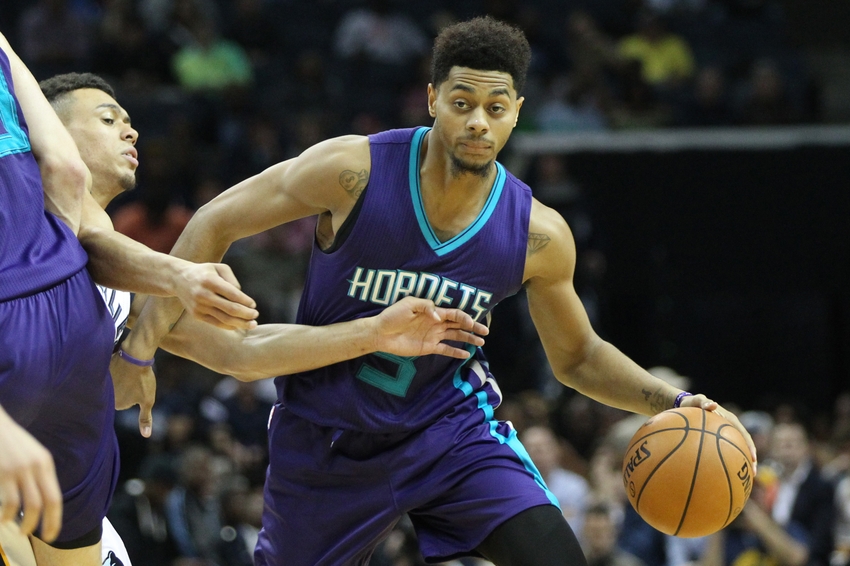 Much can be said about the well paid and publicized starters of the Charlotte Hornets, but often, the players that reside on Bench Force One have helped to stabilize or save a game or two. So, could the level of play from the reserves continue to hold or improve for the up-and-coming Hornets?
The Charlotte Hornets have once again remained as one of the up-and-coming young teams in the NBA. Behind hopeful All-Star Kemba Walker and franchise pillars Nicolas Batum, Michael Kidd-Gilchrist and Cody Zeller, the team has transformed Charlotte into a formidable opponent in a tougher Eastern Conference. This year's team has been fairly pleasant to watch, though plagued by the injury bug; the team has often times rallied to a thrilling victory or a heartbreaking defeat.
Still, with the progression, heroics, and familiarity of this season's starters, the teams has often been helped or lifted up by the help of the second unit. Dubbed "Bench Force One", this season's version includes three new players along with two returning and improving players. Also dealing with multiple injuries, Bench Force One consists of former NBA Champion Marco Belinelli, former Defensive Player of The Year Roy Hibbert, returning journeyman Ramon Sessions, returning big man and former College Player of the Year Frank Kaminsky and returning guard and former NCAA Champion Jeremy Lamb.
For most of the second unit, after disappointing circumstances led them to the Hornets, this season has seen both minor and major upgrades for the reserves as well as the team. For wing players Lamb and Belinelli, improvements can be seen and felt. For Belinelli, the ability to provide quick and instant offense has proved vital for the team this year. Capable of exploding for 15-20 or more points on any night, his presence completely adds more dimension to the team's capabilities. While on the court, opponents have to respect his shooting and creating abilities and can't afford to sag off of him or other Charlotte players as many have done before.
More from Swarm and Sting
For Lamb, with health comes great potential. Though Lamb is still a growing player, if he's hot then he's a dangerous and underrated player. A scorer, a rebounder, and an athletic wing, Lamb has given many reasons why fans should believe in his potential. The recent outing against the New York Knicks was a night to remember as he finished with a double-double of 18-points and 17 rebounds (the most of any Charlotte guard in franchise history and the most of any guard in the NBA this season).
Hibbert has been an adequate defensive big man for the team who has also given the Hornets a bit of scoring and rebounding on the inside. Just the presence of a big body like Hibbert that's capable of blocking and altering shots has been an interesting dynamic for the North Carolina-based team.
Kaminsky has shown much improvement this season and has often shown why the team selected him ninth overall. This season, Kaminsky has held his own while knocking down some well-needed shots both inside and outside of the three-point line and is looking to further improve on his modest start to his NBA career.
Want your voice heard? Join the Swarm and Sting team!
Ramon Sessions has had a relatively quiet yet modest start to this season's start. A reliable reserve to spell Walker, Sessions won't take over the game with his scoring, but he is more than capable of facilitating to a second unit as well as drawing fouls.
However, as the young season plays on, the team as a whole continues to mature and fit together with each game. Another reason is partly due to the team regaining its health. With dings to Zeller, Batum, Kidd-Gilchrist, Hibbert, Lamb, Belinelli and Williams all at some point this season, Charlotte has often had to play without its usual 10-man rotation. Still, the team has so far persevered through early season difficulties and absences in its pursuit to return to the playoffs.
Update:
The Charlotte Hornets defeated the Memphis Grizzlies 104-85 in Memphis to improve their record to 10-7. Kemba Walker and Jeremy Lamb both scored 21-points each. Lamb, who came off the bench in this contest, was one rebound short of his second straight double-double turned in his third double-digit scoring game of the season and his second in a row. The team will play the Detroit Pistons next.
This article originally appeared on