Charlotte Hornets Grind Out a Tough Win Over the Dallas Mavericks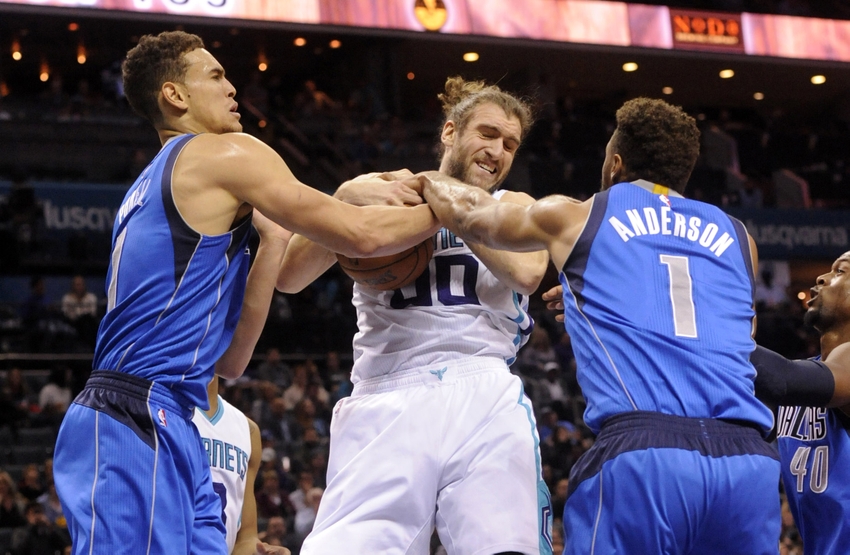 Kemba and the Charlotte Hornets were able to grind out a hard-fought win in an ugly game against the Dallas Mavericks at home.
VS.
| | | | | | |
| --- | --- | --- | --- | --- | --- |
| | 1 | 2 | 3 | 4 | T |
| Hornets | 23 | 21 | 24 | 29 | 97 |
| Mavericks | 14 | 27 | 19 | 27 | 87 |
The Charlotte Hornets (11-8) were able to defeat the Dallas Mavericks (3-15) as they got back to their winning ways. A wire to wire victory saw Charlotte remain in control for the whole game even though it was close throughout. Kemba Walker closed things out as he led the Hornets to victory.
Charlotte was once again without Marvin Williams (hyperextended left knee) but the team should give clarity on his return soon as he is set to be re-evaluated in the next few days. His replacement, Frank Kaminsky, struggled once again as he finished with one point on 0-4 shooting. Luckily, the minor injury Jeremy Lamb (knee contusion) suffered last time out didn't bother him too much as he was able to give it a go in this one.
This game was close throughout but the result was never really in question. The Hornets were the favorites from the get go and their eventual win wasn't in doubt as they led for the entirety of the game. Credit to Dallas for keeping it close but without Dirk Nowitzki and their current struggles, it was always going to be an uphill battle in Buzz City. It wasn't a pretty win, the game was actually quite ugly, but a win is a win for Charlotte.
More from Swarm and Sting
Cardiac Kemba led the Hornets with a game-high 18 points to go along with five assists and three rebounds. Michael Kidd-Gilchrist added 14 points on the night. Jeremy Lamb scored 12 points off of the bench and also grabbed six rebounds.
Nicolas Batum only scored 12 points but filled the stat sheet with nine rebounds and six assists. Roy Hibbert helped out as he scored 11 points with the second unit. Marco Belinelli and Ramon Sessions each chipped in eight points off the bench.
The Mavericks were led by Harrison Barnes who scored a team-high 17 points and he nearly grabbed a double-double with nine rebounds. Justin Anderson scored 15 points in the game while Deron Williams put up 14 points and eight assists. Wesley Matthews scored 14 points and Jonathan Gibson added 11 to close out the double-digit scorers.
Highlight of the Night:
Kemba had my mans tap dancin' 😂 pic.twitter.com/wx5pV05qPc

— Bleacher Report (@BleacherReport) December 2, 2016
Tweet of the Night:
Huge night for the #benchswarmers…they won this game for the #hornets

— Hornets Sports Spot (@HornetSportSpot) December 2, 2016
Quick Stings
Charlotte's bench outscored Dallas' second unit 46-35.
The Hornets never trailed in this one.
Charlotte assisted on 24 on their 35 made shots.
Dallas only shot 37.2% from the field for the game.
The Hornets shot (35-74) 47.3% from the field and (5-18) 27.8% from the three-point line.
With the victory, the Hornets improved to 1-0 over the Mavs in their season series. The two sides will meet a total of two times this year with their second and final match-up coming in a few days time. Dallas will surely look to get revenge on their home floor.
In their next game, the Charlotte Hornets will host the Minnesota Timberwolves. It will be their second meeting of the season after Steve Clifford's side took game one in Minny. The Hornets will be looking to finish off their current three-game homestand with a win over the up-and-coming T-Wolves.
This article originally appeared on