Charlotte Hornets Go for Revenge in Second Half of Back to Back Against Knicks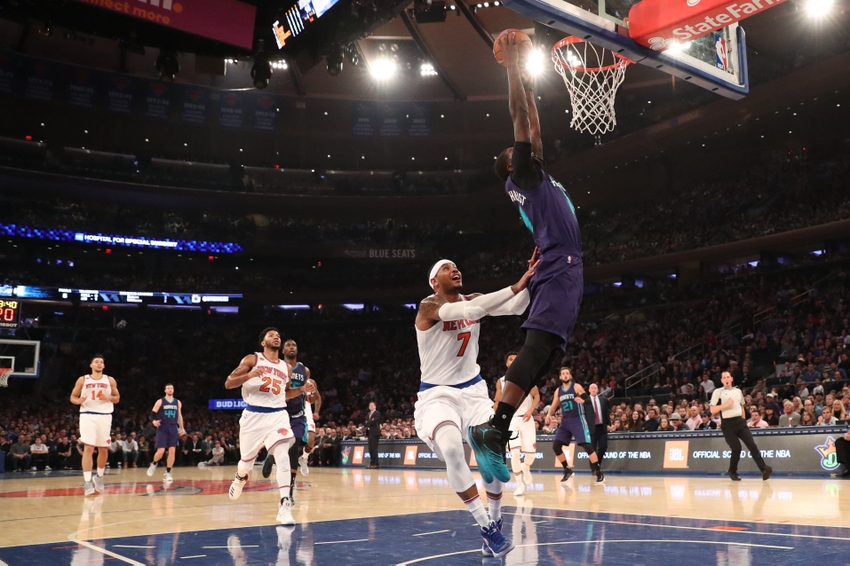 The Charlotte Hornets (8-7) face off against the New York Knicks (8-7) again on the tail end of a back-to-back.
Where: Spectrum Center; Charlotte, NC
When: 7:00pm ET
TV: Fox Sports Southeast
Radio: WFNZ 610 AM
The Charlotte Hornets blew a double-digit lead last night  and fell to the Knicks in overtime. They had a commanding lead for most of the game but could not overcome the injury to Marvin Williams.
Things to Know:
Injury Bug bites again
Marvin William's absence was a big factor in the blown lead. The news out of the Hornets camp is not good. Marvin left the game in the third quarter with a hyperextended knee. This forced Clifford's hand and moved Frank into a bigger role in the second half. Kemba Walker also took a scary blow to the head which forced him to sit out for an extended period of time before returning in the fourth quarter.
Bench Force One Grounded?
Last year, the Hornets were able to rely on their second unit to dig them out of tough spots from time to time. Spencer Hawes and Jeremy Lamb played a combined total of less than one minute last night. They played a big role off the bench last year so it is intriguing that neither of them saw much time last night. Especially with the injuries to Marvin and Kemba.
The front court pairing of Spencer and Frank has shown promise on the offensive end of the floor early on this season. It appears that Clifford lost the coaching battle and was forced to play towards the Knicks small lineup rather than punish them on the boards. Kaminsky played a large amount of time at the center position, with MKG guarding the power forward position.
Matchup to Watch
Carmelo Anthony hit the dagger in overtime to win the game for the Knicks last night. MKG guarded him well but was no match for Melo's iconic turnaround jumper. MKG does not enjoy being scored on. Especially if it's a game-winning basket. I expect MKG to be fired up in the beginning of this game. Look for MKG to attack the Knicks on his off-ball cuts and in transition.
More from Swarm and Sting
This article originally appeared on