Charlotte Hornets: Frank Kaminsky Looks Unplayable at Times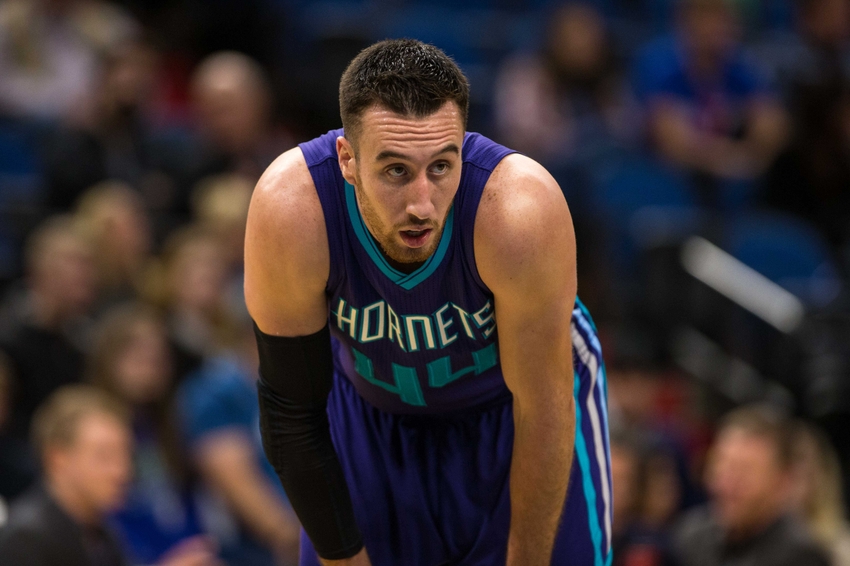 Frank Kaminsky may be in the midst of a sophomore slump but his struggles make him unplayable at times for the Charlotte Hornets.
Frank Kaminsky hasn't had a great start to the season this year. He is arguably the Charlotte Hornets' most inconsistent big man. With other guys producing and Frank struggling, head coach Steve Clifford may have to think about benching the second-year player.
Although it sounds absurd to bench a young player who the team drafted with a top-10 pick, that may be in play Coach Clifford is Kaminsky fails to turn things around. I'm not completely writing off the former Wisconsin Badger but his play hasn't been up to par in 2016. Anyone who has watched a Hornets' game this year can tell that Frank has a lot of problems and things he still needs to improve upon and work on if he wants to be a productive NBA player going forward.
After showing glimpses of promise last year, Kaminsky has been inconsistent with his play this season. At times, he looks like a legit seven-footer who can play the four spot and score some point while spreading the floor. But at other times, he looks completely unplayable due to his horrid defense and inconsistent shooting touch. Frank hasn't been horrible but he hasn't been good enough.
More from Swarm and Sting
Frontcourt Logjam
The Charlotte Hornets' plethora of big men has started to become somewhat of a problem for coach Clifford. After adding Roy Hibbert as the starting center this summer, Cody Zeller, Spencer Hawes, and Frank Kaminsky have all been battling for consistent minutes this season. It all works out when one of them is injured because they have reliable back-ups but with Frank's struggles, it is hard for the team to go away from a player who is supposed to be a part of their future.
Roy Hibbert is the clear-cut start for Charlotte. He is the defensive anchor the starting unit needs and when healthy, he has played well this year. Cody Zeller, while not overly consistent, the Hornets just gave him a huge extension and they can rely on his hustle game in and game out. Spencer Hawes has probably been the team's most constant contributor off the bench. Each game, Hawes has come in and looked great on both the defensive end, rebounding, and shooting on the offensive end.
I would argue that Hawes has earned more playing time with his play this season which means that someone has to lose minutes and Kaminsky should be the victim. With three 7'0 big men, who are also quite athletic and versatile, on the bench, the Hornets have the luxury of playing Zeller at the power forward spot. If I was Steve Clifford, I would think about benching Frank and using Cody as the back-up four with Hawes as the primary back-up center. One thing is clear, there is a bit of a logjam in the front court. Depending on how each player is used, it can be positive or negative.
Want your voice heard? Join the Swarm and Sting team!
Defensive Liability
Everyone knew that Frank wasn't the best defender coming out of college but now in his second season in the league, some improvement is expected. If there has been growth on that end of the floor, it hasn't been consistent. He can't guard skilled big men in the post and he gets beat off the dribble by quicker players. Not to mention that he also struggles with help defense at times.
Here's a look at Kaminsky defending Okafor in the post:
Kaminsky showing everyone how to play awful post defense. Cliff yanks him right away. https://t.co/abLNo6UF1E

— Spencer Percy (@QCHspencer) November 3, 2016
You may say that's only one play but watch any Hornets' game this year, most recently against the Cleveland Cavaliers and the Toronto Raptors, and you can see multiple plays where he gets beat either off the dribble or in the post.
That's stats don't support his defense either:
Second highest opponents field goal percentage (44.6%) on the team
Highest opponents points (104) on the team
Fifth Highest Defensive rating (100.2) on the team
(NBA.com)
While he hasn't been completely inept on defense, there is something to be said about a bad defensive player in Steve Clifford's system, as he values limited mistakes on that end of the floor. With the liability on defense to be expected, Frank must prove his worth on the offensive end to make up for it.
Poor Shooting From Three
The 23-year old big man is averaging a decent 9.7 points per game, 3.9 rebounds per game, and 2.3 assists per game. Even with those numbers, Kaminsky hasn't been great on the offensive end with poor shooting so far this season. He is only shooting 43.8% from the field, which is considerably low for a big man, and only 28.6% from the three-point line, which is horrible for a player who lives on being a stretch four.
Frank's best offensive weapon is his ability to knock down deep shots from beyond the arc. When he isn't doing that, he is hardly contributing to the team. He doesn't do much to help Charlotte win outside of that.
From 20-24 feet, Kaminsky's only shooting 22.2% which is the second worst on the team out of players who have made a shot from there. From 25-29 feet, he's shooting 31.6% which is the worst out of any player on the team who has made a shot from there this season. Compare that to Spencer Hawes who's shooting a team-high 50% from 20-24 feet. (NBA.com)
I'm not sure what the best answer is going forward for the Charlotte Hornets. They can't and shouldn't give up on Frank. He can still be a contributor but he may need more time to develop his defensive game and improve his outside touch. If his struggles continue and the other big men continue to play well, Steve Clifford will have quite a decision to make. While I do think that Kaminsky has promise and potential going forward, he needs to figure things out fast as this franchise and the NBA doesn't have time to wait for him.
This article originally appeared on