Charlotte Hornets: Expect A Larger Role for Frank Kaminsky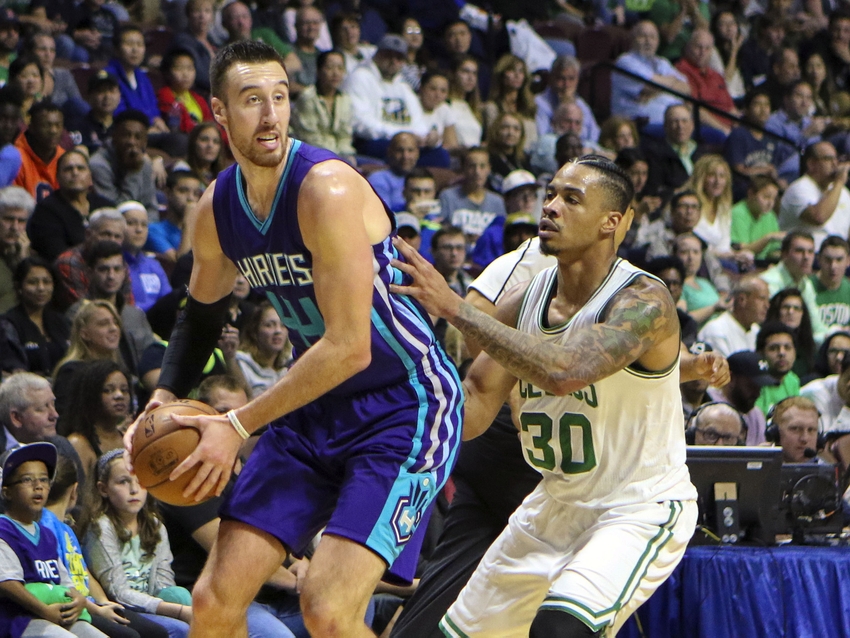 Charlotte Hornets second-year big man Frank Kaminsky should have a larger role this season, serving as the primary scoring threat on the second unit.
Frank Kaminsky is delightful. In an era when athletes have to be reserved to avoid facing inane criticism from media and fans alike, Kaminsky lets it all hang out. His give a care meter is turned all the way down, which means his personality is turned all the way up, at all times.
Before last season began he became internet famous for his hilarious dance routine during Charlotte's preseason trip to China. Kaminsky dancing has become the norm in Charlotte. His uninhibited whirling gives hope to every insecure man that can only make it out to the dance floor with a heavy dose of liquid courage. Or if Taylor Swift is playing.
Kaminsky is as quirky as they come, even beyond his dancing. A few weeks ago Skittles gave him a basketball hoop that dispensed bags of their fine product due to his love of the fruity candy. He proceeded to place it all over his bathtub. The image of Kaminsky in a tub full of bags of rainbow sugar orbs will be burned into your brain forever.
Most recently he unleashed one of the best troll jobs the world as ever seen. Before the Hornets preseason game against the Chicago Bulls on Monday evening, Kaminsky was seen wandering the United Center halls wearing a Chicago Cubs jersey with the name "Bartman" stitched on the back.
Steve Bartman is the infamous fan that interfered with a play during the 2003 Cubs vs. Marlins NLCS. After the incident, in which he prevented Cubs outfielder Moises Alou from catching a pop-up down the left-field line, the Cubs imploded. Eventually they lost the series and 13 years later they still haven't reached the World Series.
Kaminsky, an avid Chicago White Sox fan, then got into a trash talking Twitter exchange with the Cubs. Sick burns were made by all. Troll on, big guy. Sports are more fun when athletes speak their mind.
As you can see, Frank Kaminsky is fun and quirky off the court. On the court, he should have a larger role with the Charlotte Hornets this season. Losses of Al Jefferson and Jeremy Lin take away some valuable scoring punch from the second unit, Kaminsky will be one of the players that can fill the void.
After being selected 9th overall in the 2015 NBA Draft Kaminsky had an up and down rookie season. Hornets coach Steve Clifford notoriously dislikes playing rookies big minutes, but Kaminsky still managed to play 21.1 minutes per game in 81 games.
Offensively he showed flashes of being a valuable stretch-four. He averaged 7.5 points and 4.1 rebounds per game on 41 percent shooting and 33.7 percent from three-point range. His 15 point, six rebound performance against the Miami Heat in the playoffs helped the Hornets secure their first win of the postseason.
Kaminsky can shoot, he's got an improving post game, and despite his slight frame he's a solid rebounder. If he becomes a more efficient three-point shooter this season the Hornets will be thrilled with the trajectory of his development.
His defense is where he has the most room for improvement. Playing defense in the NBA is difficult for any rookie, so that was to be expected. Kaminsky struggled against stronger big men that could bully him and also against wings masquerading as small-ball power forwards that beat him with their quickness.
Luol Deng had his way with Kaminsky in that playoff series against the Heat, dragging him out to the three-point line and shooting over him. Still, Kaminsky was an excellent defensive player in college at Wisconsin, so there is still reason to believe he can improve. To Kaminsky's credit, he knows he needs to get better on the defensive end.
He told Rick Bonnell of the Charlotte Observer that during an interview in August.
"I've got to be a better overall defender. I was overwhelmed at times," Kaminsky said. "My preparation, obviously, needs to get better. I so want to be a more consistent player. I'd have a good game and then disappear in the next."
This season the Hornets will ask more of Kaminsky, and he seems up for the task. Clifford showed that he trusted him during that aforementioned playoff series. This season his shooting off the bench will be vital to Charlotte's offense.
The second unit offense will likely feature a heavy dose of Ramon Sessions/Kaminsky pick and pops. Kaminsky's 2.5 three-point attempts per game will increase, Charlotte hopes his 33.7 three-point percentage also jumps. Kaminsky's shooting will open the lane for Sessions drives to the rim and Jeremy Lamb's back-cuts.
Kaminsky and Marco Belinelli knocking down open threes makes Charlotte's bench unit go from potentially worrisome to productive enough offensively to counteract their defensive struggles. Kaminsky could even find himself playing minutes with the starters in a stretchy lineup that pairs him with Marvin Williams down low. His role might not be completely defined just yet, but it's clear that it will be significant.
He may not be a superstar, but Kaminsky looks like a valuable rotation player. That and an endearing personality will make him a fan favorite in Charlotte.
The only thing that's left to do is for him to be in a buddy cop movie with Cam Newton. That and a playoff series win.
This article originally appeared on