Charlotte Hornets: Batum, Zeller, and Walker Shine in Win Against Atlanta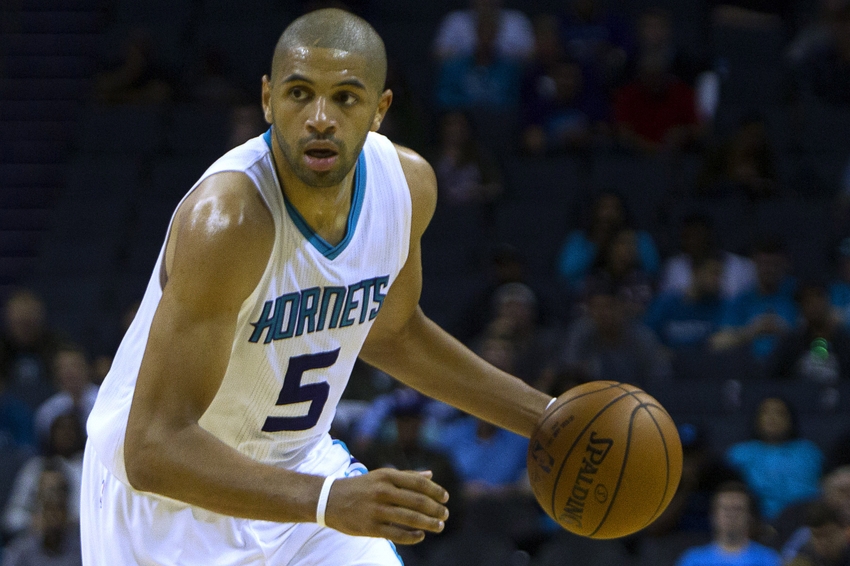 The Charlotte Hornets ground out a hard-fought victory over the Atlanta Hawks to extend their current winning streak to two games.
The Charlotte Hornets and the Atlanta Hawks battled it out in a divisional match-up. A battle so intense that it included the ejection of Dwight Howard for a flagrant two foul on Cody Zeller. The game ultimately ended with a 100 to 96 victory by the home team Hornets. This game had more than one hero. The guys really stepped up in this one.
Player of the Game:
Nicolas
Batum
SG,
Charlotte Hornets
A+
Nick the Not Quick came out on fire. From the opening jump, Nic came out shooting. Making layups, jumpers, and three-pointers in the first half Nicolas Batum could not be stopped. Missing only one shot Nic finished the first half with 18 points. When the clock completely ran out Nic had led the team in points and rebounds. 24 points and 10 rebounds for Nic.
Kemba
Walker
PG,
Charlotte Hornets
A
For the first time since the very beginning of the season, Kemba is not the player of the game.  However, this does not mean that he had a bad game. Getting off to a Nic Batumesque slow start, Kemba finished strong. He was absolutely unstoppable in the fourth quarter. After a slow start in the first half, he completed the game with 21 points, six assists, and two steals.
Cody
Zeller
C,
Charlotte Hornets
A
Cody got off to a hot start scoring 12 points early on in the first quarter. Zeller's athleticism was on full display. All night he was hustling his tail off finding the open spots and lanes to the basket. During Kemba's early game struggles Cody helped Nic keep the Hornets in the game. The youngest Zeller sibling finished up with 23 points, three rebounds, and three blocks.
Michael
Kidd-Gilchrist
SF,
Charlotte Hornets
B-
Although he did not score a lot, his Gerald Wallace like all out hustle was on display. Maybe we should call MKG Crash 2.0. He ended the game with seven points, five rebounds, and 3 assists. He also played great individual defense as well.
Marvin
Williams
PF,
Charlotte Hornets
B
Marvin was the usual blue-collar hero he always is. Playing defense, shooting threes and being whatever the team needed him to be. Marvin helped the team get the win tonight in all facets. Williams finished with eight points, 11 rebounds, and three assists.
Marco
Belinelli
Back-up SG,
Charlotte Hornets
D
Marco struggled once again. He was only 1-4 from three and 2-7 from the field for a total of 6 points. His shooting struggles continue and with Jeremy Lamb set to return soon, the Hornets desperately need a back-up wing player that can score.
Frank
Kaminsky
Back-up PF,
Charlotte Hornets
C-
Frank had a horrible night shooting but he still found a way to contribute. He provided the team with four points, six rebounds, and four assists.
Roy
Hibbert
Back-up C,
Charlotte Hornets
D-
In Big Roy's 16 minutes of action, he was a total non-factor. He only managed 1 point.
Ramon
Sessions
Back-up PG,
Charlotte Hornets
D+
Ramon was largely ineffective tonight, but he did hit a timely three and play decent defense.
More from Swarm and Sting
This article originally appeared on