Charlotte Hornets Backcourt Dominates in Win Over Knicks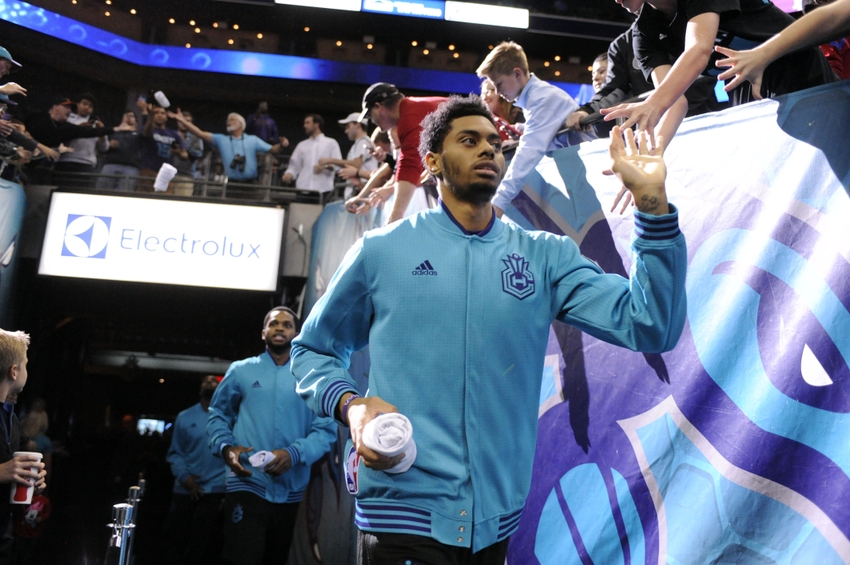 The backcourt combination of Kemba Walker and Jeremy Lamb dominated and helped the Charlotte Hornets beat the New York Knicks.
It was obvious from the get-go that the Charlotte Hornets wanted this one. They wanted it, and they got it. The team had co-players of the game in this one as two backcourt players stepped up to get the win. The former UCONN Huskie backcourt of Kemba Walker and Jeremy Lamb, who started in the absence of Nicholas Batum, were both outstanding in the victory over the New York Knicks.
Players of the Game: Jeremy Lamb and Kemba Walker
Jeremy
Lamb
SG,
Charlotte Hornets
A+
I wrote earlier this season about my desire to keep Jeremy Lamb when there were rumors of his being included in a trade for Greg Monroe. He demonstrated exactly why I wanted to keep him. Lamb got his first start of the season because Nic Batum suffered a cornea injury in the previous game against the knicks. He stepped in, and stepped up! Not only did he provide 18 points, but he set a career high, and the NBA's season high for rebounds by a guard. He pulled down 17 rebounds to go along with the 18 points. The huge double-double was a pleasant surprise from Jeremy.
Kemba
Walker
PG,
Charlotte Hornets
A+
One could almost say that they thought Kemba was too predictable. That is, his consistent scoring is predictable! That is what Kemba does. He scores. He scores. He scores. Kemba continued to do that. The captain gave his side 28 points. Oh yeah! He also had 3 blocks! Good effort from Walker on both ends of the court as always.
Michael
Kidd-Gilchrist
SF,
Charlotte Hornets
B
Micheal Kidd-Gilchrist came to work, and he did not forget his lunch pail and hard hat. MKG put up a near double-double with 11 points and eight rebounds while also adding in a blocked shot.
Frank
Kaminsky
PF,
Charlotte Hornets
B
The Tank continued his fine sophomore campaign. He got the start in place of Marvin Williams who hyperextended his knee against the Knicks in New York.  Even though he struggled early on, he did not disappoint throughout. Kaminsky fired off 14 points, and added five rebounds and three assists for the game.
Cody
Zeller
C,
Charlotte Hornets
A-
Cody had a very good game. Although his league-leading field goal percentage may have taken a little hit, he was still productive. Cody is obviously starting to put it all together. He is definitely starting to play like a former top-five pick. Zeller posted 11 points, 10 rebounds, and two blocks.
Marco
Belinelli
Back-up SG,
Charlotte Hornets
C-
Marco has been lights out from the three-point line this season but he struggled a little bit with his shot in this one. He still hit one though, and finished with five points. On a sour note, he did have a slight hamstring injury but it isn't considered serious at the moment.
Roy
Hibbert
Back-up C,
Charlotte Hornets
C-
Big Roy gave good minutes. Off the bench, he played for 14 minutes and provided six points, three rebounds, and a block.
Ramon
Sessions
Back-up PG,
Charlotte Hornets
C
Ramon is getting Kemba plenty rest this season. He doesn't do anything flashy, but Coach Clifford knows that Ramon will come in and play good minutes. Sessions will be solid and not play outside of his role while on the court. In 15 minutes, he dropped nine points and 3 assists.
Spencer
Hawes
Back-up C,
Charlotte Hornets
C-
Spencer had a good game with the second unit. I only have one problem with Spencer. He takes too many 3-point shots. He shoots well enough to let him try two a game to see if his shot is falling. However, no more than three attempts in a game unless he has hit all three of those. Tonight he made one, and then proceeded to miss his next three.
More from Swarm and Sting
This article originally appeared on