Celtics Stash Overview: Checking in on Rookies Overseas and in Maine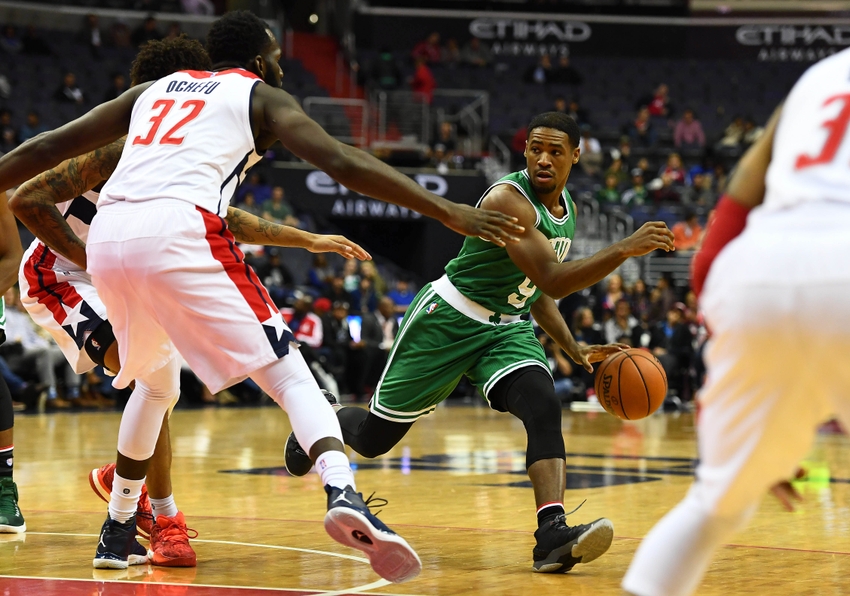 The Boston Celtics had a multitude of picks in the 2016 NBA Draft. After selecting Jaylen Brown with the third overall selection on draft night, the Celtics used their two remaining first round picks on forward Guerschon Yabusele and center Ante Zizic.
In the second round, the Celtics selected Notre Dame guard Demetrius Jackson, forward Ben Bentil out of Providence, and Iowa State swingman Abdel Nader. Every draft selection besides Zizic had at either Summer League or preseason experience with the Celtics.
Bentil was ultimately cut before the regular season, and Nader was sent to Maine to play in the NBA D-League with the Red Claws. Yabusele and Zizic became the Celtics first overseas "draft and stash" players since Semih Erden back in 2008.
Jackson is the only draft pick outside of Brown to make the active roster, but will bounce back and forth between Boston and Maine throughout the season. Let us see how each of the stashed rookies have faired in their respective leagues so far this season.
Guerschon Yabusele: Shanghai Sharks
PPG: 15.2  APG: 1.8  RPG: 8.0  FG%: 40.7  3P%: 34.1
After showing Celtics fans glimpses of his potential in both Utah and Las Vegas Summer Leagues, Yabusele went to China to play for the Shanghai Sharks alongside Jimmer Fredette. In a preseason game against the Houston Rockets, Yabusele went for 24 points and 12 rebounds. An impressive showing against real NBA competition is a good sign for the Celtics.
In both the Summer League and now in China, Yabusele shows a very unique skill set in 6'7, 260 pound frame. He is surprisingly quick off the dribble, and has a nice shooting touch to keep defenses honest. The best comparison for Yabusele's game is Draymond Green. While not even close to being as good as Green, Yabusele has a unique, and versatile game that makes Draymond Green the X-Factor for the Warriors.
If Yabusele can continue his strong season in China, and gain valuable pro experience, the Celtics will have to find a roster spot for this guy. His versatility coming off the bench would be a welcome addition by Brad Stevens and Celtics fans everywhere.
Demetrius Jackson: Maine Red Claws
PPG: 21.3  APG: 6.5  RPG: 5.3  FG%: 55.4  3P%: 38.9
Demetrius Jackson earned a spot on the 15 man roster from strong Summer League and preseason performances. However, it is better for his development that the second round pick plays with the Red Claws in the D-League from time to time.
In his playing time in Maine, Jackson has looked very comfortable getting into the paint and working off the dribble on the perimeter. Watching him in action really makes me wonder how Jackson fell all the way to 45th in the draft this past summer. This guy can flat out play. He defends well, shoots well, and is a good rebounder for his size.
Given the amount of talent at the guard position for the Celtics, Jackson's future playing time is uncertain. If no guards ahead of him get moved, the Celtics might decide to include Jackson in a big trade as a valuable guard that has not been given playing time.
Ante Zizic: KK Cibona
PPG: 19.8  APG: 1.5  RPG: 8.8  BLK: 1.45  FG%: 66.7
Ante Zizic was drafted as a high energy big that provides rim protection and rebounding. So far so good in that area. Zizic attacks the boards very effectively on both ends of the floor. In a game in early October, Zizic poured in 37 points while grabbing 20 rebounds. That kind of production on the professional level has to be encouraging for the Celtics.
Zizic shoots a high percentage since most of his offense comes within the paint. He shows a mid range touch from time to time, but Zizic must improve his range drastically before he can become a complete big man in the NBA.
Hopefully that when he comes over the U.S., Zizic provides physicality and and consistent energy to a Celtics front court that lacks players that play with force.
Abdel Nader: Maine Red Claws
PPG: 24.3  APG: 3.2  RPG: 3.8  FG%: 52.6  3P%: 45.2
Taken with the 58th overall pick in the draft, Abdel Nader came with almost no expectations. In the Summer League, Nader quickly impressed the Celtics coaching staff with his effective drives to the basket, and being able to knock down threes.
So far in the D-League, Nader has continued his strong play as the best player on the Red Claws. He still drives to the basket very effectively, and has displayed an impressive ability to set up his teammates after collapsing defenses. Nader is also demonstrating a very high shooting percentage, which will prove to be important for his chances of moving up to the NBA roster.
Nader has been a pleasant surprise to the Celtics 2016 draft class. Like Yabusele, Nader can provide valuable versatility on both ends of the floor to help the Celtics bench.
The Celtics were highly criticized on draft night for the lack of fireworks. However, they seem to have drafted a group of players with unique skill sets that could potentially contribute to a championship team. Their strong level of play should be watched carefully this season to see if their should be a spot opened on the roster for them in the near future.
This article originally appeared on