Cavs Daily Gospel: Kevin Love Unlocking Potential Of Big Three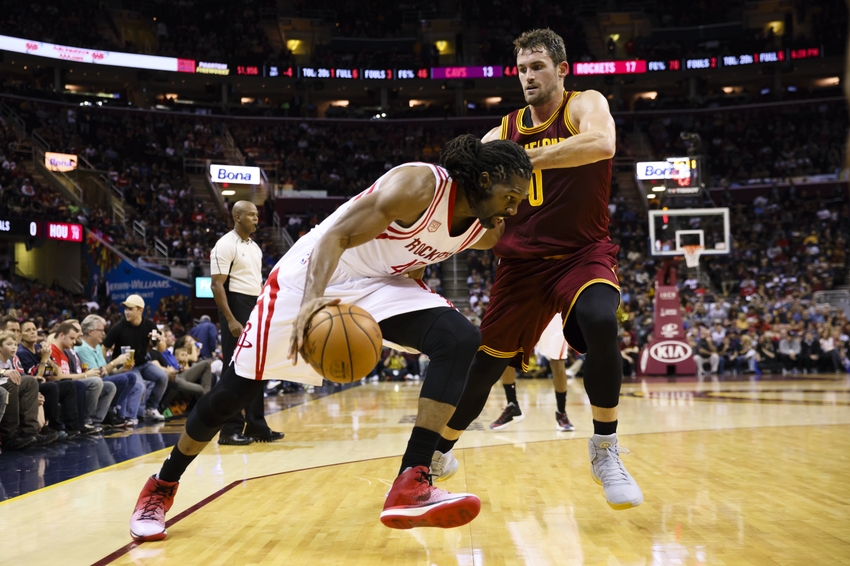 Today's "Cavs Daily Gospel" is all about Kevin Love.
Kevin Love has been a better player in four games this season than he has at any point in his Cleveland Cavaliers tenure. Sure, he's had games where he was a high scoring, board eating beast. He's never been more confident though.
From his posters for Banana Republic to his aggressive play in the post, Love looks good. He feels good. He's the man.
As each member of the Big Three averages above 20 points per game, Love and LeBron James score about the same points per game. Granted, neither are shooting with particular efficiency from deep. However, Love has the higher three-point shooting percentage for his career and ultimately has the greater chance to pick up his performance from behind the line. All that is to say is he can average nearly 25 points per game if he improved efficiency.
(So too can James, if he knocks down a couple of more outside shots.)
Yet, it's Love's defense that deserves the spotlight.
He's been coming up with key stops since Game 7. Yet, at times last year, Love was such a liability on defense he was being taken out of games.
If he can continue to be an able defender and play the center position for an extended period of time, the Cavs have a greater chance of opening up the lanes for James to drive.
A James-Love pick-and-roll isn't unstoppable but it's hard to stop.
James and Love at power forward and center is hard to stop.
Kyrie Irving by himself in the backcourt is dangerous.
Love's ability to make stops defensively unlocks everything the Cavs want the Big Three to be able to do.
After a look at Love's defensive impact on the Cleveland Cavaliers, King James Gospel will take a look at  Cavs stories from around the web
Cleveland Cavaliers Are Making Their Defensive Mark (read here): King James Gospel's Chris De Silva looks at how the Cleveland Cavaliers are winning game with their defensive mettle.
Cleveland Cavaliers: Can NBA Champs Win With Current Roster (read here): King James Gospel's Daniel Opiach takes a look at the current roster and gives his take on if the Cleveland Cavaliers have what it takes to repeat as NBA champions.
More from King James Gospel
Stories From Around The Web:
One-on-one with Cleveland Cavaliers rookie Kay Felder (read here): Amico Hoops finds Kay Felder and the rookie discusses his first game. He also discusses how he's handling losing his role of the backup point guard, for now.
Cleveland Cavaliers shred Rockets with same play and Iman Shumpert odd man out during World Series: Fedor's five observations (read here): Cleveland.com's Chris Fedor explains how the Cleveland Cavaliers destroyed the Houston Rockets with Kevin Love playing center. By the way, Iman Shumpert's not even a Chicago Cubs fan.
Kevin Love, the defensive stalwart the Golden State Warriors remember (read here): Cleveland.com's Joe Vardon discusses how Kevin Love's defense has changed since his defensive stop on Stephen Curry in Game 7 of the NBA Finals. The advanced statistics say he's the best defender in the Big Three.
If you have any submissions you'd like to make to the Cavs Daily Gospel tweet us @KJG_NBA or email q.albertie@gmail.com.
This article originally appeared on