Tristan Thompson's contract situation was one of most unique in NBA history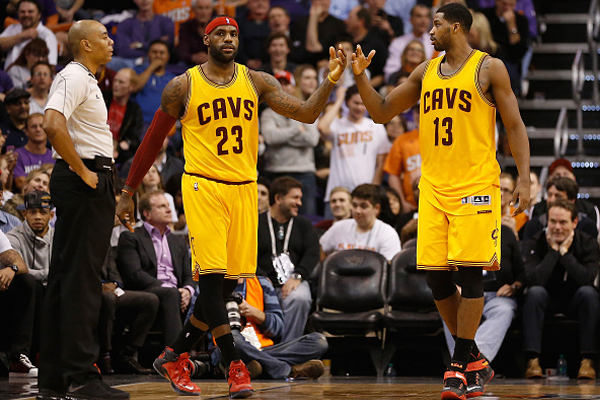 Now that Tristan Thompson has ended his holdout and agreed to a contract that will pay him $82 million over the next five seasons, it's worth wondering why the deal took so long to complete.
Thompson was never going anywhere, at least not this season, and the Cavaliers weren't going to offer much more than what he got due to a luxury tax bill that will put the team's total payroll cost in the neighborhood of $170 million for the upcoming season.
But circumstances made this an incredibly unique situation, specifically those surrounding the league's salary cap, which will spike in advance of the 2016-17 season. Terry Pluto of Cleveland.com breaks down some of the reasons why:
The Cavs tried to extend Thompson's contract prior to the 2014-15 season. The Cavs had until November 1, 2014, to sign Thompson to an extension on his rookie deal. It would start at $5.1 million for 2014-15, then go up from there.

Like most salary cap things, this became very complicated.

I first reported that the Cavs had offered Thompson $50 million for four years, and it was turned down. You can read the details here. But that decision set up the long contract talks in the summer of 2015.

Here is what the salary cap looks like in the next few seasons: 2015: $70 million.

2016: $89 million.

2017: $108 million.

2018: $120 million.

The new television contract money starting in 2016 means more money for everyone.

Get this: In 2016, teams must SPEND at least $75 million on salaries as part of the labor deal. That's called the "floor." It's $63 million this season.

When Thompson's agents asked for the $94 million maximum contract, one of their points was the deal would be 30 percent LESS than a maximum deal in 2016 when the salary cap nearly explodes.

Despite the fact that more riches were available to Thompson if he had tried to force Cleveland's hand by sitting out even longer, his loyalty to LeBron James was likely the tipping point in getting the deal done before the season started.

MORE NEWS:

Want stories delivered to you? Sign up for our NBA newsletters.