Cavaliers Destroy The Blazers; Three Things This Road Trip Taught Us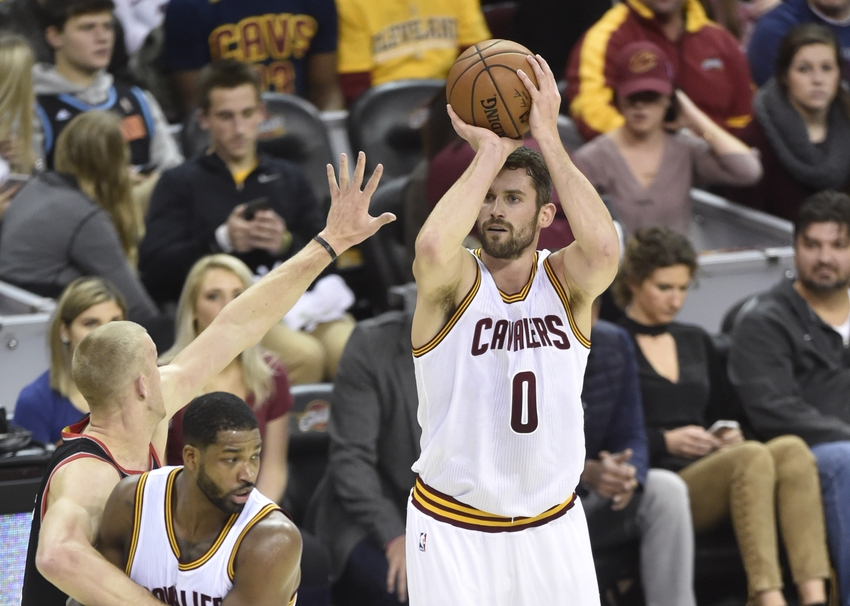 The Cleveland Cavaliers Showed The Blazers Why They're The Champions & Why We… Uh… Aren't.
Well it's official, the Portland Trail Blazers capped off a five game road trip with their third blowout loss out of five games. Coming off of a tough game against New York on Tuesday, Portland tried to regroup against Cleveland but failed miserably. The story of the game was unquestionably the unreal offensive performance by the Cavaliers. Led by Kevin Love with, and I'm serious here, 34 points in the first quarter, the Cavaliers rode his momentum to an astounding 46 first quarter points.
As you can probably figure out, it was all downhill from there. The Blazers had another "constantly down by 20" game with some runs here and there. They kept up with the pace for the most part, scoring 125 total points with arguably the quietest 40 point game of Damian Lillard's career.
If Portland is to take anything from this game, it's a nice DVD/film room bible. They need to learn from these blowouts and improve in the areas that they need to as they start a five game home stand. Despite the youth of Portland, they are also a very mature and can use this game to help.
There are genuinely things to be thankful for as a Blazer fan, but there is also some trouble. Here are three things to take from this road trip.
The Scapegoat is Gone
Everyone's favorite Scapegoat is no longer the reason for Portland's blowouts. For the last three games, Evan Turner has put up points, ran the offense effectively and limited his turnovers. Overall, his role is starting to take shape in Portland and fans are starting to realize why we worked so hard to sign him.
If you go back to this summer and Portland's signing of Turner, a lack of exposure irked Blazer fans. Last year, Boston was essentially the Blazers of the Eastern Conference: a young team defying expectations. They were a fun team to watch, with lock down guard defense and six players averaging 10+ points per game. But as a team in the East, there wasn't a lot of exposure for Portland fans to catch a game.
Turner has brought a few things to the table that Portland didn't have last year. For starters, Turner was key in Boston's scrappy defense and has brought some of that here. He takes each assignment seriously. He gets ticked off if someone gets by him, or he talks smack when he's locking someone down. Good stuff that will only get better as the season progresses.
On the offensive end, it's getting clear that he has the ball handling and quickness to be effective. His crossover is quietly lethal and his quick release jump shot is hard to block. If he can keep up his production over the last few games, he'd give Portland 15 points from the bench each night. A consistent scorer off the bench is something the Blazers haven't had in years, and Turner has that potential.
Improvements on the Defensive End
As the blowouts started to pile up, our rebounding looked like the culprit. With Al-Farouq Aminu still out with injury, Portland was losing that battle seemingly every game. So Terry Stotts rectified that with Ed Davis in the starting lineup, and for the most part we've either grabbed more boards or it was close.
What it all comes down to is just a general improvement in every aspect of the defensive end. On the inside, we don't have an effective rim protector that can alter shots or force contested jumpers. So when Portland tries to crowd the rim with more bodies, teams just turn their attention to the perimeter. They have taken advantage of Lillard and C.J. McCollum's inability to get around screens and easily score at will.
When a team is at the point that they need to focus on the interior, but can't trust the perimeter defense to hold their ground, it's trouble. At the time of this article, Portland officially ranks last in defensive efficiency. Festus Ezeli's supposed to be our rim protector, but he might not even play.
If Portland continues this terrible defense, it's time for a trade. Period.
Portland Is Thankful That It's Still Early
The Portland Trail Blazers have to be thankful that it's still early in the season. We're only 20% through the season so far, meaning that there is a ton of time for Portland to fix their problems.
General Manager Neil Olshey is thankful that the Seattle Seahawks are doing great in the NFL and doesn't have owner Paul Allen breathing down his neck. Olshey has the third highest payroll of the NBA. If you have that kind of money, you shouldn't have the worst defense in the league.  
Portland can be thankful that they're technically on a better start than they were last year. They have higher expectations sure, but there's still potential for a better record and better season. If you recall to last year, the season really turned around after a comeback victory against the Thunder. Lillard went insane the last three minutes of the game and got the team to believe in themselves. Portland needs a game like that to inspire and remind us how talented we really are. We've only added talent to last year's Blazers, not subtracted, and it's time to gear up and start playing like it.  
More from Rip City Project
This article originally appeared on