Carmelo Anthony Says New York Knicks Have To Buy In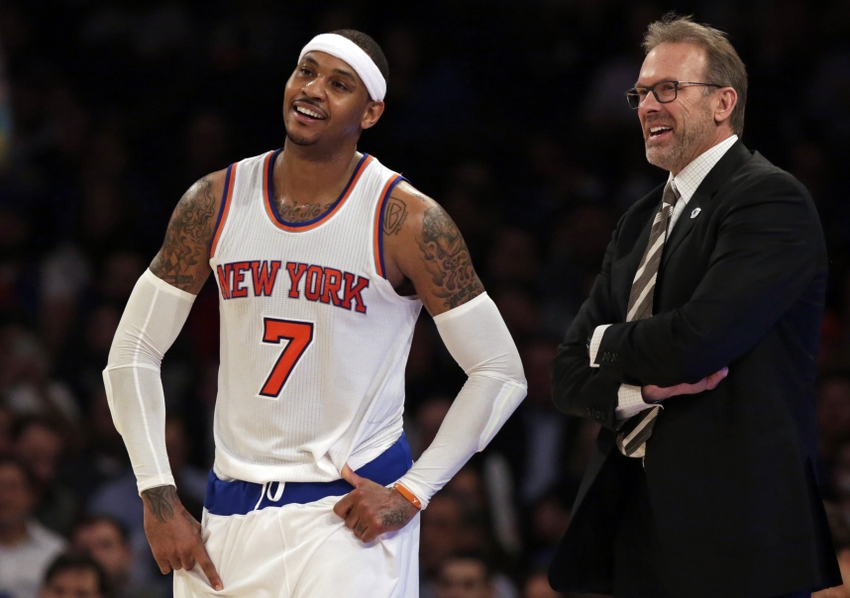 The New York Knicks have assigned Kurt Rambis to lead the revitalization of the worst defense in the NBA. Carmelo Anthony says the players have to buy in.
---
The New York Knicks need to fix the defense. Regardless of who's responsible for that turnaround, New York needs to step up on defense before it concerns itself with who's getting touches and who isn't on offense.
Unfortunately, franchise player Carmelo Anthony doesn't appear to be confident in the assistant coach whom Jeff Hornacek has assigned to helping the Knicks do so.
Carmelo on Rambis taking over defense: "Whether we're comfortable with it or not, it is what it is so we have to buy into it." #Knicks

— Barbara Barker (@meanbarb) November 8, 2016
Fortunately, Anthony is ready to buy in.
Rambis took over the Knicks in 2015-16 as the interim head coach after Derek Fisher was fired 54 games in. New York went 9-19—.321—during the 28 games under Rambis after going 23-31—.426—with Fisher.
Per Ian Begley of ESPN New York, Anthony's full comments displayed a sense of urgency and understanding.
"Whether we're comfortable with it or not, it is what it is, and we got to buy into that and embrace that," he said. "[We have to] just focus in on our schemes and what we want to do and just have kinda a foundation of how we gonna do it and what we gonna do and go by that."
It all starts with effort.
Anthony clearly isn't too excited about the prospect of playing for a defense that's run by Rambis. He's willing to buy in and embrace the change, however, and that's what truly matters at this stage of the season.
If Anthony can overcome his doubts and buy into the changes being made, then the rest of the team should follow in the leader's footsteps.
New York currently ranks No. 30 in points allowed per 100 possessions. It's No. 26 in points allowed per game and opponent field goal percentage, and No. 28 in opponent field goal percentage.
It'll have a chance to turn things around against the Brooklyn Nets on Wednesday, November 9 at Madison Square Garden.
We'll see just how much the Knicks have bought in thus far.
This article originally appeared on