Carmelo Anthony Ready To Share New York Knicks Spotlight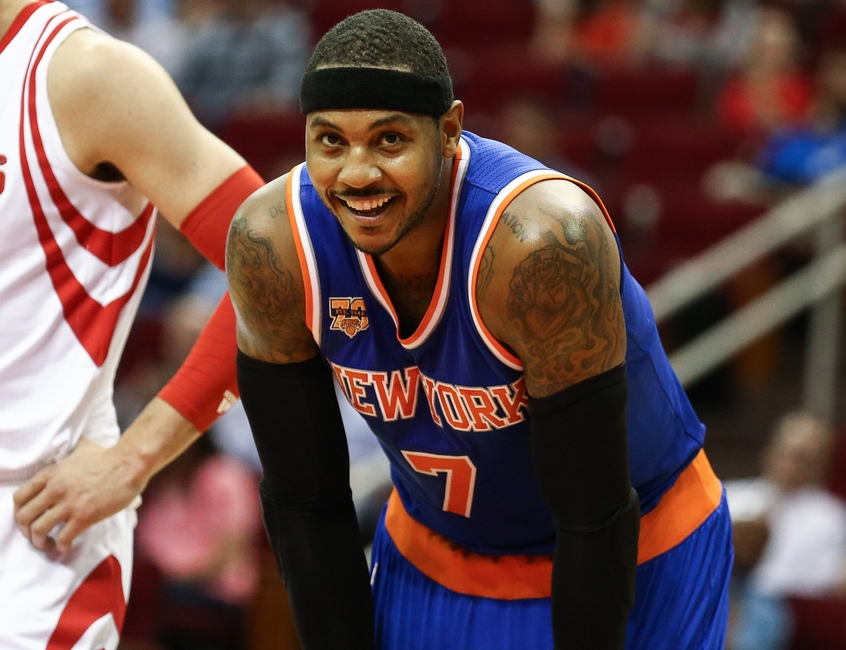 Carmelo Anthony sounds ready to cede some of the shots and spotlight to his New York Knicks teammates.
Carmelo Anthony is committed to turning around the New York Knicks. He re-upped with them in 2014 for a near max deal for five years and approximately $124 million.
The Knicks went on to have the worst season in franchise history the first year of his new deal, winning 17 games. A big reason for that was Anthony dealing with a knee injury.
Things looked to be quickly going downhill, but Anthony reiterated his commitment to the organization. Things were beginning to turn, as the Knicks landed Kristaps Porzingis with the fourth overall pick and Phil Jackson had some money to spend in free agency.
Jackson brought in some veterans such as Robin Lopez and Arron Afflalo. The Knicks were able to win 32 games, but Anthony was beginning to get restless. He is coming out of his prime, so his career arc is nowhere near future face of the franchise Porzingis.
Jackson got the hint and loaded up this past offseason.
Jackson traded for Derrick Rose before signing Joakim Noah, Brandon Jennings, and Courtney Lee. It was a stark contrast to the slow build the Knicks looked to be beginning. Anthony wanted veteran help and he got it. But, there would still be work to do.
On paper, the Knicks look much improved. But games aren't played on paper, so chemistry and cohesion need to be built.
The Knicks weren't afforded that opportunity because of off-court issues and injuries in training camp; Rose spent all but one game in Los Angeles for a civil lawsuit alleging him and two friends of raping an ex-girlfriend, while Noah battled a hamstring injury.
It showed in the season opener against the Cleveland Cavaliers. The Knicks were blown out by the defending NBA Champions and looked out of sorts. They had 18 turnovers compared to only 17 assists on 32 made baskets.
It was the type of performance you would expect to see when a team without much practice time faces a well-oiled machine.
New head coach Jeff Hornacek said that it was a game his team wanted redemption for prior to their season opener Saturday against the Memphis Grizzlies. Redemption is what they got.
The Knicks defeated the Grizzlies 111-104 and we got a glimpse of what could be a new Carmelo Anthony.
"We were a completely different team tonight," Anthony said following the victory.
The Knicks looked much better on both ends of the court. They had 24 assists on 40 made shots with only 12 turnovers. Everyone did their part and had a chance to shine. Porzingis had 21 points. Noah had seven assists with 10 rebounds and six points.
Courtney Lee had a nice bounce-back game, scoring 16 points after going scoreless opening night.
Rose had some highlights that provide confidence he has turned a corner from the injuries that have plagued him in recent seasons. He had put a crossover on Mike Conley that got the crowd off their feet and provided aggression towards the rim the Knicks have lacked in recent seasons.
Justin Holiday, who came over from the Bulls in the trade with Rose and was considered a throw-in by many people, even helped down the stretch. He received important minutes and responded, scoring four points with a block and assist.
From that run down there were a lot of positives, but one thing is missing–a mention of Carmelo Anthony. He attempted only two shots in the fourth quarter, allowing other players to take the shots and spotlight in crunch time.
It is something we rarely saw previously in his Knicks tenure, as the team was overreliant on him at the end of games.
For at least one night, that was not a problem. It is something that will need to continue to happen if the Knicks are to have success this season, and Anthony sounds to be on board.
"Tonight, the focus was on other guys. Derrick had it going, Kristaps had it going. And when it came to me, it came to me," he said.
When it came to him, Anthony got the job done. He had an and-one with 7:33 to play to push the lead back up to five points. He then didn't take another shot until seven minutes and nine seconds later with the game already in hand.
This is not something you would have seen in the past. The Knicks would normally force feed Anthony even if it wasn't the best thing for the team. It was a troubling trend, and one they should get away from.
It is something that Anthony is OK with, as he is OK sharing the spotlight and shots with his teammates.
"You don't see me complaining about it. You didn't see me out there making a face," Anthony said. "[It's] something that I embrace. I look forward to just being out there with guys who can control the game and make plays, and when it's my time, it's my time."

He added: "We know that the ball doesn't have to be in my hand every single time down the court for us to make things happen. There will come a time where that has to happen, but right now, we're just trying to get comfortable with one another and play off of each other and guys do what they do best."
That sounds like a good leader. Anthony knows, despite his ability to score the ball with ease, he needs help if the Knicks are to be successful. He has some players that are capable of helping him and needs to let them do so.
There were concerns coming into the season that the Knicks would be unable to find touches for everyone. Rose and Anthony are both high usage players and people feared Porzingis would get lost in the shuffle.
Those are legitimate concerns, and over the course of an 82-game season, there will be hiccups.
We are only two games into the season so definitive statements cannot be made. Winning is the best deodorant, so this is a topic that should be revisited if the Knicks begin to struggle or go on a losing streak.
Things were much more upbeat Saturday than after opening night. But it is certainly encouraging to hear that Anthony seems to be buying in to start the season as the Knicks look to shake the stigma that follows the organization.
This article originally appeared on