Melo wants to play for Team USA in a record fourth Olympics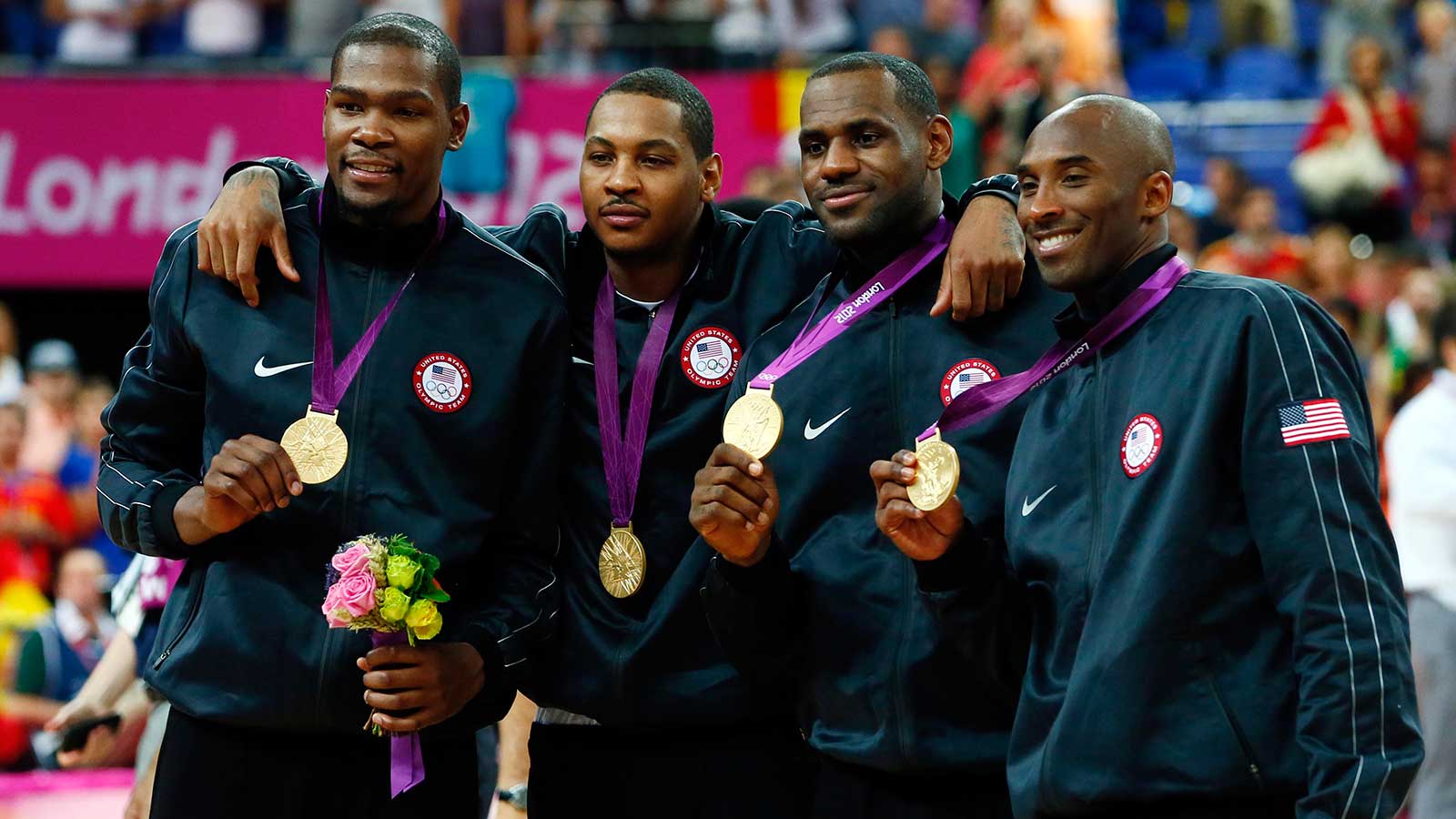 Carmelo Anthony can't understand why he hasn't had as much success as his peers, so he's trying to one-up them: Anthony reportedly wants to play in his fourth Olympics this summer in Rio de Janeiro, which would mark a men's national basketball team record.
Anthony and LeBron James would be the only four-time men's basketball participants if they each play in the 2016 Olympics this summer, as well as the first three-time gold medalists if the U.S. three-peats for gold (Anthony and James won bronze in 2004).
According to Al Iannazzone of Newsday, Anthony's recent knee problems aren't expected to be an issue this summer:
Anthony, who has experienced soreness in his surgically repaired left knee this season, believes he will be fine and will be able to commit to playing in a record fourth Olympics for the men's national team.

"I want to go," Anthony said. "I look forward to being a part of that.

"Not too many people can say they played in four Olympics and have a chance to win three gold medals. Not too many people can say that. To me that's the way I look at it and the way I approach the Olympics."
The question then, of course, is whether Anthony is good enough to make the 12-man squad out of the 31-player selection pool. Team USA head coach Mike Krzyzewski and managing director Jerry Colangelo have a tough task, to be sure.
A lot can change from here until this summer — injuries, playoff runs, family health/obligations, etc. — but here are the seven presumed locks for the 2016 Olympics roster:
LeBron James
Stephen Curry
Kevin Durant
Russell Westbrook
Chris Paul
Anthony Davis
Paul George (who is reportedly guaranteed a spot)
Paul and James could sit out, which would certainly help Anthony's case, but it's too early to project either way.
Still, that's seven players right there: Three point guards, three wings and one big man. Team USA tends to carry at least three, if not four, big men, so at least two of the five remaining spots will go to bigs (Blake Griffin, Draymond Green, DeMarcus Cousins and Andre Drummond are all strong candidates).
After that, it gets murkier. Anthony could be a lock because of his previous experience and considerable success as a small-ball 4 — as well as his Jim Boeheim connection — but is he better than Kawhi Leonard, James Harden, Jimmy Butler or Klay Thompson at this moment?
In short, no.
Anthony isn't a top 12 player right now — or even close to being one. And, while his previous Team USA dominance suggests he may be better suited for a spot than others, he shouldn't make it over more talented and versatile pieces. He is no longer the scorer or player he once was, and the competition for the final few roster spots is too fierce to include a player based on reputation alone.
Team USA will likely have plenty of overlap on the wing: James, Durant, George and Leonard can replicate (or get close to) Melo's offensive production, and then turn around and lock down multiple positions on the other end. For that very reason, it'll be difficult to keep a guy like Green off the team, as he can defend 1 through 5 and play 3 through 5 on offense.
The current small-ball craze will almost certainly extend to the Olympic roster — where it has been implemented as a successful strategy for well over a decade — and Anthony seems to be a bit redundant with what the U.S. already has.
It's difficult to see him making the roster as anything other than a legacy pick. A new crop of two-way wings has emerged and surpassed him — Harden is, in some regards, the modern-day Anthony as the lone offense-only wing necessary.
Assuming the aforementioned seven players all participate, Leonard, Harden, Green, Griffin and Cousins make sense as the final five (though one could make a case for Butler, Thompson, Drummond or Kyrie Irving — don't forget, he played for Coach K — too).
Anthony can posture to make the 2016 Olympic all he wants, but logic dictates that, as of right now, it appears he's on the outside looking in.
Jovan Buha covers the NBA for FOX Sports. Follow him on Twitter: @jovanbuha.