Carmelo Anthony, Kristaps Porzingis Lead Knicks Past Hawks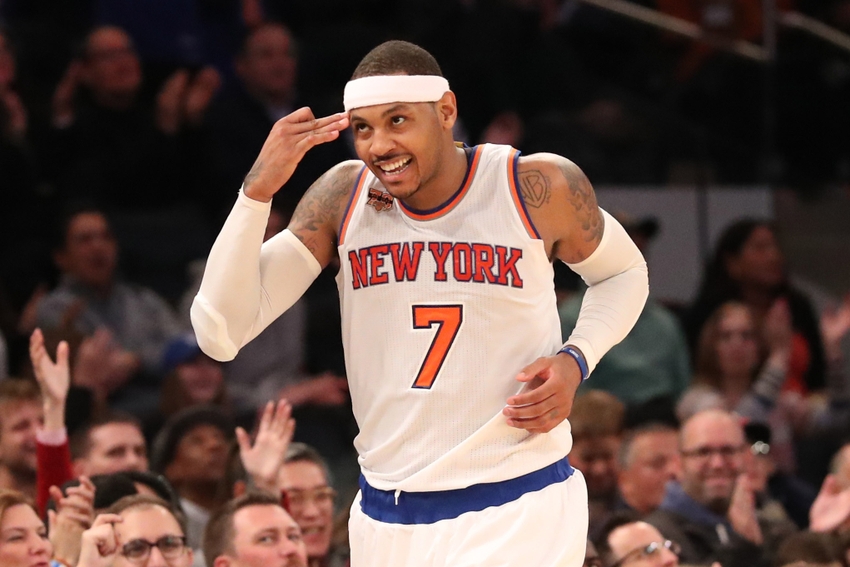 Carmelo Anthony and Kristaps Prozingis combined for 50 points, thus leading the New York Knicks to a well-deserved win on Sunday.
---
The New York Knicks entered Sunday with the wrong type of momentum. Defeating the Atlanta Hawks 104-94 was a magnificent way to bounce back from the 119-112 loss to the Washington Wizards on Thursday.
The momentum has been enhanced and the velocity increased for the upcoming matchup against the Portland Trail Blazers.
The Knicks got off to a blazing start with Derrick Rose providing the spark. His explosiveness, scoring, and playmaking abilities have consolidated his position back as one of the NBA's premier point guards. We are seeing flashes of the 2010-11 MVP that NBA fans know and love.
Carmelo Anthony pushed the envelope by flailing up an unorthodox buzzer-beater at the end of the first quarter.
Anthony acknowledged how important it was to get off to a hot start, per the Knicks' official Twitter account
The Knicks were extremely confident on defense, showcasing one of their best performances of the season. Despite playing without Joakim Noah, the defensive powerhouse who was sidelined by an illness, New York held Atlanta to 94 points.
It was just the second time in 2016-17 that the 6-7 Knicks held an opponent below 100 points.
Defensive presence will be the determining factor on whether or not the Knicks become playoff contenders. They entered the Hawks game at No. 30 in points allowed per 100 possessions.
Kristaps Porzingis believes the Knicks are turning a corner.
Anthony scored a season-high 31 points on 12-of-22 shooting from the field and 4-of-8 shooting from 3-point range. Porzingis had his second double-double of the season with 19 points and 11 rebounds. That was the catalyst to the Knicks capturing the W.
The backcourt of Rose and Courtney Lee scored 14 points each and combined for 12 assists.
The Knicks have a bright future that can be intensely felt throughout Madison Square Garden.
This article originally appeared on