Caris LeVert Fully Participates in Practice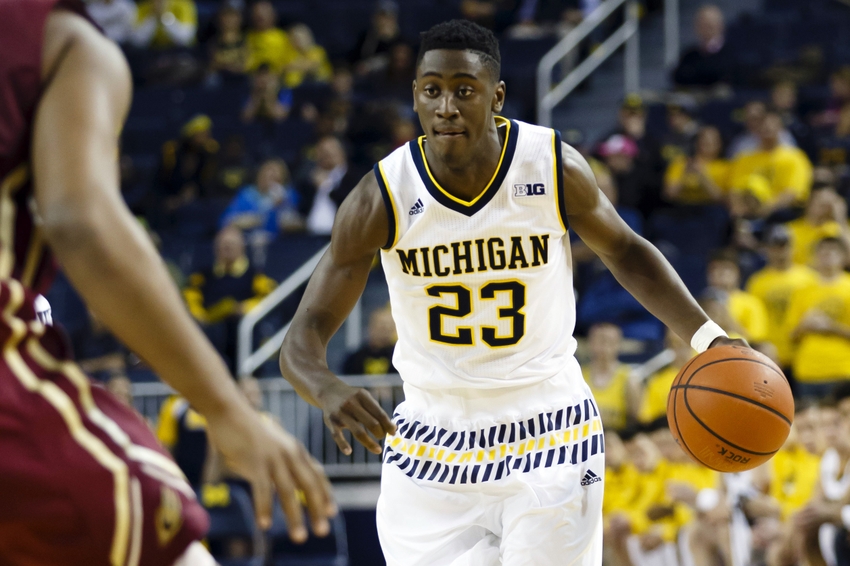 Brooklyn Nets rookie guard Caris LeVert practiced with the team as a full participant for the first time on Monday. LeVert, a 2016 first-round pick, has been recovering from a foot injury, and has yet to make his NBA debut.
At a time when the Brooklyn Nets' backcourt has suffered multiple injuries, the Brooklyn Nets got a bit of good news on the injury front regarding the 20th pick in the 2016 NBA Draft.
Want your voice heard? Join the Nothin' But Nets team!
Caris LeVert, Brooklyn's rookie guard out of the University of Michigan, practiced as a full participant with the Nets for the first time on Monday. LeVert, acquired by way of the Indiana Pacers in the draft, has been working his way back from a foot injury suffered in college. To this point, LeVert has yet to make his debut, but the fact that he was able to practice in full is a good sign.
While there is no timetable for LeVert to make his debut, Nets coach Kenny Atkinson sounded encouraged. "Good to see him out there. He'll be practicing regularly and we'll build him up," Atkinson said. "We're just trying to build him up so he has the best chance at long-term success. It's that simple … It's a plan. He had a good practice today, and we'll keep working on that."
As for LeVert, he said his first full practice went great. "I think my [shooting] form held up, but as far as going into the drills, my legs weren't into it, but today it felt great," LeVert said. "My wind is back and my legs felt good in the drills, so it's felt good so far."
The Nets had been playing nearly .500 basketball as recently as a week ago, but Brooklyn hit a skid, as they now sit at 4-9. Injuries have been detrimental to the Nets, as they would be to any team. Greivis Vasquez was waived due to an ankle injury. Isaiah Whitehead suffered a concussion, but has since returned. And of course, most notably, Jeremy Lin remains out due to a hamstring injury.
More from Nothin' But Nets
Brooklyn has relied on Whitehead, Yogi Ferrell, and Sean Kilpatrick in a variety of ways to run the offense in Lin's absence. It's unclear when LeVert will be cleared to play, and even when he is, Brooklyn may be more comfortable if he is on a minutes-restriction, at least initially. However, that has yet to be determined.
Once LeVert is cleared, he could see time at both guard spots. He may fit better at shooting guard, but depending on the timing and the depth at point guard, LeVert could be used there as well, if necessary.
Brooklyn's draft pick situation has been well documented. The Boston Celtics have been the beneficiary for many of the Nets' recent picks. However, Brooklyn did acquire two guards in the 2016 NBA Draft. The Nets have already gotten a look at what Isaiah Whitehead can do. While Whitehead does have areas of his game that need to be cleaned up, he has showed potential. The next step, as it pertains to the rookies, is to get LeVert on the floor once he is medically ready to do so.
In his final season at Michigan, LeVert averaged 16.5 points per game, to go along with 4.9 assists per game. Both we're career-highs for LeVert, although his season was ultimately cut short due to the foot injury.
This article originally appeared on