Can Tyler Johnson win Sixth Man of the Year this season?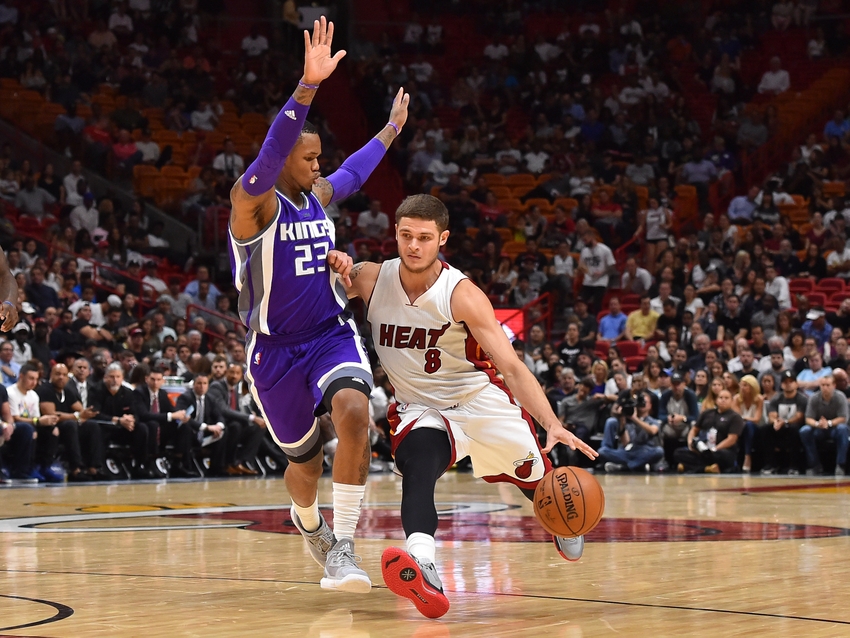 The young Miami Heat guard is carving out a role for himself.
In the franchise's entire history, no Miami Heat player has ever won Sixth Man of the Year. The team has won three titles, has had MVPs and Defensive Player of the Years but never an award-winning sixth man. Tyler Johnson, freshly signed to a $50 million deal, is carving out a role as a bonafide sixth man for the Heat. The development has people wondering if Johnson should be considered for the award. So, can he win it? The All U Can Heat staff weighs in.
Frank Urbina (@frankurbina_): Through four games this season, Tyler Johnson is averaging 15.3 points, 4 rebounds and 2 assists per game, while maintaining a healthy 19.5 PER (Player Efficiency Rating – league average is 15). When compared to the last ten winners of the Sixth Man of the Year, these numbers match up very favorably.
The last ten winners of the award averaged 17.3 points, 3.7 rebounds and 3.2 assists per game, while posting a PER of 18.9. TJ averages less points and assists, but more rebounds and a better PER. Further, nine of the last ten winners were guards, which also bodes well for Johnson's chances.
If he can maintain these numbers once Josh Richardson and Wayne Ellington return, he may have a chance at winning the award and somewhat validating the enormous contract he just received from the Heat.
However, there is one thing that could hold Tyler Johnson back from winning the award, and that is the Heat making the playoffs. The last ten players who won the award reached the postseason with their respective teams. In fact, only one of them (Jason Terry in 2009), was on a team that finished the season lower than a top 4 seed. You have to go all the way back to 1994 (!!!) to find a Sixth Man of the Year whose team didn't make the playoffs (Dell Curry and the Charlotte Hornets).
The Miami Heat are going to have to start winning a lot of games to give Tyler a true shot at winning the award. If they don't, he may have a better chance of taking home Most Improved Player, which would be still be quite the feat.
Rich Nurse (@followthepen): It feels way too early in the season to know if Tyler Johnson could win the Sixth Man of the Year award for sure, but the Heat are certainly paying him like a player who can place trophies on his shelf.
Miami's lack of depth at point guard and consistent shooting will certainly give him the minutes and opportunities to toss his name into the race with the usual suspects–like Jamal Crawford–and the newest bench addition in Memphis (Zach Randolph). It also doesn't hurt that Johnson is averaging 15PPG on 54 percent shooting from the field and 50 percent from the three. But who knows if voters will just look at it as a case of putting up numbers on a mediocre team.
Simon Smith (@SimonABenedict): Johnson is certainly making a great case, albeit just four games into the season. He has been assisted by the absence of several players, notably shooting guards Josh Richardson and Wayne Ellington. Also helping his impressive start is that the second highest scoring bench player for the Heat thus far has been Willie Reed, averaging 5.7 points per game. Having said that, it's clear that Johnson has the confidence of the coaching staff, averaging 29.9 minutes per game and playing as part of a three-guard lineup down the stretch of games. Whilst his numbers and playing time may take a hit upon the return of the aforementioned players, the desire with which he plays should ensure his contributions have him amongst the league leaders in bench production.
Allana Tachauer (@AllanaTachauer): Well, I generally try to stay away from making any sort of prediction this early on but never say never, right?
So far, I've definitely been impressed with TJ's performance. Not that he doesn't still have some work to do, but it's clear he's serious about living up to his new contract. And on paper, his numbers certainly line up with past Sixth Man Of The Year winners; over the last four games, he's averaged 15.3 points, 4.0 rebounds and 2.0 assists on 30.0 minutes of play (where are the doubters at now?) It also helps that the team lacks depth at the guard position, and that he's been around the organization for long enough now that he isn't scrambling to figure out how Miami Heat Basketball operates.
There are just two things that might mess with his chances: one, the return of Josh Richardson and two, whether or not the team makes the playoffs.
Only time will tell.
Malcolm Haynes (@realMGHaynes): Does TJ merit Sixth Man of the Year consideration? Absolutely. With increased usage, TJ's PER has jumped to borderline all-star level. TJ is consistent and a factor on both ends of the court. He could start for a lot of teams, and his overtime performance against the Kings was masterful.
Will TJ win Sixth Man of the Year? Absolutely not. First of all, voters tend to favor volume shooters who can get their own shot and don't play defense. The last five winners all fit this mold: Jamal Crawford, Lou Williams, J.R. Smith, and James Harden.
Second, without Dwyane Wade or Chris Bosh, no one will pay attention to the Heat, and TJ will go unnoticed by the voters. To win the award, your team must be in the national spotlight. For example, Jamal Crawford won last year despite posting his first negative offensive box plus minus since his rookie year! But, Crawford was on the drama filled Clippers and got lots of national  exposure.
This article originally appeared on