Can the Utah Jazz Stay Above .500 for the Rest of the Season?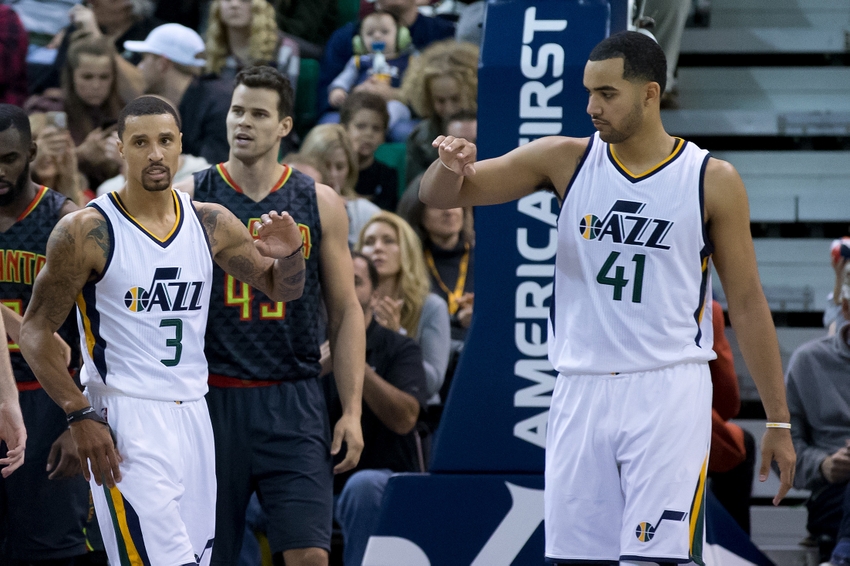 With an extremely favorable stretch of games ahead for the Utah Jazz, they have a great opportunity to build on their above-.500 record and keep it there to stay.
We're now 17 games into the 2016-17 NBA season and I still can't say for sure what to make of this Utah Jazz team. After their worst week of the season that saw them drop four straight games, they've bounced back in a big way with convincing home wins against the feisty Denver Nuggets and the well-rounded Atlanta Hawks.
Now riding two straight wins, the Jazz sit at 9-8 on the season and will enjoy an additional two days of rest before going into their next contest, a road match-up against the Minnesota Timberwolves on Monday.
And so far rest has been good for the Jazz. Their two most recent wins came with a significant amount of rest as they played just two games in five days.
On the flip side of that, they went on their four-game losing streak after having played a brutal stretch of six games in nine games. Against each of the teams they faced, the Utah Jazz looked simply out of gas. Coming into this week Utah had dropped below .500 for the third time of the year and definitely had fans a bit concerned about the rest of the season.
But with George Hill's return to action it seems as if a flame has been lit under this Jazz team as they've come out blazing in their last two contests, beating the Nuggets by 25 and the Hawks by 27 in a game where Utah's defense was on lockdown and gave up just 68 points.
So if the team that has shown up this week is the one that truly exemplifies what this Jazz team is, then it seems almost certain that they'll only build on their improving record.
And of course there's several obstacles that could prevent them from continuing their success such as multiple games in a few days (like we've already seen earlier this year) and injuries (which we hope beyond all hope that we've seen the last of), a look at the schedule seems to further solidify and confirm the hopes that Utah will only continue to build on their above-.500 record.
After the road game against the Timberwolves that is coming up on Monday, Utah will go on to play eight of their next nine games at home. And while there are a few tough opponents in that stretch, most notably the Golden State Warriors on December 8th, there's also a lot of teams that Utah really should be able to beat, particularly at home.
I suppose there is the possibility that Utah could drop their next two games if they struggle against an up-and-coming Timberwolves team on the road on Monday then fail to show up on the second night of a back-to-back at home against a tough Houston team, but beyond that, as long as the Jazz win at least one of their first two next week, I truly don't see them dropping below .500 over their next 10-game stretch.
In fact, if the Jazz can just take care of business and beat the teams with losing records during this stretch, they'll go 7-3 over their next ten games. This would put them at 16-11 on the year, a solid five games above .500.
And throughout the months of December and January, the Jazz have a nice combination of home and road contests and play several teams that are very beatable, especially if they keep up their recent level of play. Then to end January and start February, the Jazz have a nice four-game home stand and another three-game home stand heading into the All-Star break.
Looking at the schedule up to then, it wouldn't be unrealistic at all to pin the Jazz at at least 31-26 going into the break, maintaining their record at five games above .500 up to that point. If Utah is able to keep at least that pace up throughout the year, it seems highly unlikely that they'll slip up in the final seven weeks of the season and should very well finish the year without ever dipping below .500.
Way to protect our homecourt tonight. Now let's keep it going on the road Monday. #???????????? #takenote

— Rudy Gobert (@rudygobert27) November 26, 2016
Obviously, there's a long ways to go and with Utah currently sitting at just one game above .500, they'll need to take care of business in Minnesota and during their other early games next week in order to get off on the right track, but if Utah is able to go at least 7-3 over the next 10 to hit that aforementioned 16-11 mark I see no reason why they can't sustain that pace throughout the year.
Combine the weak opponents Utah faces in their upcoming stretch with their heavy home schedule and their recently stellar play, and the Jazz could be in for a fun month of December that will allow them to prove what they're really made of and climb their way up the Western Conference standings.
Last season, Utah struggled at times to close out winnable games and would often log surprising losses against less than formidable teams, but based on what we've seen so far this year, I'm not nearly as worried about that happening.
More from Purple and Blues
It's been a seesaw affair so far to start out the season for the Jazz, but as they've gotten healthier and become a more cohesive group, they're slowly but surely showing that the offseason hype surrounding them was anything but misplaced.
So the Jazz have a big opportunity coming up in these next ten games and I expect them to take full advantage.
And if they do so, then dropping below .500 will be a thing of the past.
This article originally appeared on