Can The Cavs Bench Continue Its Impact?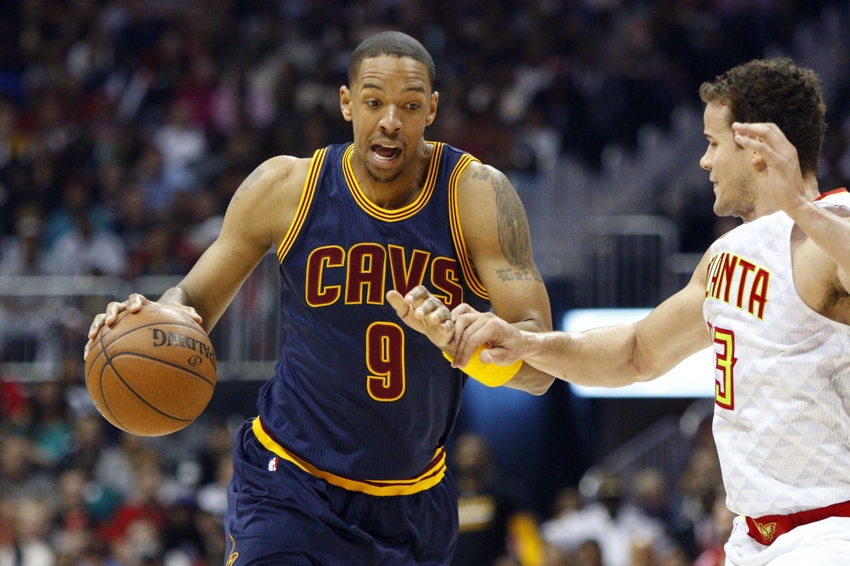 Early on in the season, we have seen the Cleveland Cavaliers bench become productive, thanks in part to Iman Shumpert and Channing Frye.
But the question is, can the Cavaliers bench continue its impact?
It has only been twelve games but it seems the Cavs have come out of the offseason's championship bliss with a purpose. The purpose of course is to repeat. To win another NBA championship.
Nonetheless, for the Cavaliers to be the team to beat in the NBA, they have to continue to get better. Every team is gunning to take them down and to defeat the best teams in the league the Cavs need to take advantage of the talent they have on their roster.
That of course means the Cleveland Cavaliers "Big Three" of LeBron James, Kyrie Irving and Kevin Love needs to be productive.
Thus far, they've done just that.
What The "Big Three" Has Done So Far
Kevin Love has come out of the gates like a man on a mission. He has been a double-double machine with a penchant towards banging down low. His offensive production is up and approaching the 20-point per game level that we had all envisioned when he came to Cleveland. Game 7 of the NBA Finals did something for Love. He discovered a desire to defend.
Now, he's not just a great rebounder, but he has become a defender! He's had a substantial defensive impact in many of the Cleveland Cavaliers games as of late, like last week's performance against the Toronto Raptors where he had three blocks.
Kyrie Irving has continued hitting some unthinkable shots from deep. His ability to spin the ball off the backboard into the hole has never been better. And now, what do we see? Finally, Irving has shown true flashes of being an excellent distributor. His time with James has given him an example of how you can enjoy creating for your teammates. The sky is the limit for this young man.
LeBron James continues showing the NBA what being the best is really all about. He has one of the most complete games in the Association. He may just come close to averaging a triple-double this season. James treats the regular season as a warm-up to the postseason, he still has shown those moments that remind you how incredibly dominant he can be.
Yet, this isn't really about the "Big Three".'
It's about the depth of the bench and the roles that they play.
What Can The Cleveland Cavaliers Bench Become?
Most of the team is back in place to defend their championship. General Manager David Griffin has also put a few new pieces around this group that could eventually help them win it all again.
Shumpert has come into this season noticeably slimmer and better prepared for another long season. He has responded by showing that he can be a decent ball-handler, but we all have taken notice of the fact that his energy level is way up. His defense is back to where it was when he was traded for in 2014. And how about that 3-point stroke? He no doubt has worked on his shot in the off-season as his shot has been pure.
After shooting 29.5 percent from three-point range last season, Shumpert has been shooting 45.2 percent from behind the line this season.
It was difficult to let go of Matthew Dellevadova. But the Cavs picked up an option in the 2016 draft, one that will grow and become an even better option to Delly one day. Of course I'm talking about Kay Felder. This 5-foot-9 point guard from Oakland University is still finding his niche in the NBA.
One only has to look towards Boston Celtic guard Isaiah Thomas to see the ceiling of where this young man could reach.
How Big Will The Three-Point Shot Be For The Cavs?
During the playoffs last year we were treated to a 3-point barrage during the Atlanta Hawks series. One of the bench pieces that really had a big part of that was Frye. This season he has started out incredibly well, making 46.7 percent of his shots from beyond the arc. That's easily the highest percentage of his career and he's doing it while taking a career-high 6.0 threes per game as well.
Meanwhile. his defense has been admirable. That allows him to stay on the court longer for the Cavs and make even more of an impact from the three-point line.
With the re-signing of J.R. Smith, the Cavs knew they could count on his three-point production. Smith set a franchise record last season for most threes made in a season for a Cleveland Cavaliers player. It's safe to say that he'll be a part of this equation for multiple seasons as well.
Even James has been shooting the three better this year. Yes, its early but his jump shot has been intriguing. While taking 4.5 threes per game he's making a respectable 34.7 percent of his attempts.
We haven't even taken account Irving and Love's contribution from the perimeter. Irving is making 2.5 threes per game and shooting at a 40.0 percent clip. Love has been inefficient from three-point range this season, yet is taking 4.8 per game and if he makes them at anything near his career clip of 36.1 percent, he'll be a surefire All-Star by February.
Will The Cavs Play As Champions?
It seems the Cavaliers have learned what it really takes to be successful and be championship-worthy. And yes, defense is a huge part of that equation.
Tristan Thompson has been a defensive powerhouse, but not just on the boards. He has come off a 4-block game that shows his defensive instincts are developing quite well.
Nonetheless, the question remains. Can the Cleveland Cavaliers bench continue its impact?
The hope is that this early season production is just a sign of things to come. Bigger, better things.
The hope is that playing with the King, James continues making all his teammates better.
The team is united in it's goal. And that goal can only be fulfilled by James participating in his seventh straight NBA Finals. But the team knows that without James and his leadership, another title would not be possible. If the Cavaliers bench can remain productive, look out!
So hang on everyone, this season will be one full of surprises and a twist or two!
Do you think that the Cleveland Cavaliers bench can continue it's impact? Let us know in the comments section or Twitter @KJG_NBA.
This article originally appeared on