Can Philadelphia 76ers Match Eagles 2016 Success?
While the Philadelphia 76ers prepare for a vastly improved 2016-2017 season, the Philadelphia Eagles have laid claim to the city with an impressive 3-0 start to the NFL season
If there are two sports that can lay claim to the heart of the city of Philadelphia, it's basketball and football. I mean no disrespect to the Philadelphia Phillies nor to the Philadelphia Flyers organizations. But the pole position of the city is either: the Philadelphia 76ers or the Philadelphia Eagles.
Entering this season, the Eagles had assembled a new coaching staff under head coach Doug Pederson.  The team also drafted a hoped-for franchise quarterback in North Dakota State University's Carson Wentz. Meanwhile, the team added tough grit to it's defense in the signing of defensive coordinator Jim Schwartz.
Defense, and a rookie to run the offense.
Similarly, the Philadelphia 76ers seek to resuscitate the team's fortunes by assembling a significantly new roster, spearheaded by the first player selected in the 2016 NBA Draft, Ben Simmons.
Parallel Tracks
Meanwhile, head coach Brett Brown has plans for the Philadelphia 76ers this season. He wants the team to upgrade the defense, and intends to lay that responsibility upon the shoulders of 7-foot-2 center Joel Embiid.
Brown: "He (Embiid) needs to be the crown jewel, the centerpiece, of our defense." #sixers

— Derek Bodner (@DerekBodnerNBA) September 15, 2016
Ben Simmons will run the offense, while the team toughens up without the ball.
Defense, and a rookie to run the offense.
Originally, I saw the Philadelphia Eagles gradually improving this season, and a Philadelphia 76ers team winning headlines in the city with highlight reel plays.
Carson Wentz's stellar debut has changed that forecast.  Sitting at 3-0 going into a bye week, the Philadelphia Eagles have the best defense and one of the hottest offenses in the NFL.
In an 82 game season, it's a certainty that the Philadelphia 76ers will not be undefeated after 1/5th of the season has lapsed.  But at the same time, the team is bringing three new and very talented young players into the NBA. Perhaps we are too skeptical?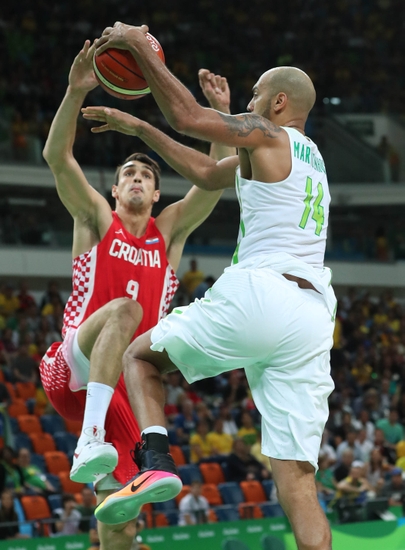 Rookie Ceilings
We have gone about the forecasting of the 2016-2017 season conservatively. When we try to predict what the team will do, most try to keep their feet on solid ground.
But the projection of Joel Embiid, Dario Saric, and of course Ben Simmons, drives much of that conservatism.  The three are unknowns, both to fans and to the NBA.
Much like Carson Wentz, each of the three have huge upside that "could" pan out in the NBA. But until it does, it's potential.
Carson Wentz had a similar situation in potential.  So far, 100 passes without a turnover and a 3-0 start later, some are beginning to thaw on the "he's an unproven rookie" stance.  We have discounted the rookie season of each of the Philadelphia 76ers rookies this season.  But what if one, or two, or even three of the rookies has a statement season in year one?
What would that look like? Well, fortunately, the NBA has had some stellar rookie debuts in its rich history.  Before I am chided with what I am about to present, keep in mind that nobody expected very much from Carson Wentz initially.  What I am doing is redefining our rookie ceilings.
Embiid's Ceiling
The highest yet most challenging upside to predict is that of center Joel Embiid.  Standing at 7-foot-2, yet sitting for over two seasons, there are reasons to believe his future is very nebulous.
If he had spent the last two seasons simply eating bon bons, I'd agree.  But Joel Embiid has spent two seasons absorbing a mountain of disdain from social media, and using that as fuel to power himself through painful rehabilitation and training.
And he has virtually a photographic memory when it comes to learning NBA moves.
The story of Joel Embiid's NBA journey is a long one, and involves much of the finest of modern medicine.  The Philadelphia 76ers believed he was worth it, and still do.
You see, the 76ers believe that Joel Embiid is a game changing to the center position as Ben Simmons is changing the perspective of point guard.  His athleticism shines both on offense and defense.
A good "utopia" scenario would be somewhat like the rookie season of Hakeem Olajuwon.  Embiid was drawn to NBA competition after watching Olajuwon's highlight video, so it would be truly special for his debut to make a similar NBA impact.
As a 22 year old, Olajuwon played 35.5 minutes per game in all 82 games of the 1984-1985 season. He scored 20.6 points, grabbed 12 rebounds and blocked 2.7 shots per night.  While we know that Embiid will not play that length of time per game in his first year, an average of 24 minutes per game, 14 points, 8 rebounds, and 1.8 blocked shots would be just as significant, and actually appears quite doable.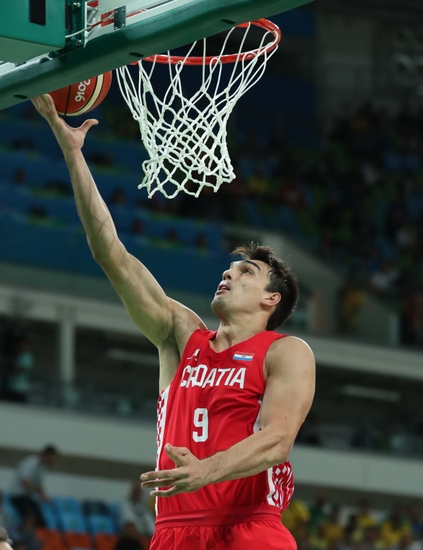 Saric's Ceiling
Dario Saric ceiling is complicated from the amount of quality minutes the team can afford to reward him with.
Look no further than the 76ers own Elton Brand to lay a high ceiling for newcomer Saric.  In that rookie year on the Chicago Bulls, Brand averaged 20.1 points, 10.0 rebounds, 1.9 assists on 37 minutes of play per game
Can Saric duplicate that?
He probably won't get those 37 minutes of play.  But if the team gets him in for 24 minutes of play per game, I can definitely see 15 points, 7.5 rebounds, and 1.45 assists per game from the new power forward.
In fact, Saric could outplay Brand.  Brand did all that on 48.2 percent shooting from the floor, and avoided the three-pointers.   Saric brings a 50 percent shot and a 40 percent three-point shot with him to the US.  And he's been tested by the Olympics, and was one of the stars of the Croatian national team.
If he did outperform Brand's rookie season, nobody would be happier than Elton Brand himself.  Paying it forward is why he has returned to the Philadelphia 76ers.  A veteran encouraging younger teammates is priceless in today's NBA.
But the team runs from the point, and that is where we'll find rookie Ben Simmons.
Simmons' Ceiling
Ben Simmons is an NBA player whose talents defy categorization. He does so much well that slotting him into a traditional NBA role dilutes his impact. But one area he does draw a great deal of attention is in comparisons to his mentor, LeBron James.
We know that Ben Simmons is new to the NBA, and that the quality of the team surrounding him is still a work in process.  But when LeBron entered the NBA, the Cleveland Cavaliers were struggling as well.
LeBron shined, averaging 21 points, 5.5 boards, six assists and 1.6 steals per game while playing a touch under 40 minutes a night.
Can Simmons get 40 minutes a night?  Doubtful on a Brett Brown coached team.  But he will be 32 minutes a night. Maintaining the same proficiency, that would translate into 16.8 points, 4.4 rebounds, 4.8 assists, and 1.3 steals per game.  In all fairness, I believe that Simmons will exceed those statistics in both rebounds and assists.
Overall, the upside of the three Sixers rookies could fall in line with or surpass that of NBA greats this year.  But what would that mean for the team overall?
Team Impact
Winning begets winning.  So lets summarize the Utopian stats so far:
Simmons – 32 MPG, 16.8 PPG, 6.0 RPG, 7.0 APG, 1.3 SPG, 0.8 BPG.
Embiid      – 24 MPG, 14.0 PPG, 8.0 RPG, 1.6 APG, 0.9 SPG, 1.8 BPG
Saric          – 24 MPG, 15.0 PPG, 7.5 RPG, 1.4 APG, 0.9 SPG, 1.2 BPG
That equates to a trio who would upgrade the top three scorers of the team last season, and do so with far fewer minutes.  While the team no longer enjoys point guard Ish Smith's offense, Both Jahlil Okafor, Nerlens Noel and Robert Covington will be returning to the team next season.
If nothing else changes, the team will easily average over 102 points per game, 44 rebounds per game, 24 assists per game, and 6.2 blocks per game, all at or better than average in the NBA.
If Brown is successful at sharply improving the team defense, this team could have just as shocking of an impact on the NBA.  While counting on three rookies to excel is not realistic, those number are completely diluted as almost no NBA rookie has his best season in his first year.
From these projections (Embiid center, Saric power forward, and Simmons Point/small forward), the team would show dramatic improvement in many important statistics.  Would that translate into significantly more wins?
Yes.
So while we continue to keep both feet firmly on the ground, the rush of the Eagles' wings overhead had shown Philadelphia fans that sometimes rookies soar.
If it happens to the rookies of the Philadelphia 76ers, you will be ready.
This article originally appeared on