Can Edy Tavares Contribute to the Hawks This Season?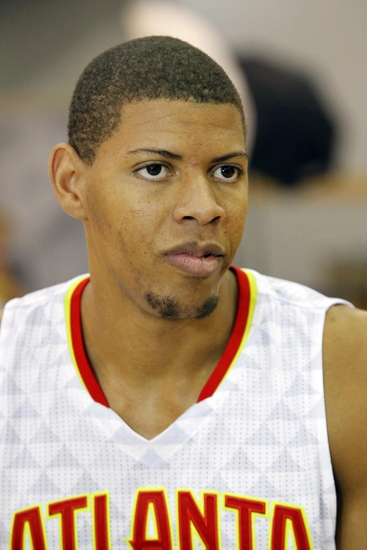 How long has Edy Tavares been under development with the Hawks? It certainly seems like forever, except it's only been 2 years. He was a raw prospect when the Hawks chose him 43rd overall in the second round of the 2014 draft, making him the first ever Cape Verdian to get drafted to the NBA. So is he ready to compete for the Hawks this season?
It would be ideal. He was signed to a multi-year contract on July 09, 2015. Tavares is a 7'3″, 265 lbs physical phenomenon with a 7'9″ wingspan. He is one of just 4 players in the league that's 7'3″ or taller. He's all of this, and didn't pick up a basketball until the age of 16.
At the age of 22, he was a graybeard among most other prospects taken in the draft. The Hawks saw enough of him as he dominated the Spanish League with 14.3 points and 11 rebounds per game to give him a shot. His biggest strength was defending the rim and a glaring weakness was his ball handling.
Tavares is actually slightly ahead of schedule from his projections of development upon being drafted. The club has been exhausting every possible effort to get him prepared for NBA action. Last year he appeared in 11 games with the Hawks, averaging 6.6 minutes, 2.3 points, 1.9 rebounds, and 0.5 blocks on .579 shooting. He also was assigned to several developmental assignments, playing for the Austin Spurs, Canton Charge and Bakersfield Jam of the NBDL.
During this years summer league games in Las Vegas, he showed a few improvements to his game and his mobility has definitely gotten better. As a rookie, he looked like Frankenstein trying to navigate his way around the court. Now, he is at least capable in the pick and roll on both sides of the ball. He uses his length more to keep balls alive for his teammates.
I've got to get more confidence on offense," Tavares said. "When I get the ball, be more patient, make good decisions, select the good shots and be more aggressive and intimidate more on defense." Tavares said of his play during summer league.
He won't ever be confused for Shawn Kemp or Blake Griffin, but he can finish fast breaks with strong dunks. On offensive rebounds, he tips a lot of misses in with powerful slams. But, since he is strictly limited to score only right at the goal, he is considered a liability on offense. His mid range game is still considered bad, but he has improved his form. On many occasions, it's not necessary for a true center to venture outside of the paint much though.
At the age of 24, time is running out for him to be a relevant NBA player. The Hawks would love for him to provide the team even any consistent production this coming season. His work ethic is strong enough for him to earn a spot near the end of the rotation. Based on what I have seen, my expectations won't reach further than that.
Information from Wikipedia and NBA.com was used in this report 
More from Soaring Down South
This article originally appeared on