Buzz City Stings: Charlotte Hornets Set to Face Tough Test in Toronto Raptors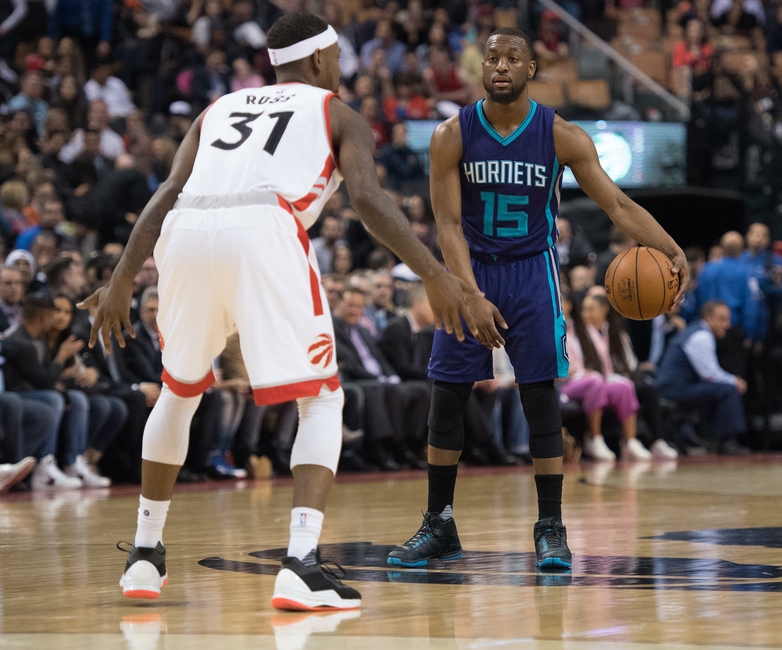 Welcome to Buzz City Stings, Swarm and Sting's daily roundup of the best Charlotte Hornets' stories from around the web.
Buzz City Stings is your daily destination for the latest and best news from around the internet about the Charlotte Hornets. Riding a four-game win streak, the Hornets will get a true test in the Toronto Raptors as they end their three-game homestand at The Hive. Charlotte's hot start has people talking.
"Toronto Raptors shooting guard DeMar DeRozan has been hot all season, scoring more than 30 points in six of his first seven games of the season. The Raptors as a team, however, had been having a little more trouble." (ca.sports.yahoo.com)
Shutting down DeMar will be key for the Hornets in this one. He is currently leading the league in scoring at 34.1 points per game. DeRozan isn't a great outside shooter so limiting his attempts at the basket will be a priority for Steve Clifford's team. If they can't slow him down, it will be a long night for Buzz City.
More from Swarm and Sting
"The Hornets are good, sure. But right now they are tied for the best record in the NBA's Eastern Conference with Cleveland. Is it time to recalibrate our expectations? Are they really this good? The answer to those two questions is a qualified "yes" – with the qualification being that Kemba Walker stays healthy and stays at the dazzling level of play he has ascended to right now. And he just might. Walker was robbed of an NBA All-Star Game berth last season, but that's not going to happen again. Too many people are noticing." (CharlotteObserver.com)
Kemba Walker is on fire. Plain and simple. He is the Hornets' best player and he is leading the team to their hot start. There is no reason why Charlotte's point guard can't keep up his play for the remainder of the season. This is Kemba's year to make the East All-Star team. Book it!
"Second-year man Frank Kaminsky, a former National Player of the Year at Wisconsin, has been playing the kind of well-rounded basketball he played in college. Sly scorer and high hoops IQ guy Marco Belinelli joins Kaminsky to make the Hornets reserves a force. Again, the Hornets are riddled with injuries — Jeremy Lamb and Roy Hibbert are out. But the Hornets keep coming at you, just as Clifford's team did last year. Nicolas Batum, Marvin Williams, Michael Kidd-Gilchrist might all be household names in a bigger market. Ramon Sessions and versatile, underrated big man Spencer Hawes work hard off the bench for Clifford's program. Kemba Walker is a star. Owner Michael Jordan is clearly starting to develop a culture in Charlotte, consistently displaying the building blocks of a system that utilizes players with skill sets that serve the ultimate goal: getting Wins." (2paragraphs.com)
Michael Jordan has helped create a winning culture in Charlotte but that can also be attributed to Rich Cho and Steve Clifford. The organization has drafted better as of late and Cho has come out on top of almost every trade he's made since coming to the Hornets. Coach Clifford has implemented a winning culture with accountability and emphasis on defense. Put it all together and this is what you get, a winning franchise.
This article originally appeared on