Buzz City Beat: Charlotte Hornets Lose to Spurs and a Potential MKG Injury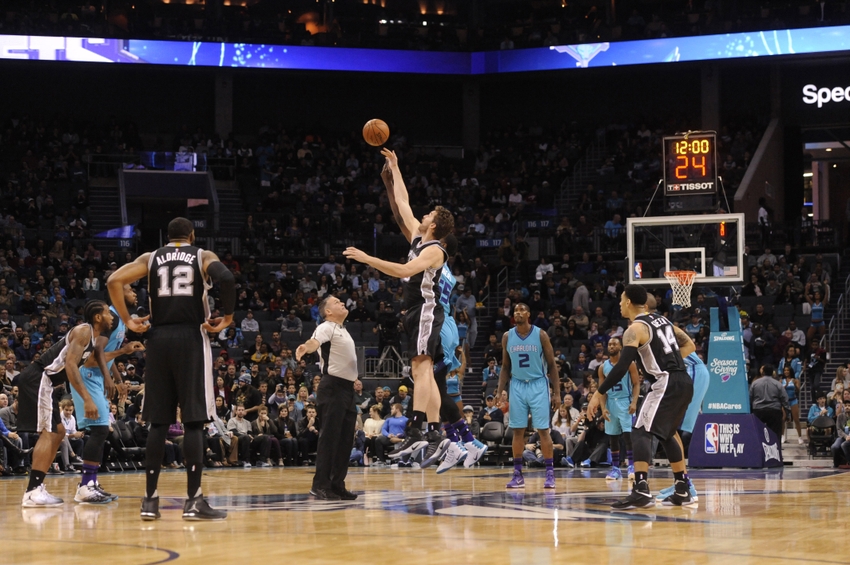 Welcome to Buzz City Stings, Swarm and Sting's daily roundup of the best Charlotte Hornets' stories from around the web.
Buzz City Stings is your daily destination for the latest and best news from around the internet about the Charlotte Hornets. The team dropped their third straight game with their loss to the San Antonio Spurs in one of the best games of the season. In this edition, Michael Kidd-Gilchrist could be dealing with yet another shoulder injury and what Charlotte should be thankful for this time of year.
"That gave the Hornets possession, down two, with 34.2 seconds left. Spurs guard Tony Parker broke up an in-bounds pass. It was originally ruled Hornets ball, but overturned upon review. Parker then nailed a 3-pointer from the corner for a five-point lead with 22 seconds left. The Hornets lost the ball on the next possession when Marco Belinelli was ruled not to have in-bounded the ball within five seconds. Charlotte got back the ball with 18 seconds left when San Antonio's Danny Green stepped out of bounds. Walker made a layup, then Parker hit two free throws to extend the Spurs' lead to five with 10 seconds left." (CharlotteObserver.com)
Charlotte has a chance to pull off a big win and snap their two-game losing streak but ultimately, they fell apart down the stretch, Inbounds plays continued to plague the team and the Spurs' experience help lead them to a road win in Buzz City. It was a frustrating loss but it also showed that the Hornets could keep pace with one of the best teams in the NBA.
More from Swarm and Sting
"News I got from a @QCHblog source: Michael Kidd-Gilchrist is playing w/ a subluxed (partially dislocated) left shoulder currently.This is more a series of tweets than an article but it is noteworthy news nonetheless. To be clear, it's MKG's left shoulder that is "subluxed", so now the right one that has been operated on numerous times." (@QCHspencer)
While this story hasn't been confirmed, Spencer Percy is the same reporter who broke the torn labrum news for MKG last season. Even though this speculated injury isn't as severe as last year's, it is troublesome. Is Kidd-Gilchrist injury prone and how will this affect him and the team going forward? Only time will tell but this is a situation to keep an eye on.
"The Hornets are still reaping the benefit of their trade with the Trail Blazers, last offseason. Portland accepted Gerald Henderson and Noah Vonleh for Nicolas Batum and Nicolas has settled in as their second best and most important player. He also signed a five-year contract that will surely make the Hornets a pretty good team in the next half decade." (nbabits.sportsblog.com)
Want your voice heard? Join the Swarm and Sting team!
While many critics are still skeptical of the big money the Charlotte Hornets gave Batum this summer, it is clear that he has positively impacted the team since his arrival. Plus it could be considered a steal of a trade because Gerald Henderson is no longer with the Blazers and Noah Vonleh, while still young, has not shown the loads of potential that one expected when he was first drafted. All in all, the trade for Nic is something the team should be thankful for.
This article originally appeared on