Bulls Player Outlooks: Nikola Mirotic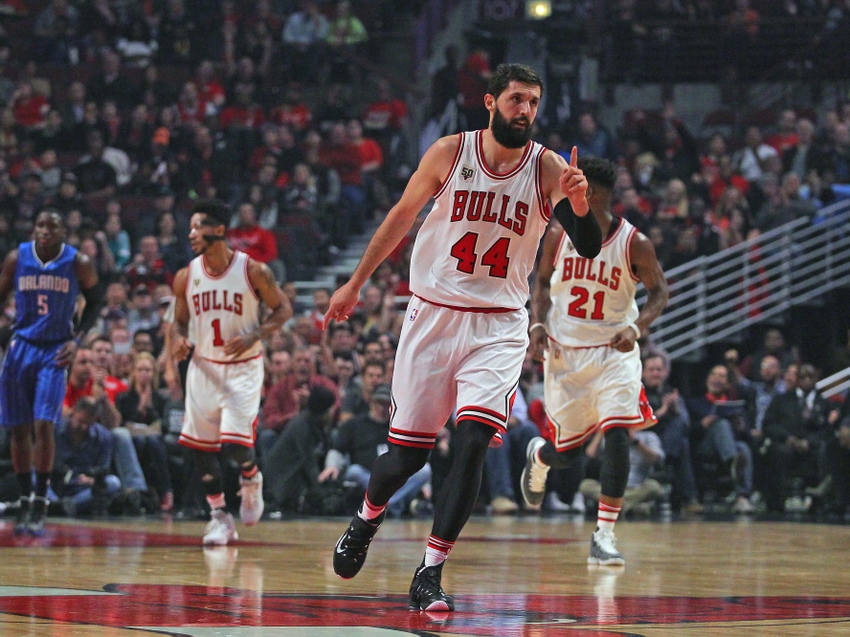 The player outlooks at Pippen Ain't Easy continue with an in-depth look at what to expect from Nikola Mirotic in 2016-17. Can the third-year man out of Montenegro make the leap to becoming an All-Star?
It's easy to think the Nikola Mirotic hit that dreaded sophomore slump with the way the first half of his season went. His stats weren't impressive, his pump fake became a bad twitch, nobody knew if he was a three or a four, and he wasn't living up to the stretch-four hype.
He just looked lost on the court.
In his rookie season, Mirotic shot just 32 percent from long range. That wasn't anything to panic over, as he hardly played for a bulk of his first NBA season. For many players coming overseas, it takes some time to adjust to the NBA three-point line. However, Mirotic struggled to make that jump in his 44 games prior to the All-Star break. The second-year player was shooting an uninspiring 35 percent from deep. Then, Mirotic suffered an appendectomy, and that was the turning point of his season.
After missing 16 games, Mirotic came back guns blazing. He began to light the world on fire from beyond the arc, shooting 45 percent from deep in his final 24 games and was putting up 14 points per contest. Mirotic was finally looking the stretch-four he had been touted as.
Now, the real question is can he do this over a full season? 24 games is such a small sample size, especially when evaluating a shooter. For all we know, Mirotic could have just hit a hot streak after the All-Star break.
So, what should we expect from Nikola Mirotic in year three?
With the lack of shooting the Bulls have in their starting backcourt, it's fair to assume that Mirotic will get another crack at the starting lineup.
Team USA Wins Gold, Beats Serbia 96-66
The part that is worrisome is that he is going to be the only threat from beyond the arc when he's playing with the staters. That means less open looks for Mirotic, unless those looks are coming off of a drive-and-kick opportunity. The spacing in the starting lineup is going to be atrocious, and that's going to put a ton of pressure on Mirotic to be a sniper from deep. He is going to be a significant factor regarding whether or not the Bulls succeed in 2016-17.
With that being said, it's not out of the question to think that Mirotic could generate some All-Star buzz if the Bulls are one of the top teams in the East.
However, I'm of the belief that 2016-17 is going to be an unmitigated disaster for Chicago. The pieces simply don't fit together.
With Mirotic starting, he is presumably going to be marginalized, which is disappointing. Mirotic is most likely set to be featured as solely a stretch-four playing with a bunch of ball-dominate guards.
Yet, as I discussed in my trade value rankings, Mirotic is so much more than merely a stretch four. He has shown the ability to get to the basket, especially when he is being guarded by opposing fours. When he is out there with the starters, he won't be able to utilize that facet of his game. It's going to be hard enough for guys like Jimmy Butler to get the opportunity to create as is.
Forget about Mirotic getting a chance.
Even with the way this roster is constructed , Nikola Mirotic does have chance to continue growing
On the bright side, his minutes with the second unit should be exciting. When he plays with that group, expect to see a much more involved Mirotic. Plus, the spacing on bench lineups should actually be great. The bench should be a ton of fun to watch, especially in stretches where it is anchored by Mirotic.
Also of note, Mirotic is in the final year of his rookie contract this year, becoming a restricted free agent at season's end. A lot of what he does this season could dictate the offers he receives this offseason.
Nonetheless, based solely upon his potential, he's bound to get some hefty offers and the Bulls should match whatever offers come his way. This guy has way too much potential to let him go.
Mirotic has a chance to average around 15 points a game this season if he can knock down the three with regularity and carve out a role as the go-to-guy in the second unit. He probably won't make the All-Star team this year.
But, Mirotic has shown that he may have the makings of an All-Star caliber player going forward. He's 25, entering his third NBA season, and he's is one of the few solid foundation pieces the Bulls have. That means it is imperative that Fred Hoiberg continues to put him in spots where he can succeed.
Mirotic has a real shot of becoming a top-50 guy in this league, but that is going to require him to knock down his three-point shots and excel as a scorer on the second unit. If he can do that, he should be in for a sizable pay day next summer.
Not only that, but the Bulls front office will feel a lot more comfortable knowing they have a sturdy building block in Nikola Mirotic.
More from Pippen Ain't Easy
This article originally appeared on