Bulls Player Outlooks: Dwyane Wade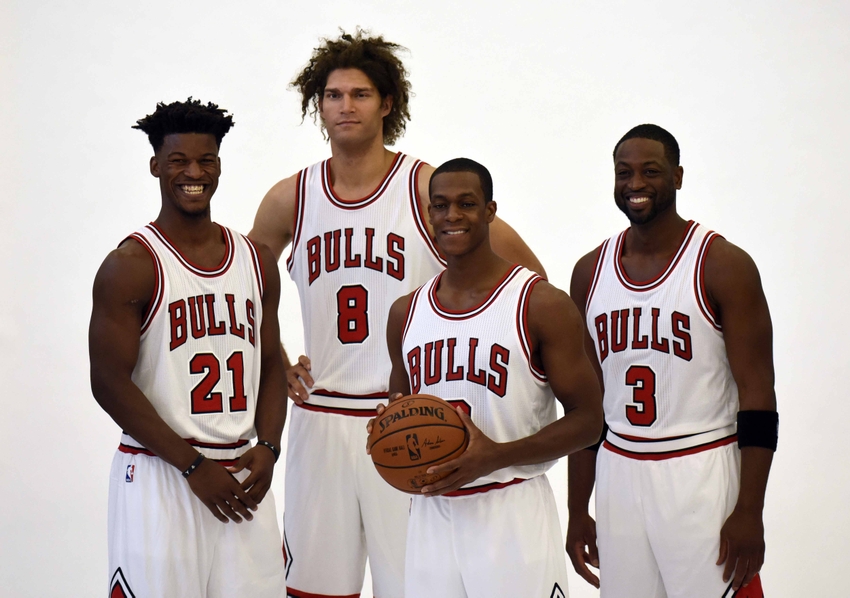 Our player outlooks continue with a look at one of the newest Chicago Bulls: 12-time All-Star and three-time NBA champion Dwyane Wade.
Same number, different city. That's the story of 12-time All-Star Dwyane Wade in Chicago these days.  
With that said, dreams do come true for the future Hall of Famer.  
This tweet during Bulls Media Day sums it up best:
The 6'4″, 220-pound guard is starting work with his hometown team after 13 sterling seasons with the Miami Heat; the team that drafted him fifth overall in the 2003 NBA Draft.
So how does Wade — who grew up on Chicago's South Side — feel about finally getting an opportunity to represent his hometown?
"It's a different environment," Wade said at the Bulls' media day on Monday.
"I was somewhere for so long I knew where to go, I could walk backward and get everywhere. It's just different. But different is not a bad thing. It's been cool. I'm like the new kid in class. I've got to find my one friend to talk to before I get more friends."
From a front office standpoint, they will rely heavily on Wade's premier experience to mentor and set the tone in the locker room.
'If I was a young player on this roster and I saw Dwyane Wade in the building, Rajon Rondo, Jimmy Butler – you can throw Taj (Gibson) and Robin (Lopez) in there, too – I would be soaking up every day what they bring to the table." said executive vice president of basketball operations John Paxson during media day on Monday.
Wade played 74 games for the Heat last season, the first time he's played more than 70 games since the 2010-11 season. Minutes will be an important concept to monitor for the 34-year old guard. Being the age Wade is, one can surely assume he sits nights of back-to-back games and stay in the 25-30 minute range.
During media day, Bulls head coach Fred Hoiberg commented on Wade's minutes this season.
"The biggest thing with Dwyane is being in constant communication on everything. How he's feeling, making sure his body is right. He's obviously done an unbelievable job of getting his body in condition to play, play a lot of minutes. I mean last year he played 74 games, and that's tremendous for a guy that's been in the league that long and goes out and puts it on the line like he does every time he goes out and steps on the floor. So that's going to be a communication thing between Dwyane and I, and try and go out there and get the optimum minutes."
Luckily, the Bulls do have youthful depth at the wing position with Butler, Doug McDermott, Denzel Valentine and Tony Snell all looking to crack Hoiberg's rotation.
Ultimately, the biggest question is how will Wade mesh with Bulls' current star Jimmy Butler? Will this experiment of Wade, Rondo and Butler work on the perimeter for Chicago?  
Only time will tell, as chemistry is not formed overnight (see Miami Heat's Big 3 experiment). However, Wade's solid production in 2015-16, along with his leadership qualities and ability to recruit prized free agents certainly can't be a bad thing for this Bulls moving forward.  
Looking ahead to next summer, Wade could be a major ambassador for his hometown team for a guy like Blake Griffin.  
Again, only time will tell.
If nothing else, bringing Wade to Chicago completes his dream as a lifelong Bulls fan looking to represent his hometown crowd. His No. 3 jersey will certainly be a top seller this season, not to mention the hype this fan-favorite player will bring to the United Center.  
Let's not forget to mention Gabrielle Union, his beautiful wife, should be courtside from time to time. They're definitely a power couple Chicago is happy to embrace.  
More from Pippen Ain't Easy
This article originally appeared on