Bulls Player Outlooks: Denzel Valentine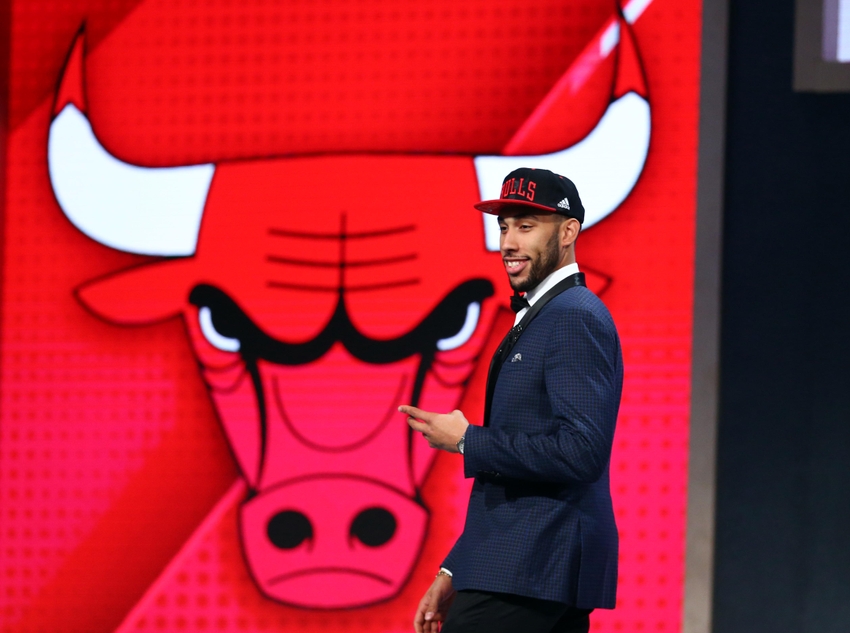 Our player outlooks continue here at PAE with a glance at first-round pick Denzel Valentine from Michigan State. Can the rookie come in and produce?
It's been a while since the Chicago Bulls made a draft choice that had fans excited.
In fact, the most recent exciting pick may ironically be former point guard Derrick Rose. Nevertheless, Denzel Valentine — in some people's eyes — fell to the Bulls at 14.
On the other hand, some feel due to his knee injuries of the past, Valentine was lucky to be drafted as high as he was.
What can't be debated is how well Valentine played in his final year at Michigan State. Valentine averaged 19 points, eight rebounds and eight assists per game and won the Associated Press National Player of the Year award.
With that being said, here's a look at some of Valentine's strengths and weaknesses heading into his rookie season in the NBA with the Bulls.
Strengths
Denzel Valentine hasn't been labelled "the guard version of Draymond Green" for nothing. He can affect the game in multiple ways; similarly to Green can.
He can impact the game in multiple ways offensively with his ability to shoot from the perimeter and find the open man, and he can rebound the ball better than most guards can. Not many people know that Valentine averaged a steal a game over his four-year college career.
While this doesn't make his a lockdown guard, he's also not Pau Gasol defensively.
Valentine's experience of playing four years of college will mean less grooming for the Bulls and less growing pains for Valentine. The rookie's biggest strength will be his playmaking for the second unit.
With the Bulls in desperate need of a backup point guard, Valentine will be able to provide the void of playmaking for the bench, especially now that he is playing with NBA players.
Valentine's assist totals should be a pleasant development for the Bulls this season.
Weaknesses
The knees, the knees, the knees.
When it came to Valentine and his draft stock heading into the draft in June was the potential for his knees to fail him at the next level over time.
What many people fail to believe is that these knees are the same ones that allowed him to play 144 out of 148 games for Michigan State over his college career. A legitimate concern however, is Valentine's jumpshot (at least early on).
While he still nailed arguably the most clutch shot in summer league history, Valentine went through plenty of dry patches, especially from deep. Valentine shot 12-for-47 from long range during the summer league, including 1-for-7 from deep in the summer league final.
The Chicago Bulls should be commended for their draft pick, although I think anyone could of made the choice looking at the rest of the talent available at the 14th pick.
Assuming Valentine develops, he should finish the year being the third option for a wing position behind Dwyane Wade and Jimmy Butler.
But, amongst a log jam of wings with the likes of Wade, Butler, Doug McDermott, Tony Snell, Paul Zipser and Nikola Mirotic, it's hard to predict exactly how many minutes Valentine will actually get.
More from Pippen Ain't Easy
This article originally appeared on