Brooklyn Nets: Yogi Ferrell Makes Encouraging Debut In Loss to Knicks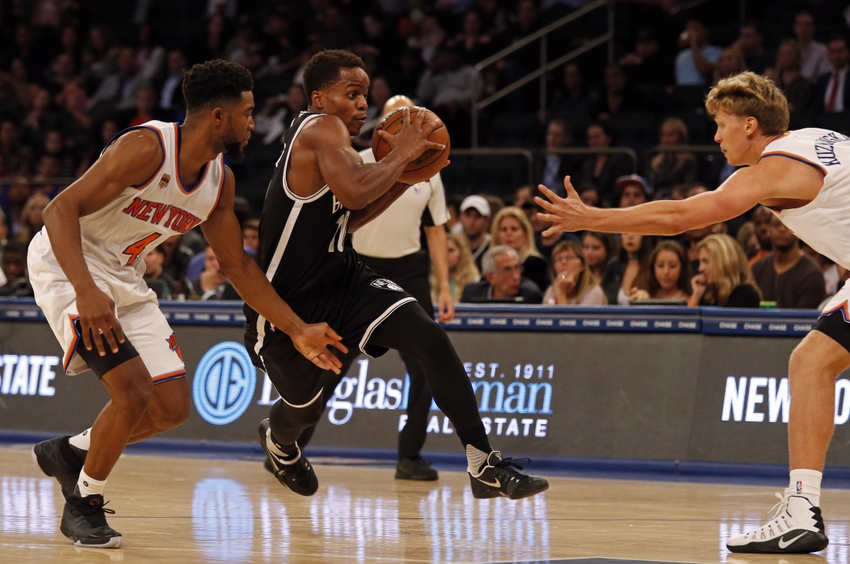 It came earlier than expected, but undrafted rookie point guard Yogi Ferrell made his Brooklyn Nets debut Wednesday night. He saw limited action, but his play included many promising signs.
It's never easy for rookies trying to break into the NBA. The athleticism, the pace, the defensive intensity–all take an adjustment. Things get even harder for rookie point guards. Would you have the confidence to tell a veteran player to be in the right spot on offense? The smarts to run an NBA offense?
Want your voice heard? Join the Nothin' But Nets team!
Yogi Ferrell dealt with all of that and more Wednesday night, after being called up from the D-League to replace an injured Greivis Vasquez.
Ferrell made his debut against the rival New York Knicks just hours after being called up from Long Island. The undrafted rookie out of Indiana saw just 14 minutes, but was impressive. He scored five points on three shots, connected on his only attempt from deep and tallied a rebound, three assists and a steal. He definitely showed poise, but his three turnovers show his inexperience was on full display as well.
The 14 minutes is an extremely limited sample size, but it contains a few encouraging signs. For one, the ball movement with Ferrell on the court was solid. The Nets finished with 19 assists last night and seven of them came with him in the game. That's not too shabby for just 14 minutes of action.
More from Nothin' But Nets
The start of Ferrell's career is notable for a few reasons. First, it shows that the Nets have confidence in Isaiah Whitehead. The injury to Vasquez and the uncertainty caused by Whitehead's concussion undoubtedly sped up the timeline, but it seems unlikely the front office would have called Ferrell up this quickly if they weren't sure Whitehead could handle backup point guard duties. Rookie point guards will always experience growing pains, but turning the backup role over to a pair of them just eight games into the season speaks volumes to how highly the Nets think of both Ferrell and Whitehead.
The Nets also badly need solid production from the point guard spot to open the rest of their offense. Sean Kilpatrick has gotten off to a very hot start in a bench scoring role, but his production has dipped a bit in the wake of the team's point guard injuries. Kilpatrick's a natural scorer, but he lacks facilitator instincts. It's not hard to imagine the Nets' offense being much more effective when it features a point guard who can get Kilpatrick and Brook Lopez the ball in the right places.
There's no doubt the team's lack of depth at point guard showed at an uncomfortably early stage, but if Ferrell can build on a solid debut, the Nets will continue to play competitive basketball and their future will only get brighter.
This article originally appeared on