Brooklyn Nets Will Be Kings of New York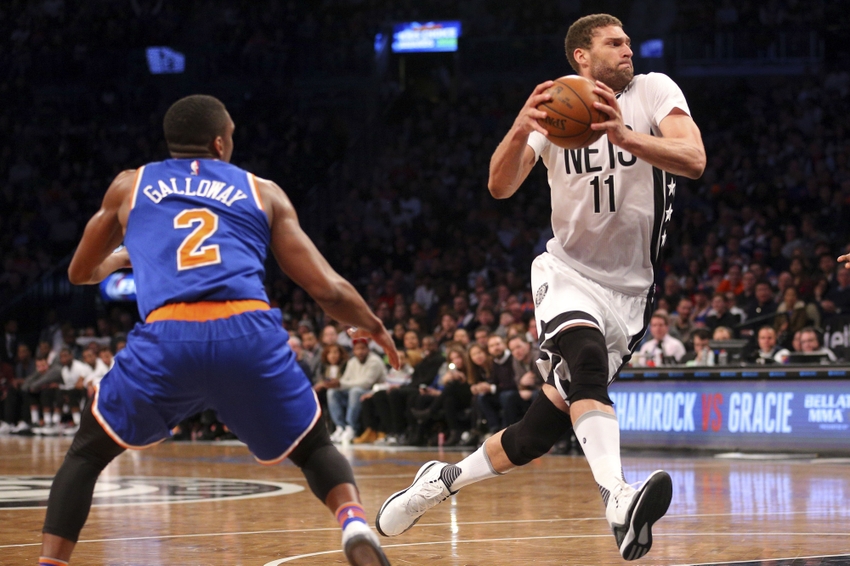 The buzz coming out of Madison Square Garden is reminiscent of the golden days. After acquiring Derrick Rose, Joakim Noah, and Courtney Lee in the off-season, fans are optimistic about the immediate future of their beloved, but often disappointing franchise. The Brooklyn Nets have been an equally as disappointing franchise.
In 2014, the Knicks signed Phil Jackson to a five-year deal worth approximately 12 million per year. Expectations were that the Zen master would bring the same success to New York that he did to the Chicago Bulls and Los Angeles Lakers as a coach. It was anticipated that his track record would attract top free agents to the basketball mecca of the world.
In 2014, Jackson inked Carmelo Anthony to a five-year deal worth 124 million dollars. This signing appeared to be a win-now move for Jackson and the Knicks. However, after drafting what was deemed a project in Kristaps Porzingis, many questioned the direction the franchise. This lack of direction and talent, coupled with an aging Anthony derailed the Knicks' free agent dreams.
After striking out for two summers in a row, Jackson moved in a familiar direction. He traded for, and acquired players at hefty prices with a history of injuries.
The Knicks trade history consists of trades for oft-injured Antonio McDyess, underachieving Eddy Curry, and ill-fitting Steve Francis. The Knicks compiled these poor trades with a franchise-crippling contract for Allan Houston, massively overpaying for Jerome James, and extending a max contract to Amar'e Stoudemire coming off knee surgery. History shows that every time the Knicks move into an advantageous cap position, they squander it on bad contracts.
Many have said that Rose is a low-risk deal because he only has a year left on his contract. However, if Rose does well, he will certainly lobby for a max contract under the increased cap. With Russell Westbrook off the market and Stephen Curry unlikely to leave Golden State, the Knicks will strongly entertain signing Rose to a long-term deal. A max contract for the often-injured Rose would be a death pill.
Furthermore, the Knicks also acquired Noah, who has battled injuries for the past three seasons.  Over the last few years, Noah's production has rapidly decreased.  While Knicks fans are excited for 2016, the proper emotion they should feel is fear.  Fear of repeating history.
Unfortunately, the Nets fell into the same trap as the Knicks.  However, Sean Marks has done a good job of acquiring assets and not overpaying or reaching for free agents.  While the Nets do not have high draft picks, they do have young prospects and a ton of cap space.  Marks also seems to be content with being patient.  His patience is the most valuable asset for any New York team.  In a large market, the temptation to waste money on box office names is always present.  Fortunately, Marks has fought this temptation.
In his short time as general manager, Marks has added solid veterans such as Jeremy Lin, Greivis Vasquez, and Luis Scola.  Marks also traded into the 2016 draft to acquire Caris Levert, and found a potential second round steal in Isaiah Whitehead.  The Nets also have a valuable trade asset in Brook Lopez.  Lopez will likely land the Nets a draft pick and a solid rotation player.  Couple this with Rondae Hollis-Jefferson, and Nets fans have enough young talent to make games interesting.  Most importantly though, the Nets have cap space. Marks has proven in the early stages that he will not recklessly spend it the way the Knicks have repeatedly done.
The Knicks will most certainly have a better record than the Nets this year.  The Knicks might even make it to the playoffs and advance to the second round.  However, a second round exit is not worth losing flexibility.
The reality is that neither of the New York teams have any hope of winning a championship in the near future.  However, a team with cap space is far closer to a championship than a fringe playoff team with crippling contracts.  Out West, the Clippers dethroned the Lakers as kings of Los Angeles. If the Nets remain patient and learn from the Knicks mistakes, they might dethrone the Knicks as the kings of New York.
More from Nothin' But Nets
This article originally appeared on