Brooklyn Nets Weekly Roundup: Week 12
Malcolm Ireland/FanSided via Nothin' But Nets

Fansided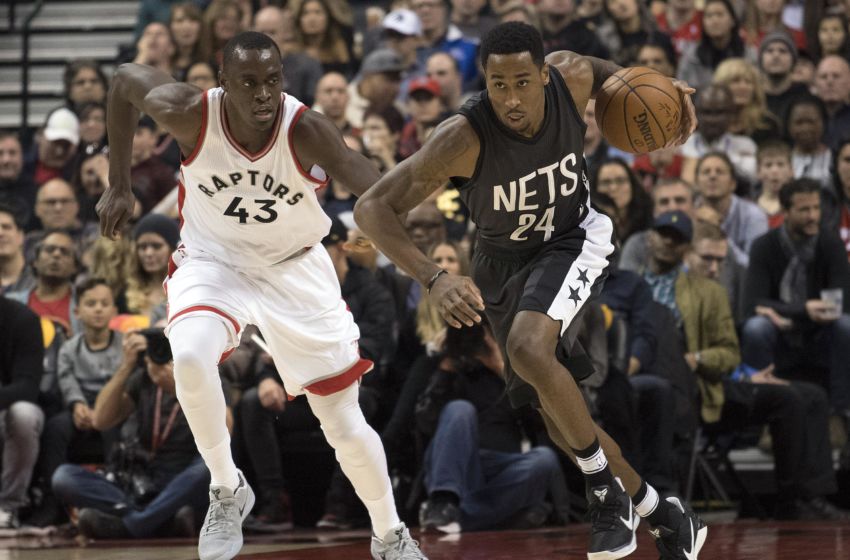 The Brooklyn Nets continued their losing streak, leaving it off at 10 to end the week. 40 games in, the Nets are now 8-32 and have had no luck finding a fix for their struggles this season. Here is a recap of everything that went on in week 12.
This Week's Storylines
Nets Remain Stagnant in ESPN Power Rankings
To no one's surprise, the Nets are 30th in power rankings and have remained in that spot this week. If the Nets continue to pile up losses, they will continue to hold down the bottom of the power rankings.
Nets Release Anthony Bennett, Sign Quincy Acy
The Nets released Anthony Bennett this week and made a solid free agent signing in Quincy Acy. Acy has only logged 25 minutes so far as a Net, but expect his minutes to increase as the season progresses.
Nets' Second Quarter Collapse Leads to Blowout Loss Against Hawks
The Nets lost their first game this week to the Atlanta Hawks, 117-97. It was a relatively close game except for the second quarter.
Fourth Quarter Turnovers Cost Nets Against Pelicans
Tyreke Evans had a solid performance against the Nets, putting up 29 points. His efforts helped push the Anthony Davis-less Pelicans past the Brooklyn Nets, 104-95.
Jeremy Lin Provides Optimistic Injury Update
Jeremy Lin has missed another week of basketball with his hamstring injury. Lin was optimistic about about how his recovery has progressed and said it is going better than last time. There is still no definite timetable for return.
Nets Get Slaughtered By Raptors in Fourth Quarter
The Nets took on the second best team in the Eastern Conference Friday night and were pummeled by the Toronto Raptors. DeMar DeRozan had himself a game, scoring 28 points on 50 percent shooting.
Rumors: Nets Willing to Listen to Rumors for Rondae Hollis-Jefferson
Probably the most interesting news this week was that the Nets are willing to listen to offers for Rondae Hollis-Jefferson. Considering the Nets' current situation, the Nets are most likely listening to offers for all players on the roster.
Rockets Potent Offense Hands Nets 10th Consecutive Loss
The Nets finished this week with their 10th straight loss coming at the hands of the Rockets. The Nets and Rockets did do something historic in this loss though. The teams tied the record for most threes combined in a single NBA game. Combined, both teams took 88 threes for the game, a record that was set about a month ago by the Rockets and Warriors.
Want your voice heard? Join the Nothin' But Nets team!
Nets Record this Week: 0-4
Nets 97 – Hawks 117
Nets 95 – Pelicans 104
Nets 113 – Raptors 132
Nets 112 – Rockets 137
Thoughts
The Nets have went another week without their point guard Jeremy Lin. Lin has taken quite a while to hit the floor again. Without Lin, the Nets have struggled to find a stable starter for arguably the most important position. Isaiah Whitehead and Sean Kilpatrick have done well, but they are not natural point guards, and Whitehead is still learning how to run the point.
More from Nothin' But Nets
With rumors rising about the Nets listening to offers for Rondae Hollis-Jefferson, it is safe to say they are already looking forward to how they can improve next season. Amidst the current 10-game losing streak and their current record of 8-32, the Nets have dug themselves too big of a hole to even have a chance of reaching the playoffs. The team was optimistic about a playoff push at the start of the season, but any hope of that happening is not there anymore.
For the rest of the season, the Nets should really be looking to weed out the young talent that can help the franchise going forward. The organization should use the second half of this season to determine who will have a future in Brooklyn and who the Nets should trade now for assets.

Stat Averages for the Week
20 Points, 3.7 Rebounds, 3.3 Assists, 47% FG, 20% 3pt FG
During this losing streak, no player has really had any standout performances. Lopez is the only person on the team who has been able to put up 20 points on a nightly basis. His rebounds have taken a dip, and his shooting percentages are down this week.
Brooklyn has been looking for answers lately, but haven't had any. It is a shame to have a guy as good as Lopez on such a bad team. If the Nets were able to pair another star talent with Lopez on this team, his production could very well lead to more wins.
For now though, he cannot win games by himself. The Nets also understand this, and that explains why they are listening to offers for Rondae Hollis-Jefferson. They are desperate to find a way to improve this team whether it be immediately or in seasons to come.
This article originally appeared on