Brooklyn Nets: Week 3 Coach Analysis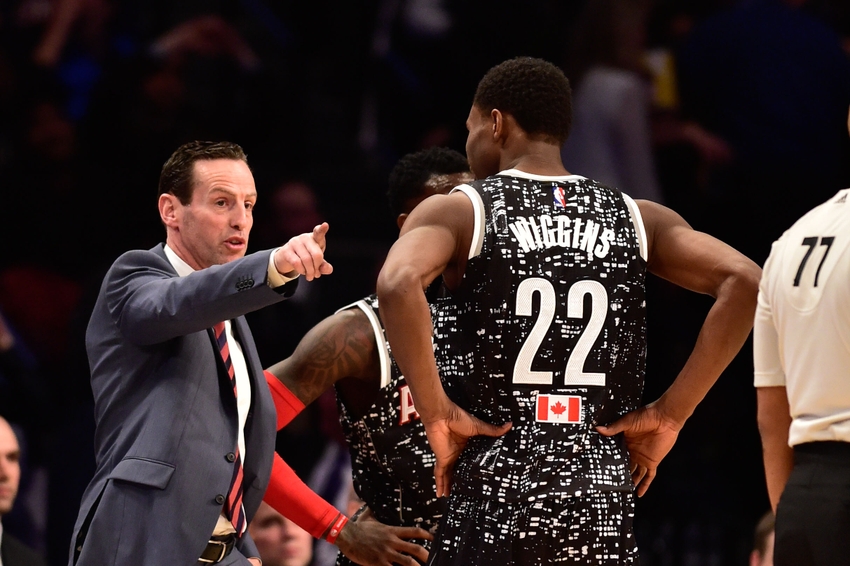 The Brooklyn Nets have been keeping their head above water for the better part of the beginning of the 2016-17 season. However, it seems like the ship has begun to teeter of late.
Recap of Week's Games/News
Though the Brooklyn Nets are still performing above expectations (they are 2-3 in their last five games with wins over the Minnesota Timberwolves and Phoenix Suns) it seems like the days of .500 or better basketball are in the rearview for good now.
Want your voice heard? Join the Nothin' But Nets team!
With Jeremy Lin still rehabbing a hamstring injury and Isaiah Whitehead making his return in a short stint against the Los Angeles Lakers last night, this Nets team had been without an NBA-level point guard for their last three games.
In two of those games–against the New York Knicks and Los Angeles Clippers–the Nets were blown out, but the road win over the Suns was their first victory away from the Barclays Center all season.
This week, I'll be taking a look at the changes that Kenny Atkinson made to adjust to the absence of Lin.
Offensive Breakdown: Sean Kilpatrick
With Lin and Whitehead both missing extended time lately, the Nets had to turn to an unlikely source as their starting point guard: Sean Kilpatrick. The sharpshooting wing was suddenly forced into becoming the team's de facto point guard.
Kilpatrick performed admirably; he had some previous experience running the show with Brooklyn's Summer League teams. Not only was he playing a new position, but he was thrust into a new spot in the Nets' rotation. He went from one of the first substitutes off the bench to the starting point guard.
In his reserve role, Kilpatrick averaged 16.6 points per game, shot 45.7 percent from the field and 38.7 percent from three, posted a plus/minus of plus 7.9, and played 26.4 minutes per game.
As the starting point guard, those numbers have dropped across the board for the Cincinnati alum. He's averaging 11.5 points per game, shooting 34.7 percent from the field and 28.6 percent from three, and has a plus/minus of minus 13.6 while playing 24.4 minutes per game.
Here's a breakdown of some of the key offensive stats with Kilpatrick serving as the starting point guard:
Shooting down 41.3% FG and 29.6 3FG%

4.5 attempts in 6.9 MPG in 6 games

Offensive Rating (ORtg) 111 vs TEAM ORtg 102.4

Pace up from 101 to 106
Offensive Breakdown: Isaiah Whitehead
For Isaiah Whitehead, the transition was from college basketball to the NBA. The rookie out of Seton Hall found himself back in the familiar comforts of the tri-state area after being selected with the 42nd pick in the 2016 NBA Draft.
While it was likely that Whitehead would've gotten an extended look to show the coaching staff what he's capable of at some point during the year, it was not expected to come so early in the season. Whitehead has played in seven total NBA games in his career and he's been a starter in over a quarter of them so far.
Whereas the promotion saw a dip in Kilpatrick's numbers, the exact opposite happened with Whitehead. His numbers were up across the board. His points per game jumped from 3.6 to 7.0, his rebounds per game went from 1.8 to 4.5, and his assists per game increased from 1.6 to 5.0. His plus/minus as a starter is plus 13.6, and his field goal percentage leaped from 38.1 percent to 42.9 percent.
At six-foot-four and 213 pounds, Whitehead's size gives him a leg up on most point guards. He has an above average handle and uses it along with his strength and size advantage to get to the lane as he pleases. His concussion put a damper on an intriguing run, but expect Atkinson to find ways to give him more minutes as the season continues.
Here's a breakdown of some of the key offensive stats with Whitehead serving as the starting point guard:
Shooting up 51.3% FG and 46.2 3FG%

4.3 attempts in 7.5 MPG in 3 games

ORtg 116 vs TEAM ORtg 102.4

Pace up from 101 to 102.5
Defensive Breakdown: Sean Kilpatrick
Sean Kilpatrick should never be confused with a world-class athlete. He's well put together and puts the term "dad bod" to shame. However, his struggles in the NBA have always been on the defensive end.
More from Nothin' But Nets
With Lin out, these deficiencies were only greater highlighted. Facing off against the likes of Derrick Rose, Kris Dunn, Chris Paul, Eric Bledsoe, and D'Angelo Russell isn't something that most starting point guards fare well with, and Kilpatrick had his troubles too.
At times, the Nets were able to use Rondae Hollis-Jefferson as the primary defender on the point guard. However, with those other teams–except Paul's Clippers–having great wing players too, Hollis-Jefferson was moved around the floor for the better part of the game.
Additionally, Jeremy Lin is by no means a lockdown defender, but his experience in the league helps him to do adequately against the cast of star point guards now in the league.
With Kilpatrick as the starting point guard, opponents' shooting saw a rise up 47.5 percent and 52 percent from behind the three-point line. As a team, this lineup had its defensive rating (DRtg) go as high as 114.8 versus the team's 105.4 DRtg on the season. The percentage of defensive rebounds the new starters grabbed saw a dip to 71.4 percent instead of the team's season average of 75.6 percent.
Defensive Breakdown: Isaiah Whitehead
As a rookie, defense is supposed to be one of the harder things to grasp for a player. This includes the spacing, the speed of the game, the bigger floor, and the sophisticated offenses. All of these are supposed to take time before a player can have a profound impact on that end of the court.
That wasn't the case for Whitehead. The rookie guard did more than enough to help the Nets have one of the stingiest starting lineups in his two appearances as a starter.
As mentioned in previous slides, the Brooklyn native's size is a useful advantage. He's athletic enough where he can hassle opposing players while not having to be right up against them.
A two-game sample size is pretty small, and crazier things have happened in a two-game stretch. But the improvement as a whole is a welcomed sight for Brooklyn's fan base and front office in this rebuilding year.
With Whitehead as the starting point guard, the Nets posted a DRtg of 99, a full six points lower than the team's average DRtg  of 105.4. Field goal percentages relatively stayed the same in comparison with opponents' shooting: 45.2 percent from the field and 36.4 percent from three-point territory. However, the team saw a big rise in defensive rebounding. Their defensive rebound percentage (DREB%) got all the way up to 80 percent.
How are the Nets faring without Lin?
As well as Sean Kilpatrick and Isaiah Whitehead have played with Jeremy Lin on the sidelines, the Nets are still a better team with Lin playing. There are subtle differences with and without the point guard, but on the whole, Lin gives this team its best shot at winning games.
Winning games is something many thought was not going to come easy for the Nets this year. While Brooklyn has fought hard in every game it's played this year, not many people would've expected them to have four wins 11 games into the season. If Atkinson can keep finding the right combinations to eat up the void Lin has left, it's not out of the realm of possibility that this team could be in the hunt to surrender a back-end lottery pick to the Boston Celtics.
And with the Celtics struggling so far this season, it would be amazing if when the draft rolls around, it was Boston that sought to deny the pick swap rights attached to the two teams' selections in the 2017 NBA Draft.
Below you'll find some numbers that caught my eye when looking at Lin's On/Off statistics on both offense and defense.
Defense: Lin On/Off
Lin on: DRtg 104.6. 47.1 FG%, 36.6 3FG%
Lin off: DRtg 105.7. 44.4 FG%, 35.4 3FG%
Offense: Lin On/Off
Lin on: team-low 30 3PA, team-high, 110.4 points, 53.6% of FG assisted, plus .7

Lin off: 36.1 3PA, 105 points, 54.4% of FG assisted, minus 6.3
This article originally appeared on