Brooklyn Nets vs. Detroit Pistons Takeaways and Player Grades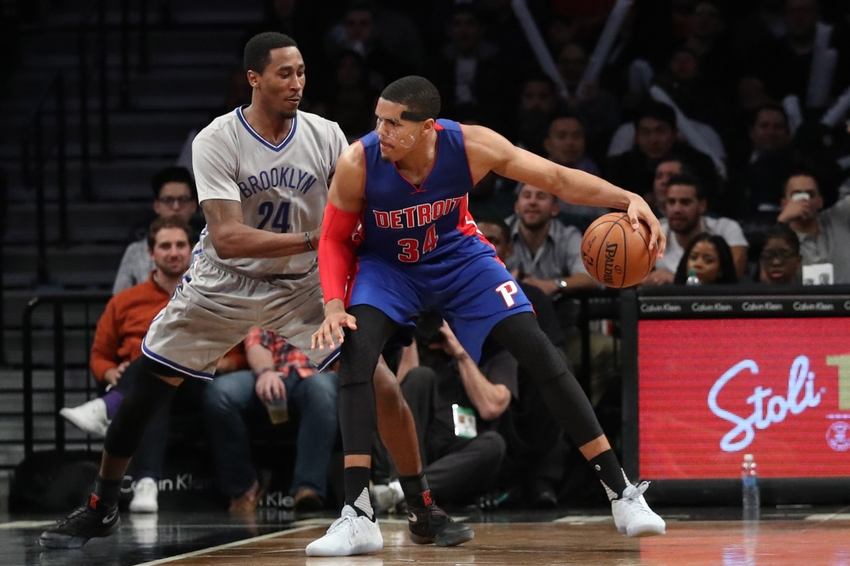 The Brooklyn Nets' offense was firing on all cylinders in this one. They gave up a large lead to make it a close game in the fourth. Brooklyn ended up victorious against the Detroit Pistons, winning 109-101.
The Brooklyn Nets came out swinging tonight after a 30-point loss to the Chicago Bulls at home Monday night. The Nets were the team to score 38 points in the first quarter and they got that number up to 71 by the time the first half came to a close.
Want your voice heard? Join the Nothin' But Nets team!
Brook Lopez was the talk of the town tonight as he had 24 first half points and had hit 4-of-5 three-pointers at that time. Lopez had previously only had four three-pointers made in his entire career.
More from Nothin' But Nets
Jeremy Lin left the game at halftime with an injured hamstring. His status going forward is still uncertain, but he was missed severely in the second half. Brooklyn only scored 38 second half points. Either way, this is the fourth game of the season Brooklyn has put up over 100 points.
Brooklyn's shooting improved drastically tonight. The Nets shot 53.9 percent from the field tonight and 48.1 percent from long range. Speaking of long range, this is the first game of the season Brooklyn did not attempt at least 30 threes (27).
Detroit shot 42 percent from the field and 36 percent from three. The game's leading scorer was Brook Lopez with 34 points on 12-of-21 shooting and 4-of-8 from long range. Detroit had co-leaders in terms of scoring. Marcus Morris and Tobias Harris both had 23 points on the night.
Takeaways:
1. The Nets need Jeremy Lin
The Nets scored 71 first half points tonight on 19 assists. In the second half, Brooklyn scored 38 points on 8 assists. Jeremy Lin left the game with 10 points on 4-of-6 shooting and four assists. Isaiah Whitehead started the second half in place of Lin as Greivis Vasquez was out with an injured ankle and Randy Foye is still battling his hamstring injury.
If Brooklyn is without Lin for an extended period of time, Whitehead will see a lot of time, and, man, he will really need to play better. Five points and four assists in 20 minutes of play are not starting numbers.
2. Rondae Hollis-Jefferson is really struggling
Rondae Hollis-Jefferson is seemingly the only Net that was not in on the scoring party in the first half tonight. RHJ's struggles continue to haunt him as he finished scoreless while attempting only four shots. RHJ did garner six assists which is reassuring. Coach Atkinson said so himself. Hollis-Jefferson is going to need time. It starts with getting down and dirty. Getting rebounds, getting steals, passing the ball around. RHJ will get it back, give him a little more time.
Can the Nets really keep RHJ starting when you have someone like Sean Kilpatrick playing out of his mind on the bench? It is something to keep in mind.
3. The Nets' defense is still abysmal
Brooklyn has now given up over 100 points in all but one game this season. While Brooklyn's offense has put up over 100 points in all but one game, everyone saw what the floor is for this Nets offense Monday against the Bulls.
This team may be able to score, but they will not be able to consistently like this all year, especially if Lin misses time. In order to remain competitive, Brooklyn's defense needs a lot of work. The Nets need to rebound and close out and commit less fouls and play gritty. Giving up 100+ points per game is a death sentence for any team in the league. You need to be able to defend before you can win games.
Player of the Game:
Brook
Lopez
PF/C,
Brooklyn Nets
A
Brook Lopez came out on fire tonight. Lopez scored 24 first half points including hitting 4-of-5 three-point shots. Coming into the game, Lopez had four career three-point shots made. Lopez finished the game as its leading scorer with 34. Lopez shot 12-of-21 from the floor and 4/8 from three. Brook also grabbed 11 rebounds, giving him a double-double on the night. This is the kind of performance Brooklyn needs from Brook in order to compete down low against teams. Going against Andre Drummond was no easy task, and Brook accomplished that task with relative ease.
Wildcard:
Sean
Kilpatrick
SG/SF,
Brooklyn Nets
A
Sean Kilpatrick had himself a game tonight. Coming off of the bench again, Kilpatrick scored 24 points on 8-of-13 shooting and 4-of-4 from long range. Kilpatrick is leading a bench that is second in the NBA in scoring. With Kilpatrick playing the way he has been, he is making it harder and harder for Coach Atkinson to start RHJ over him. Having a 20+ point scorer does you not nearly as good off of the bench as he does in your starting lineup…unless your name is Jamal Crawford.
Up Your Game Please…
Isaiah
Whitehead
PG,
Brooklyn Nets
D-
Whitehead came into start the second half for the Nets due to Jeremy Lin being taken out with a hamstring injury. Brooklyn only scored 38 points in the second half in comparison to 71 from the first half. Whitehead finished the night with five points and four assists and four rebounds and committed five turnovers in twenty minutes of action. If Whitehead wants to stay in Brooklyn and not Long Island, he needs to play much better.
The Brooklyn Nets are 10 percent of the way to their disrespectful Las Vegas projection of 20.5 wins. The Nets now sit at 2-3 and stay at home for game three of their four-game home stand to face off with the Charlotte Hornets Friday night. The Pistons now sit at 3-2 and they go on back home to Detroit to take on the Denver Nuggets on Saturday.
This article originally appeared on