Brooklyn Nets Unveil 'Brooklyn Remix' Uniform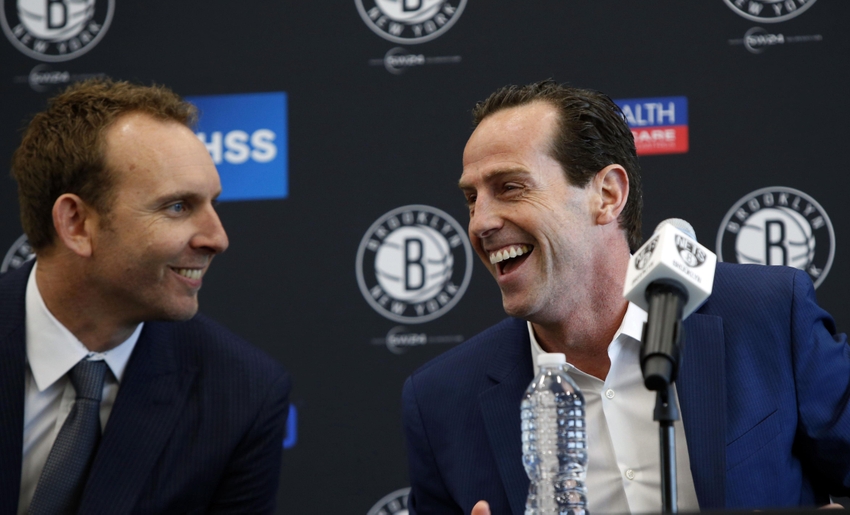 The Brooklyn Nets on Wednesday unveiled a new alternate uniform, which the teams calls the Brooklyn Remix. The Nets will don the uniforms 12 times throughout the 2016-17 season.
The Nets held a big unveiling on Wednesday, as fans awaited an impending announcement. On Facebook, the Nets debuted a brand new alternate uniform called the Brooklyn Remix.
The uniform features a graphite gray color, which the Nets say is inspired by a mix of their two primary colors, black and white. Designed by Adidas, the uniform features white letters and numbers, and recognizes the Nets' past.
The left side of the jersey features two solid stripes, one white and one black. The black stripe has "BROOKLYN" written vertically in white letters. The white stripe features three black stars, and an additional two stars on the side of the shorts commemorate the Nets fifth year in the city of Brooklyn, and the franchise's fifth decade of basketball.
More from Nothin' But Nets
Nets fans will get a look at the uniforms in action early in the 2016-17 season. The Nets will don their new uniforms in the home opener, which is October 28 against the Indiana Pacers.
In addition to the Pacers game, the Nets will wear the new Remix uniforms 11 more times throughout the season. Those dates are: November 9 at New York, November 25 at Indiana, December 22 vs. Golden State, December 28 at Chicago, December 30 at Washington, January 5 at Indiana, January 13 at Toronto, January 23 vs. San Antonio, February 5 vs. Toronto, February 7 at Charlotte, and March 30 at Detroit.
The new alternate uniform pays homage to the uniforms the Nets wore from 1984-1990.
Brett Yormark, CEO of Brooklyn Sports and Entertainment, said the following regarding the new uniform: "The Brooklyn Remix uniforms represent a fusion of the past and the present. By combining the elements from the team's most iconic uniforms, we've created a modernized look that emphasizes our heritage and defines today's lifestyle brand."
The Brooklyn Nets have certainly had some iconic uniforms throughout their history in New York, New Jersey, and now Brooklyn. The team's primary uniforms, the home whites and road blacks, are simplistic. The new alternate is quite eye-catching, and features many nods to the franchise's past.
This article originally appeared on