Brooklyn Nets: The Bond Between Jeremy Lin and Kenny Atkinson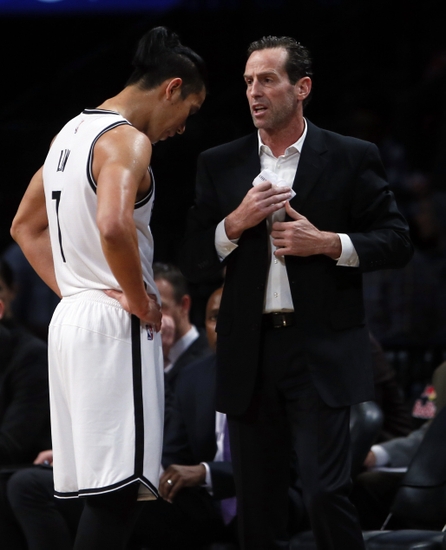 When Jeremy Lin stunned the basketball world and signed with the Brooklyn Nets this offseason, many didn't understand why he would sign with the team. It all may have been because of the new man the Nets have on the bench.
In 2012, when Jeremy Lin was the talk of the town in New York and on the center stage of basketball, it looked like there was nothing teams could do to stop the hot streak of the young Asian-American guard. Also in 2012, the Knicks had a young assistant who Lin formed a bond with. His name is Kenny Atkinson. Atkinson, now the head coach of the Brooklyn Nets, may be the reason his former protege, Lin, is now wearing a black and white uniform.
Want your voice heard? Join the Nothin' But Nets team!
After only knowing each other for two months, Lin handed Atkinson a slip of paper. On that small yet significant piece of paper was four plays, drawn up and given to Atkinson by Lin himself.
"I was blown away," Atkinson remarks about the situation today, per Bleacher Report.
The two guys have come from separate paths, both trying to find a place to finally call home in the NBA. After plenty of rentals in this league, it's safe to say these two guys may have finally found a home, and that home is Brooklyn.
Lin became a sensation in New York and was torching opposing teams night in and out during his Linsanity run. Many wouldn't know though, through all of the success and, well, Linsanity, he was nervous.
Nerves, yes, nerves, were a big part of Jeremy Lin's success. It's because of his nerves he began to scribble and write down plays, and he would then hand those plays to the person who broke down hours of film and worked out with him, Kenny Atkinson.
Looking at the Present
Now, roughly four years later, Kenny Atkinson made his coaching debut with the Brooklyn this previous week. Oh and Coach Atkinson's starting point guard? Jeremy Lin. Why is this so symbolic? Because without one another, they wouldn't be together right now and wouldn't even have the jobs they both have.
Atkinson and Lin now have to face one of the toughest challenges in the NBA and they will do it together. that's make the Brooklyn Nets a respectable franchise and a destination for Free Agents after the hole that Billy King left the team in. At the end of their first calendar week of basketball, the Nets currently sit have a record of 1-3, which isn't as bad as it looks. The Nets looked strong, grabbing a win in their home opener and only two the other three contests by a combined seven points. That's very solid for a team not expected to win more than 30 games this season.
The one win that Brooklyn did pick up, was an impressive showing: beating the Indiana Pacers 103-94. After the contest, Lin gave the game ball to none other than Coach Atkinson. Of course, the reason being it was the coach's first win as an NBA head coach and head coach of the Brooklyn Nets.
This is a prime example of the relationship on display between Lin and Atkinson. Lin and Atkinson show how good chemistry and a good relationship can change everything and go a long way in the NBA.
The Past Few Years… and Looking Ahead
The past few years haven't been so smooth for the two of them. Yes, they still remained connected and continued their great relationship, but as Atkinson moved on to Atlanta, Lin endured some hardships. Three stints, one in Houston, one in Los Angeles (Lakers), and one in Charlotte showed Lin is battle-tested and can be a great player beyond the hype he originally garnered in New York. The Houston and Los Angeles experiments with Lin didn't work out so well, but last year in Charlotte, when it looked like all hope was potentially lost for Lin, he stood out, and in a good way.
After the Hornets' collapse against the Miami Heat in the first round of the 2016 NBA Playoffs, it became clear that some key guys wanted out. Al Jefferson, Courtney Lee, and of course Jeremy Lin all left Charlotte in free agency to find new homes. Lin ended up come to Brooklyn. It would only take Sean Marks until around 9:00 AM that morning to lock up Lin to a contract.
More from Nothin' But Nets
The reason Lin came to a team that previously had a record of 21-61? Change. The change in the front office, the change in the on court personnel, including new rookies, Isaiah Whitehead and Caris LeVert, and most of all, the change at the coaching position. Prior to the end of the first round of the NBA Playoffs, the Nets hired Kenny Atkinson.
With the talent Marks has brought in to the organization, both on and off the court, it's hard to argue he doesn't have a motive or plan to what he's doing. With Lin and Atkinson paired up, their relationship can only help Brooklyn from this point on.
With plenty of basketball to play this season and many opportunities to show what they can accomplish together, it will be fun to see how Kenny Atkinson and Jeremy Lin operate together. After all, with their current state, the Nets need to try anything they can to get back into the championship picture.
This article originally appeared on