Brooklyn Nets: Surprises and Disappointments of Week 4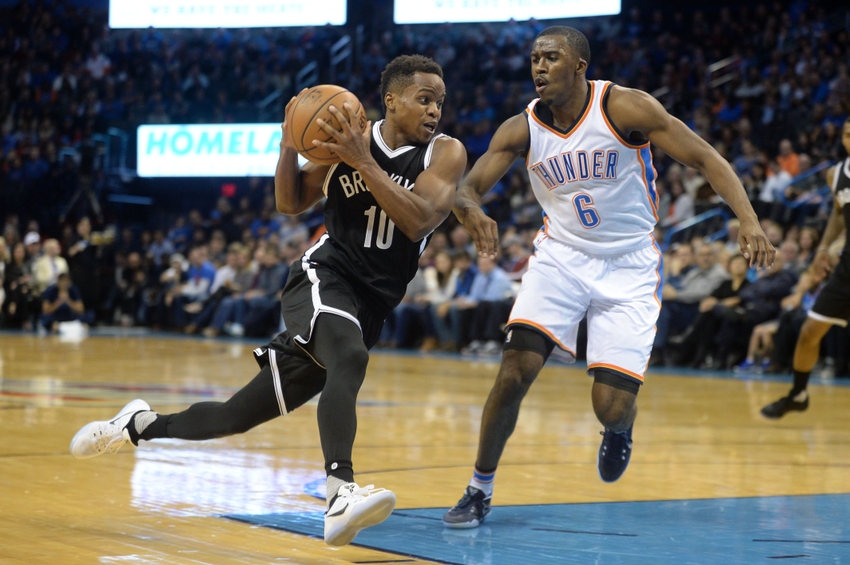 The Brooklyn Nets went winless in week 4 of the 2016-17 Season. Now that the week has wrapped up, here are surprises and disappointments from week 4 of Nets basketball.
We all knew the Brooklyn Nets were going to have a tough week. With opponents like the red-hot Clippers, Thunder, and Trail Blazers, it's not too surprising the Nets came up with an 0-4 record this week. They did come out completely flat in some of these games. They were blown out against the Clippers, where they were completely outplayed and outmatched. The game against the Lakers should have been a victory and was considered a winnable game. Instead, they fell to the young Lakers squad,118-125.
More from Nothin' But Nets
Against the Thunder, Russell Westbrook proved once more why he is considered an MVP-Caliber player, dropping a triple-double (something that has become almost the norm nowadays for him) and single-handedly defeated the Nets. Sunday, The Trail Blazers' C.J. McCollum torched the Nets for 33 points of his own, as he lad the Blazers to a 129-109 win in Brooklyn.
However, despite all of this, there were some pleasant surprises this week just as there are disappointments. The Nets are only growing under the reign of rookie head coach Kenny Atkinson and he is doing way more than fans and analysts predicted. We all expected some growing pains with this squad, but they have definitely played a lot better than a lot of us thought they could. The future looks bright in Brooklyn, even though it appears hard to believe after this week.
Brook Lopez's Consistent Three-Point Shooting
This one is no secret, we are all surprised by Brook Lopez's consistent 3-point shooting. We all knew going into the season, Kenny Atkinson gave Lopez the green light to shoot three's, however, many of us did not think we would be seeing Brook attempt three to four three-pointers per game. Lopez has already attempted 53 more three-pointers this season than he has in his entire career.
Want your voice heard? Join the Nothin' But Nets team!
The best part about that? We aren't even through a quarter of this season. Lopez is shooting at just under 36 percent from downtown. Not bad for a player who has just added three-point shooting to his repertoire.
Lopez adding three-point shooting to his skill set has allowed for him to be an even better fit for this fast-paced Brooklyn Nets style offense they're running now. He spreads the floor and now he has to be guarded out far from the post which means he doesn't clog up the paint. The Nets have more value now in Lopez in case they do decide to actually trade him.
However, a problem with this is his (already low) rebounding numbers are dropping, and the Nets need all the help they can get in that department. They are being out-rebounded almost every other game and they are getting beat in the paint. The Nets need to find a way to solve this problem. Maybe bring back Reggie Evans? (I wish)
Yogi Ferrell's First Full Week in the NBA
The Brooklyn Nets quickly became desperate searching for a player to hold the point guard duties after Jeremy Lin went down with a strained hamstring during the Nets' win against the Detroit Pistons on November 2nd. They did have Greivis Vasquez as a solid backup but then he went down with an ankle injury.
After this, the Nets waived Vasquez and called up Yogi Ferrell from the D-League. The point guard responsibilities then rested on rookies Isaiah Whitehead and Ferrell. To make matters worse, Whitehead went down with a concussion. This made Ferrell the only true active point guard on the roster at one point.
Ferrell held his own, and although his stats aren't eye-popping, one must consider that he is a player that was just in the D-league recently. In fact, with just 17.8 minutes per game, Ferrell was able to average 7.4 points and 3 assists per game, not bad for a rookie.
Lin will hopefully be back sometime later this week barring any setbacks, and Ferrell will most likely see his minutes get cut again in the meantime, but its great to know that you have this kind of player being developed behind the scenes. Especially with a coach like Kenny Atkinson who is no stranger to developing young talent. The future looks bright in Brooklyn.
Rondae Hollis-Jefferson
Rondae Hollis-Jefferson has been completely disappointing so far and I only hope that he proves myself and many others wrong as the season continues. Hollis-Jefferson had himself a solid game against the Suns, but after that he failed to produce on all aspects of the game except of course his energy.
Lets take a look at his averages this week. Shall we?
Against the Clippers, he played 20 minutes, scored eight points, shot 66 percent from the field and snagged two rebounds. Against the Lakers, he played 17 minutes, scored just two points, while shooting 20 percent from the field and only managed to grab two rebounds.
Against the Thunder, he earned 28 minutes of playing time, scored 13 points, but shot an atrocious 21.4 percent from the field. He did however, pick up five rebounds which is still underwhelming, but an improvement.
Finally, in his most recent game, he played 24 minutes, scored eight points while shooting 36 percent from the field while picking up three rebounds.
With this being said, I don't completely blame RHJ for his lack of productivity. The offense has completely changed this year as opposed to the Nets team he played for last year.
Last year, the ball was stuck most of the time in the post which allowed him to slash, cut to the rim, and use his athleticism more. With this offense, the Nets are playing more uptempo and the ball is constantly moving around. For a guy like RHJ, who's offensive game still needs to be polished, it will be difficult to make his impact on the game.
Defense
The Nets have been a high scoring team thus far in this NBA season, but as many say, great defense wins games. The Nets can score all the points they want but if they are not able to get any stops on defense, they will lose and they will lose by a lot, which is something we have all seen a lot this week.
In thirteen games so far, the Nets have only been able to hold a team under a hundred points once. That was against the Charlotte Hornets, although the Nets ultimately lost 99-95.
There's no doubt this team plays with a lot of heart and Brooklyn Grit. However, they need to do a better job of defending. Something must be done about this soon. If the Nets can keep their opponent from getting to the basket so frequently, they could have a legitimate chance to make a run into the playoffs this year.
If the Nets fail to do so, they will be outscored and outplayed when they play against teams like the Cavaliers, Warriors, and Spurs.
This article originally appeared on