Brooklyn Nets: Rondae Hollis Jefferson, the Secretary of Defense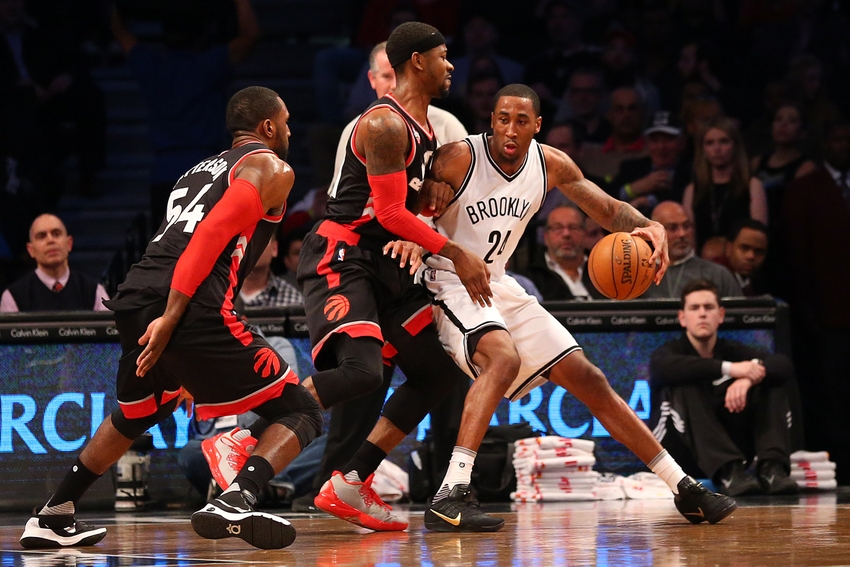 Rondae Hollis-Jefferson, a second-year player for the Brooklyn Nets, looks to step up his performance and help the Nets on defense. While he was injured and limited to 29 games last season, look for Hollis-Jefferson to get back on the court better then ever.
Rondae Hollis-Jefferson was the 23rd overall pick for the Portland Trail Blazers, but he was subsequently traded to the Brooklyn Nets on draft night. Hollis-Jefferson had a lot of upside coming from Arizona, so his length and athleticism was quite appealing to the Nets. With Brooklyn destined for failure in the 2015-16 season, Hollis-Jefferson was one of the positive things that came out of last season. While he went down with a broken ankle, he did provide a good enough sample size for the Nets defensively.
The 21-year-old small forward averaged 5.9 points, 5.3 rebounds and 1.3 steals in 29 games, but don't let the numbers fool you. He might be limited offensively (only shot 28.6 percent from three), but he isn't here for offense. If you watched Hollis-Jefferson play, you will see what he is all about.
More from Nothin' But Nets
What Hollis-Jefferson brought to the Nets was defense and crashing the boards. He gets all the hustle points. The Nets weren't really good defensively and they were poor at rebounding last season (27th in the league). What Hollis-Jefferson brought to them was the hustle and the dirty work, something the Nets lacked.
His 6-foot-7 frame can help spread the floor and get steals. With his 7-foot-2 wingspan, the Nets used Hollis-Jefferson to guard their opponents' best player when he was starting. Unfortunately, he went down with an injury and Bojan Bogdanovic replaced Hollis-Jefferson, thus making the Nets suffer defensively once again. The Nets were 29th in defensive efficiency, with a rating of 108.5. Hollis-Jefferson can help improve that once the 2016-17 NBA season begins if he stays healthy.
What is expected for Hollis-Jefferson after having an injury riddled season? Well, with all the roster moves made by Sean Marks, the Nets GM, expect the Nets to be better this season. While many players were signed this offseason, Hollis-Jefferson is the focus. He brings that toughness and intensity that the Nets desperately need.
Coming fresh off the NBA Summer League averaging 10.2 points, 6.9 rebounds, and 2.0 steals per game, expect him to step up defensively once again and continue what he started, now as a much improved player.  Nets fans should be ready to embrace the future with Hollis-Jefferson leading the defense.
This article originally appeared on