Brooklyn Nets: Randy Foye to Return Tomorrow Against Wolves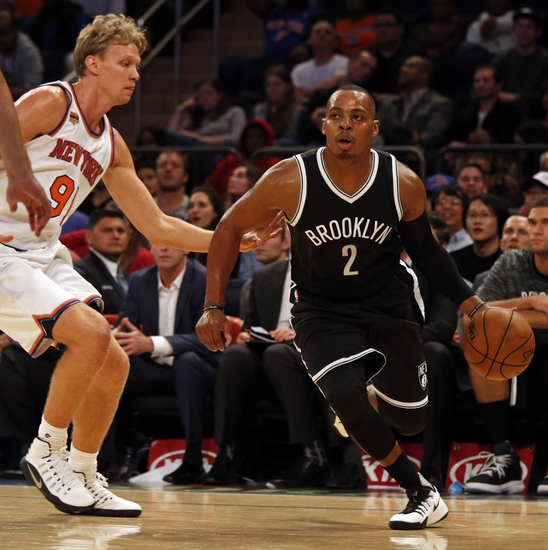 Brooklyn Nets head coach Kenny Atkinson announced that Randy Foye will be back for tomorrow's game against the Minnesota Timberwolves. Foye missed the Nets' first six regular season games with a hamstring injury.
The Brooklyn Nets finally have some good news. 10-year NBA veteran Randy Foye will play his first regular season game as a Net after being sidelined for six games with a hamstring injury. Foye was active on the roster for last Friday's game, but did not play.
Atkinson said Randy Foye will be back tomorrow. They prefer Kilpatrick in that sixth-man role at the 2, so Foye will get minutes at PG.

— Laura Albanese (@AlbaneseLaura) November 7, 2016
The 33-year-old guard signed with Brooklyn this summer after spending the prior season with the Denver Nuggets and Oklahoma City Thunder. In five preseason contests with the Nets, Foye posted 5.2 points and 2.8 rebounds per game.
Want your voice heard? Join the Nothin' But Nets team!
Foye, despite playing at the two for most of his career, has also spent time running the point. In his first two seasons in the NBA with the Wolves and his season in Washington, he played at the one. With the Nets' few options at the one, Foye will hopefully help ease some worries.
More from Nothin' But Nets
After Brooklyn lost both Greivis Vasquez and Jeremy Lin, there have been many concerns over the Nets' lack of depth at the one. In their absences, rookie Isaiah Whitehead and Sean Kilpatrick filled in for duties at the point.
Whitehead has shown some improvements and made his first NBA start against the Hornets. Still, fouling has been a major issue for the rook. Against Charlotte, Whitehead nearly fouled out, as he finished the game with five fouls.
Meanwhile, sixth man Kilpatrick is purely a shooting guard, so of course Brooklyn would feel more comfortable using him at the two. Foye being back will allow Kilpatrick to return to his true role.
The Nets are 2-4 so far this season and will be playing back-to-back games this week against the Wolves and Knicks.
This article originally appeared on