Brooklyn Nets Positional Outlook: Shooting Guard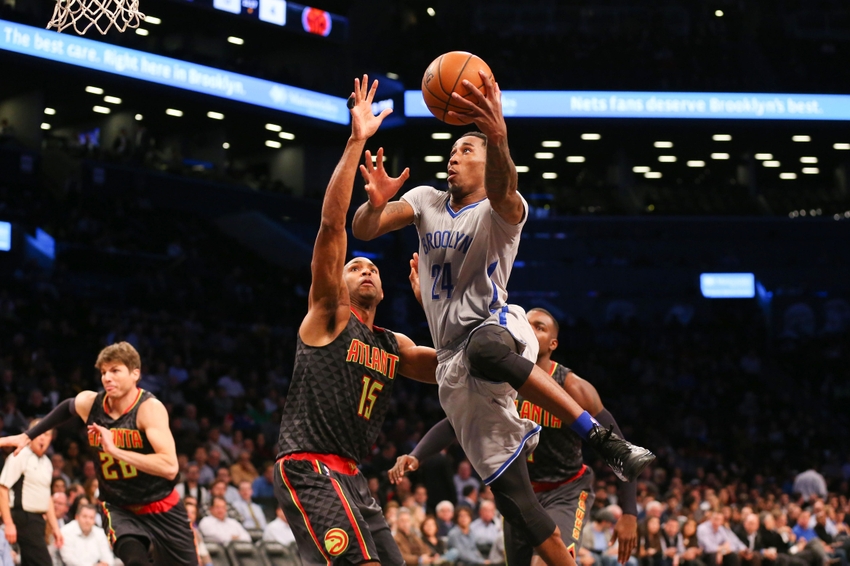 The Brooklyn Nets' preseason kicks off on October 6, and the team hasn't released a formal depth chart. With a bevy of young, versatile guys, a positionless brand of basketball will soon be making its way to Brooklyn.
With the emergence of so many dominant point guards, the off-guard position is beginning to take a backseat. There are still a handful of outstanding two guards in the NBA, guys like James Harden, DeMar DeRozan, and Jimmy Butler put on shows night in and night out. The Brooklyn Nets have four or five guys who have the ability to play shooting guard, so it'll be a battle all preseason.
Want your voice heard? Join the Nothin' But Nets team!
Being an effective two guard starts with being an explosive offensive player. Think of the all-time greats at that position and notice how they were proficient scorers. The Nets don't have proficiency, but they have guys who are capable of becoming proficient players. Right now, it appears that Rondae Hollis-Jefferson or Bojan Bogdanovic will fight for the position, and whoever doesn't get it will just be moved over to small forward.
Having RHJ start at the two would deliver a more intense start to the game defensively. But, essentially, it's six-of-one or half-a-dozen of the other. Both guys are interchangeable and can be switched on and off throughout the course of the season.
RHJ or Bojan?
Bojan Bogdanovic has had two impressive NBA campaigns thus far. Last year, we saw an improved offensive player who was locked in from three-point range. The 27-year-old swingman knocked down 129 threes with a reliable efficiency (38.2 percent) that wasn't seen during his rookie year.
Then, there was an explosion in Rio. Bogdanovic looked like the best player out there at times. With an average of 25.2 points per game, he finished as the scoring leader, and he was as efficient as you could be. His shooting percentages looked strikingly like Stephen Curry's during the NBA's regular season.
Bogdanovic knocked down 50.6 percent of his shots overall, and 45 percent of his threes. He was sub-par from the free throw line and finished at 78.6, but he was attempting over nine per game. The odds of this transferring to the NBA are slim, but he'll certainly produce on the offensive end. (All stats are courtesy of FIBA.com).
Bogdanovic has a leg up on Rondae Hollis-Jefferson in that regard, but the rising sophomore is already displaying remarkable defensive potential. RHJ's scoring and playmaking abilities are still developing, so he's not reliable offensively yet. With that said, the thing that'll differentiate who starts at shooting guard is who the opponent is.
Bogdanovic fits the shooting guard label better–a scorer who's decent all-around. RHJ doesn't fit the shooting guard label because he's lackluster offensively, but he'll match up against the opposing team's shooting guard if that guy is more talented than their small forward. Hollis-Jefferson who, despite being offensive-minded, is a better athlete with quicker hands, feet, and a never-stop mentality.
Fortunately, the NBA is moving toward a positionless, label-less brand of basketball.
The Backups: Sean Kilpatrick
This is where it gets dicey for Kenny Atkinson. While the backups are all reliable, Sean Kilpatrick is the only one who can rival the talent of Hollis-Jefferson and Bogdanovic at the two-guard slot. He's an okay defender at best, but that'll change as he spends more time in the league. Kilpatrick's biggest upside is his unlimited potential as an offensive player. Going forward, he has the best chance at being Brooklyn's sixth man because of what he showed last year.
Kilpatrick displayed a very nice feel for the game through 23 appearances with the Nets last year and stayed poised throughout his time on the floor. Kilpatrick was lucky enough to be in a position where the Nets allowed him to be the go-to guy on offense. He was regularly composed and made plays for himself on a consistent basis. Furthermore, he made excellent decisions with the basketball. Although he's not an otherworldly passer, very few mental errors occurred–very impressive from a guy going into his third year with limited NBA experience.
The Backups: Caris LeVert
If Caris LeVert were fully healthy, he'd immediately be thrown into the rotation. After all, Sean Marks traded Thaddeus Young to get the first round pick that turned into LeVert. Despite being a rookie, LeVert spent all four years at Michigan and missed more than half of his senior year with a foot injury. During his time at U-M, he developed into a lights-out shooter whose game became more and more polished each season.
Because of his consistency from outside, he should slide easily into Atkinson's offensive system once he returns.
The constant movement makes the defense rotate and if Brooklyn swings the ball correctly and quickly, open shots will be there. Should the defense take away LeVert's ability to shoot, he's good enough with the ball to put it on the deck and take it to the cup. He's not a blinding athlete by any stretch of the imagination, but he'll still be able to convert around the basket.
The Backups: Joe Harris
Since coming into the league, Joe Harris has struggled to find his role. After spending four years with the Virginia Cavaliers, Harris gained a reputation as a knockdown shooter and ended his career there with a 40.7 percent clip from three. That's where he'll immediately make an impact if given time. When put up against the other guys, however, he's limited.
Defensively, Harris has decent size at 6-foot-6 with a 220ish-pound frame, but his lack of length inhibits him. His suspect defensive ability doesn't all stem from his short wingspan (measured 6-foot-6 at the combine), but it's his unsurprising lack of athleticism. Harris isn't a terrible athlete, but when it's lined up alongside other guys, he pales in comparison.
Harris is at his best coming off screens, very similar to another player who was coached by Atkinson in Atlanta. No, he's not Kyle Korver. But he has the potential to turn into a Korver-type player if his consistency improves on both the offensive and defensive sides of the ball.
Other Candidates: Randy Foye
Both of these guys are combo guards because of their mix of size and skill, so don't be surprised to seem them running the offense at times.
Randy Foye is coming off a terrible season where he struggled to be a threat from outside. His three-point percentage hit a career-low last season at 30 percent and there isn't much substance to his game outside of that. He's not a great athlete, which limits him a lot, and his mid-range game doesn't help. Furthermore, his defense is suspect, and he doesn't stand much of a chance against the athletic guards of today. There is room for hope, though. Since Atkinson will institute a pass-heavy offense, Foye will get his fair share of open shots. He'll just need to convert.
When he was with the Thunder, it was Westbrook-and-Durant-centric, and the ball movement was minimal. A bad situation for a guy who's primarily a three-point shooter. If he gets his outside shot back on track, he'll be able to expand offensively with an effective pump fake to combat his wilting athleticism.
Other Candidates: Isaiah Whitehead
More from Nothin' But Nets
Because of LeVert's absence to start the year, Whitehead being thrown into the rotation will provide him valuable experience. Minutes will be slim, but if he plays well in limited time, his confidence will become much higher. He's talented enough to make an impact during the time he's on the floor if he plays within himself.
The main area where Whitehead will need to improve is with his decision-making. He committed a ton of turnovers with the Pirates. Some were boneheaded, and some not, but he was also subject to taking poor shots from time-to-time.
He has all the tools to be an above-average offensive player, but he'll definitely need to spend a lot of time working with the staff to improve himself. Despite that, he has shown excellent flashes.
When Seton Hall beat Villanova in the Big East Tournament, Whitehead went for 26 on 11-of-21 shooting. However, he did commit eight turnovers. But that gets overshadowed by their huge victory.
He's also shown that he can be a detriment to his team at times. In the first round of March Madness, there was a total 180 in Whitehead's play. He finished with a paltry 4/24 shooting night when the Pirates got upset by Gonzaga.
This article originally appeared on