Brooklyn Nets: Kenny Atkinson Can Turn The Nets Around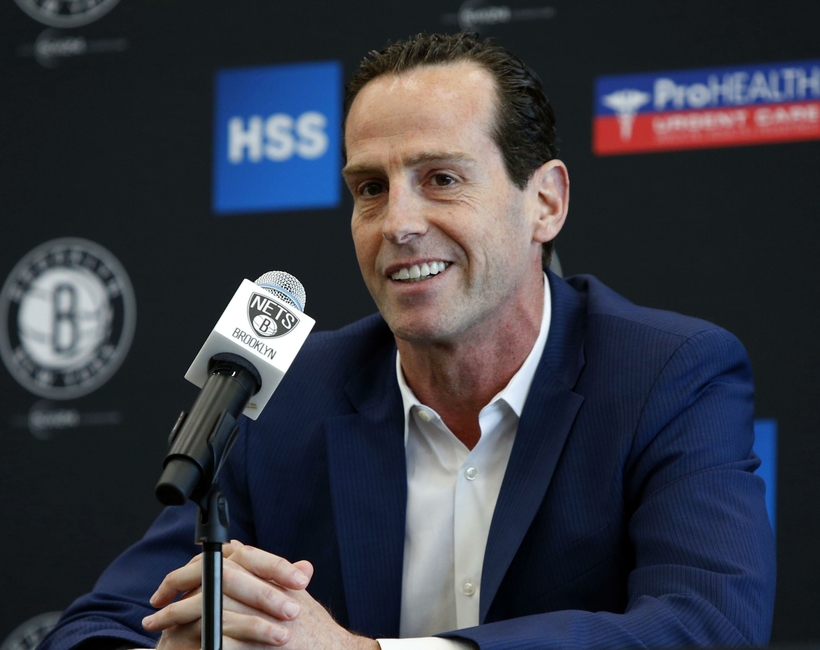 The Brooklyn Nets have a long rebuild in front of them, but in Kenny Atkinson they have the right man for the job.
Over the past five years, there haven't been many franchises in the NBA more desperate for success than the Brooklyn Nets have been.
When the team was purchased by Mikhail Prokhorov, the Russian tycoon immediately created a mandate to contend. The problem was neither him or his staff really had any idea of how to build a winning team.
The result in the time since has been a spate of reckless trades, short-sighted signings and rosters comprised of star names who were long past their prime as star players.
When that whole experiment invariably resulted in mediocrity, there was always going to be a need for a dramatic change of tact and, as such, 2016 marked the beginning of the new Brooklyn Nets.
That shift began in February with the hiring of Sean Marks as general manager, but the appointment of Kenny Atkinson as head coach could prove to be the most significant move of all.
Atkinson, who was most recently Mike Budenholzer's lead assistant with the Atlanta Hawks, comes from a background of player development, and specifically working with younger players to maximize their abilities.
As the Hawks have flourished in recent seasons, most notably winning 60 games in 2014-15, Budenholzer has deservedly been the recipient of significant praise.
Saying that, a big part of what Atlanta has become can be traced back to the roles played by the likes of Quin Snyder, now the Utah Jazz head coach, and Atkinson.
If further evidence of that was needed, the reactions from Hawks players and staff upon news of Atkinson's opportunity to sit in the big seat in Brooklyn spoke for themselves.
No In-Editor Preview for SI Videos
Video Details
ID: 4849552472001
Source: SI
Veteran sharpshooter Kyle Korver recalled how when he was a free agent in 2013 and torn on whether he wanted to return to the then coach-less Hawks, it was the news of Atkinson's plan to return that sealed the deal for him.
Although Korver was close to fully formed as a player before even arriving in Atlanta, he has been a close observer of Atkinson's work in the time since.
He has been awesome for us here in Atlanta. I think our player development has been second to none the last four years. I think it has been amazing watching guys develop and grow and Kenny leads that.
Those sentiments were echoed by Jeff Teague upon news of Atkinson's departure for the Nets too.
"I have been with him for a while now and all the work he does with me personally, the late nights, the early mornings, to get an opportunity to be a head coach, he deserves it.

[He's] a worker, he is someone who knows the game inside and out. Someone that loves the game. He really loves basketball. He is always in the gym, first one here every day. He wants to win. He is going to bring a different culture to Brooklyn. They are lucky to get a guy like him."
While Teague blossomed into an All-Star under Atkinson's guidance, Kent Bazemore transformed from a bench celebration specialist to a versatile wing on a $70 million deal. When Bazemore speaks of Atkinson, it's the attention to detail and the positivity that shines through.
"He always has this good aura and swagger about himself. Even just how he walks around, he still stays in shape, he is out here warming up barefoot, doing push-ups. He is just as into it as we are, and he was a point guard and point guards are special. They are the kind of people you don't come by a lot in the game of basketball. As far as how you know they can translate it from the court to off the court and put it into certain words for you so you understand. He is very good at that.

And his workouts, a lot of ball-handling stuff, a lot of pick-and-roll stuff, which is what you need to survive in this league. If you can't run pick and roll as a wing it is going to be tough for you. He has one of the most integral parts of the offense, pick and roll, down to a T."
For as much as the technical aspects of Atkinson's coaching are important, in starting from the ground up with a Nets team that will have no real immediate expectations, there'll be another important dimension to the 49-year-old's job.
With a slew of outgoing picks in the next few drafts, the Nets are going to have to find growth from within and identify diamonds in the rough in the early stages of their rebuild.
It's for this reason that player development expertise was clearly a top priority in Brooklyn's decision to hire Atkinson.
In reacting to that news, Budenholzer explained how he felt Atkinson's past experience could mesh into his new role as a head coach in Brooklyn.
"Kenny has a great feel and great knowledge for the game. Those two things are not always synonymous. The feel is sometimes more subtle, more hard to find. And then he has a way of connecting. So when you are talking about player development, you got to understand the game and be able to feel it, and then got to be able to communicate it and connect with players.

He has done that at a high level the whole time we have been here. Player development is a huge part of what we do … When you become a head coach, that feel, that understanding and ability to take concepts and incorporate it into team concepts and individual, he is gifted that way."
It's that pedigree that the Nets will be hoping could turn the likes of Sean Kilpatrick or Rondae Hollis-Jefferson into top NBA pros, or make Isaiah Whitehead, Caris LeVert or Anthony Bennett genuinely useful role players.
For a franchise that has made countless bad decisions for much longer than should really be sustainable for an NBA team, they couldn't afford a misstep with their new coach.
Under Atkinson, the Nets will be work in progress, but he has the tools to give them every chance to progress eventually.
This article originally appeared on