Brooklyn Nets: Justin Hamilton Shining Early On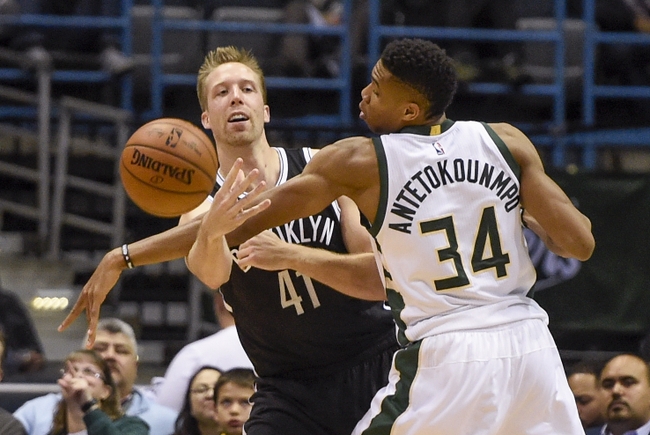 As the Brooklyn Nets continue to surprise the wider NBA in the early stages of the season, center Justin Hamilton has stood out with his play.
As a collection of players who don't exactly scream out name recognition, the Brooklyn Nets were always destined to be pegged as a struggling team this season.
There's nothing glamorous about well-coached teams, structured systems and team cohesion, but as the Nets have started the season with a respectable 4-7 record, they've reminded everyone that those factors can be just as important in building a competitive team as established names.
Make no mistake, the Nets aren't set to turn the East upside down this season, but a year of promising play from young, affordable players could offer them the ideal platform for a challenging rebuild that's devoid of draft picks.
At only 26 years old, former Iowa State Cyclone Justin Hamilton is just one of those players who could become a part of Brooklyn's long-term future.
Having signed with the Nets on a two-year, $6 million deal early in free agency, Hamilton was given a chance to establish himself in the NBA on what acts as his second bite of the cherry in the league.
In brief spells with the Bobcats, Heat and Timberwolves between 2013-15, Hamilton was a solid, but unspectacular contributor who failed to do enough to prove his worth in the NBA.
After a season in Spain with Valencia last season, the California native is back and so far he's looked better than ever.
Unlike many of his teammates, Hamilton plays at center, a position where he has proven competition to overcome in his quest for minutes.
As a former All-Star and the highest paid player on the team, Brook Lopez was always going to play ahead of Hamilton, but the difference in minutes between the two men has been much closer than most would have anticipated.
With Lopez currently logging a career low in terms of minutes per game (26.3), Hamilton is taking more than his fair share of the pie.
With Nets coach Kenny Atkinson trusting Hamilton to play 23.7 minutes a night so far, the Nets have reaped the rewards from one of their new big man's skills in particular.
In a league that has become more three-point focused than ever before, Hamilton has shown incredible proficiency for a man of his size when it comes to knocking down the long ball.
A below average shooter for his previous spell in the league, Hamilton has come out this season making just less than 43 percent of his 3.8 three-point attempts per game.
That's played a big part in his 8.8 points per game so far, but also has been even more important for providing his team with a different option and opposing teams with a different look to try to counter.
As Atkinson recently said to the New York Post, explaining what a shooting big like Hamilton can do to opposing teams:
"I know as a coach, we have nightmares guarding players who are so different," Atkinson said. "Like Chicago, they have their power lineup and than [Nikola] Mirotic comes in. You have to change your pick-and-roll coverage, it just throws you a little off and it's harder to prepare for."
Although, Hamilton will never pose the threat that a player of Lopez's caliber can, his role within Atkinson's rotation is somewhat emblematic of what the Nets are looking to achieve this year. Atkinson has described Hamilton as a "system fit" within his team.
For the Nets to overachieve this season, they'll need the sum to amount to something greater than the individual parts, and as a result that kind of seamless match becomes even more important than it'd be on teams who possess greater talent.
When it came time for Hamilton to return to the NBA, that mesh between player and team was something he identified too.
"I wanted to go to a team that I could fit into," Hamilton said. "Just looking at [who] Kenny [Atkinson] and Sean [Marks] have worked with, I thought I could fit into the system pretty well."
Another key detail that shouldn't be overlooked in Hamilton's impressive early season play, is the sense of continuity the Nets have provided him. After years of struggling to carve out his niche in the NBA, Hamilton credits the consistent opportunity in Spain as helping to turn his career around.
"Going there, I was playing every night and I was able to reestablish myself, maybe mentally more than anything," Hamilton said. "Just remembering how to keep contributing."
Even if he's behind Brook Lopez, Brooklyn presents Hamilton with a chance to play a significant role on a nightly basis. Ultimately, that could transform his career trajectory, while also helping the Nets to continue to surprise the rest of the NBA.
While any mention of Hamilton in New York might currently bring to mind an endless battle for tickets to the hit Broadway show, if Justin keeps up his current play, the first association in Brooklyn could soon become a certain sharp-shooting big man instead.
This article originally appeared on