Brooklyn Nets: How Rondae Hollis-Jefferson Can Turn His Season Around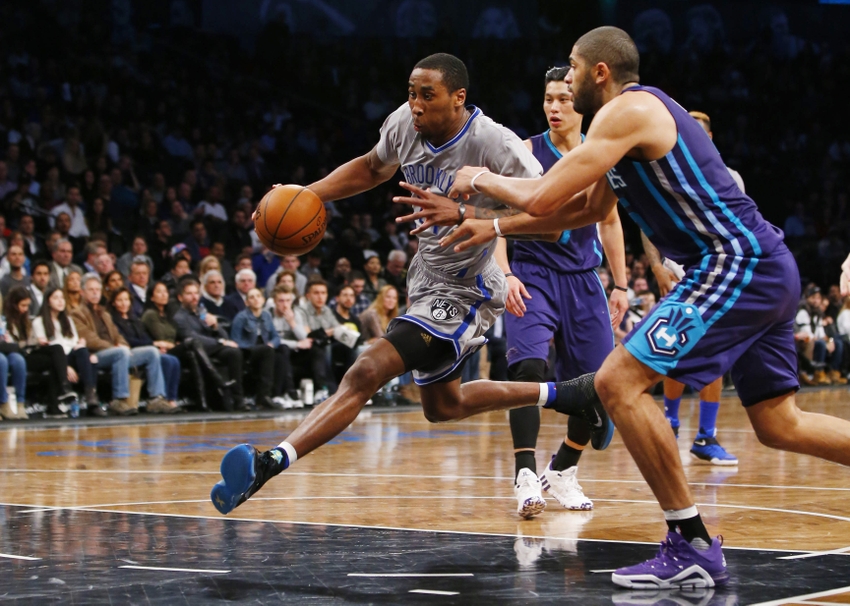 After being one of the most valuable players on the Brooklyn Nets in his rookie season, Rondae Hollis-Jefferson has disappointed in the early portion of the 2016-2017 season. Hollis-Jefferson is averaging only 3.7 points per game on 28 percent shooting from the field in six games this year.
Rondae Hollis-Jefferson was drafted 23rd overall in the 2015 NBA Draft and was immediately traded to the Nets for Mason Plumlee. Despite his late round selection, leading up to the draft many experts had him projected to be picked in the mid-teens. RHJ has clearly overcome his fall in the draft as he has outperformed players who were selected earlier such as Delon Wright (20th) and Sam Dekker (18th).
Want your voice heard? Join the Nothin' But Nets team!
His energy and tenacity on the defensive end of the court had an immediate effect on the Nets in 2015-2016. However, Hollis-Jefferson was diagnosed with fracture in his right ankle in early December of last season which required eight weeks of recovery time. By the time RHJ returned to the court in March, the Nets season was already sunk.
More from Nothin' But Nets
Going into this season, RHJ was ranked atop several breakout player lists. This assumption seemed logical at the time as Hollis-Jefferson was coming into the season fully healthy with better teammates surrounding him, but these lofty expectations have not been met so far.
But there is no reason for the Nets organization to panic yet. In fact, since entering his current slump, RHJ has stated over Twitter and in interviews on multiple occasions  that his development is going to take time.
The season is still young and the team is most likely still adjusting to the new strategies implemented by Coach Atkinson. Yet, a question still arises; what must Hollis-Jefferson do to turn around his disappointing performance so far this season?
Shoot More Efficiently
It is widely known among Nets fans that RHJ brings invaluable skills to the defensive end of the floor, such as never taking a play off, and using his athleticism to stop a ball handlers in their tracks. However, shooting 28 percent from the behind the arc for a wing simply doesn't cut it in the modern-day NBA; especially in Coach Atkinson's new offense where even players such as Brook Lopez are expected to shoot threes at times.
Hollis-Jefferson has only attempted seven three pointers so far this season; a very small fraction of the Nets' 205 threes they have attempted as a team through six games this season. A good way to become more involved in the offense could be to take risks and shoot out of his slump, especially when teams begin to back off of him on the perimeter.
Even if he doesn't initially improve on his 28 percent three point percentage, RHJ's shot should come with time. Lopez only made one of his first seven three point attempts this season, but was able to shoot his way out of the slump after knocking down six of his last 14 attempts.
After only making two of his first seven threes on the season, perhaps Hollis-Jefferson will be able to heat up from behind the arc as well, but this will never happen if he gives up on his perimeter shot all together.
However, it is also important for RHJ to finish effectively around the rim, which, besides for a ferocious dunk against the Hornets, has been a slight struggle for him this season. His field goal percentage (28 percent) is identical to his three point percentage, both of which are numbers that must be raised in due time.
Once he raises these percentages and becomes an outside shooter that defenders respect, then he can begin to be categorized with other top sophomores in the league, as he was projected going into the season. If not, then RHJ may have a ceiling similar to Micheal Kidd-Gilchrist or Tony Allen, in the future.
Take Time to Develop
Despite the few preseason accolades and fan expectations, RHJ must realize that in reality, there isn't a ton of pressure on him or the team as a whole this season. It is essential for RHJ and his fun-loving personality to not let the pressure get to him.
Moreover, the Nets are not even a quarter of the way through the season yet. There is absolutely no reason for RHJ to panic after only underperforming for a measly six games.
Brooklyn is going into this season with no expectations as they have no draft pick and little upside overall. This provides Hollis-Jefferson with a valuable asset in his development; time. RHJ virtually has a position in the starting lineup locked up for now. This will provide him with at least 25 minutes per game; more than enough time to make mistakes, correct them, and become an overall better player by the time the Nets add more talent.
Hollis-Jefferson has nearly five months to get his legs under him and get back on track to becoming a more well rounded player. He will especially have an opportunity to show his upside in the latter months of the season when the Nets will presumably be out of the playoff hunt. It will be crucial for RHJ to take advantage of this ample playing time, as the Nets made a clear decision to shut down their veterans towards the tail end of last season during meaningless games.
A good use of this extended playing time would be to expand his offensive game by handling the ball more and not being afraid to take a plethora of jump shots as well, even if they aren't falling initially. These would be valuable skills to carry over into next season when the Nets will ideally have more all-around talent with him on the perimeter.
This article originally appeared on