Brooklyn Nets: How Randy Foye Found Strength in His Upbringing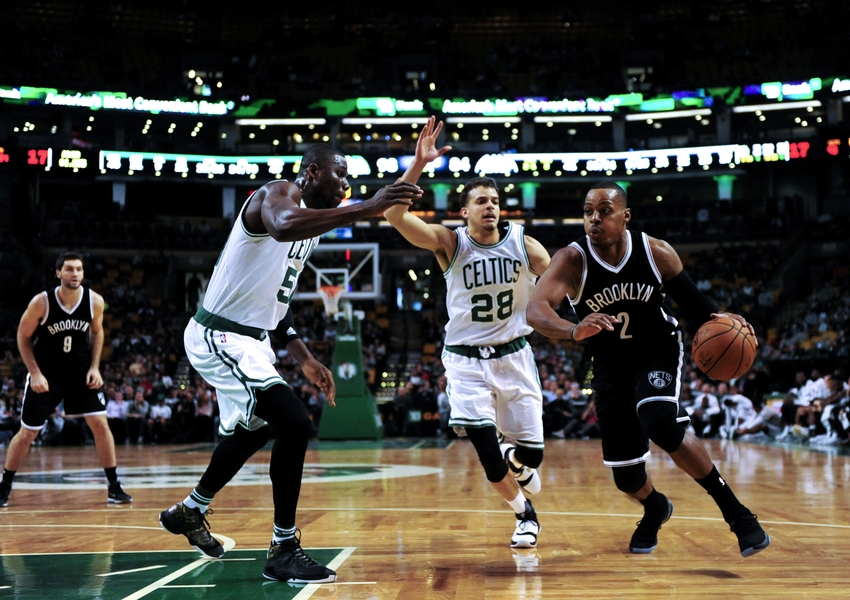 Brooklyn Nets guard Randy Foye has endured life events off the court which make on-court events seem rudimentary.
Brooklyn Nets veteran guard Randy Foye is in his 11th NBA season. He has suffered various injuries throughout his career, and bounced around from team to team throughout the years.
Want your voice heard? Join the Nothin' But Nets team!
However, any tribulations that Foye has encountered during the NBA facet of his life pale in comparison to what the 33 year-old has endured off the court.
Foye's childhood included the loss of both his father when he was two years-old, and his mother when he was five years-old. Foye's father was killed in a motorcycle accident, and three years later, his mother vanished. Once Foye was of reasonable age, he learned that his mother was last seen getting into a van in Newark, New Jersey. Nobody had seen her since.
That was unusual, according to Foye. His mother would not simply leave in such a fashion. "She wouldn't just leave and disappear like that — it had to be foul play," Foye told NBA.com. "That's what I got from my grandmother, that they couldn't find her and it wasn't like her. So they was just like, 'Somebody kidnapped her.'"
More from Nothin' But Nets
For years, there were more questions than answers.
That is, until Foye received a phone call in September. Foye's mother, he was told, had been located.
"The type of person she was, I couldn't believe she would be alive that whole time and not come back for her son or to see her son. But she wasn't."
According to authorities, Foye's mother died in January of 1990, and had been buried where Foye had recently signed on to play basketball — in Brooklyn.
"She was deceased," Foye said. "And then my emotions were, wow. My mom is here." Foye said he was told his mother died due to an overdose.
Now, Foye has her golden urn in his home. "I didn't want to put her back in the ground," Foye said. "I wanted to keep her with me."
Foye's upbringing, due to the circumstances, was tough. However, despite everything he has been through, Foye wouldn't change his life. "Everything I had to endure and go through, it made me who I am today," Foye said. "I wouldn't change my life. I wouldn't change any of it. Because it made me a strong person. Made me the husband I am, the father I am. I'm extremely proud of who I have become from the circumstances I had to go through."
Indeed, Foye's story is one of pain and loss, but also perseverance. Foye never quit. He never overstressed on a given situation — instead only worried about the present. "I think it's my upbringing," Foye said. "Not having my mom and dad, it seemed like it was always pressure for my grandmoms, or my aunt who I was staying with, to put food on the table. And in those moments, I was always calm. I just always used to say, 'We have it tonight, we are good.' Or, 'Don't stretch yourself, I'll eat in school.' Or something like that. 'Don't worry.'"
Foye's past gives him a unique perspective. In a sport where changes are made at various levels every year — from coaching staff's to rosters — Foye knows that basketball, at its core, is just a game.
"In the neighborhood I grew up in, in North Newark, it was always something going on where it was a little bit of turmoil, where at any time something bad could happen," Foye said. "So you always have to be on your P's and Q's, always be calm, relaxed, just in case something happens, like, I know I got to run this way, or I got to go this way. And then when you put it into basketball terms it's like, alright, if I make a shot or I miss a shot, or I make a mistake? It's just basketball."
Just as Foye's life could have been different if not for unfortunate circumstances, his NBA career could've went differently as well, if not for injuries.
"I wanted to be a star," Foye, the seventh overall pick in the 2006 NBA Draft, said. But Foye's career has played out differently. He has a career average of 10.8 points per game in 685 games. While that may not be a star-type output, Foye has proven to have staying power in the league, despite bouncing around. The Nets are the seventh team he's played for since 2006. But in Brooklyn, Foye has found a home.
The Nets were without Foye to start the season, as he injured his hamstring in a preseason practice. But he is healthy once again, and the Nets need him. Brooklyn's backcourt depth is depleted due to injuries to Jeremy Lin, Isaiah Whitehead, Caris LeVert, and Greivis Vasquez, who was recently waived.
Foye will be counted on not only to play, but to lead. While Foye's career may not have had the trajectory with which he hoped, he is certainly respected in the NBA. He is a hard-working guard who can provide the Nets with a spark when needed.
Foye has endured multiple losses in his life, but he never gave up. He is a living embodiment of strength, perseverance and tenacity. And all of these qualities helped Foye get to where he is today.
This article originally appeared on