Brooklyn Nets Hold Off Minnesota Timberwolves in High-Scoring Game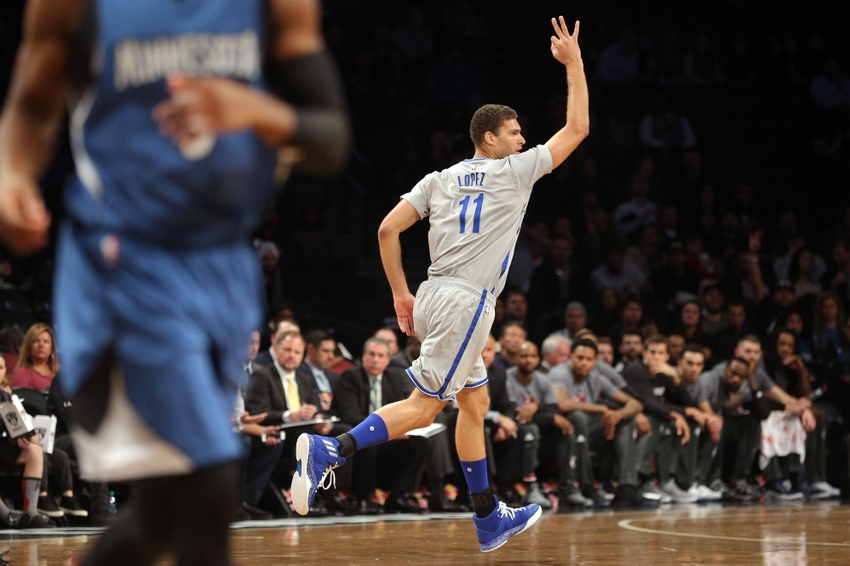 110

119
The Brooklyn Nets received their third home win and third win overall on the season as they defeated the Minnesota Timberwolves 119-110. Brooklyn is 3-4 and the Wolves are 1-5.
Talk about offense. The Brooklyn Nets scored over 100 points yet again tonight en route to their victory over Minnesota. The score was 66-65 at the half which tells you how high scoring this game actually was.
Want your voice heard? Join the Nothin' But Nets team!
The game's leading scorer was phenom Andrew Wiggins with 36 points on 13-of-29 shooting and 6/7 from three-point range. For Brooklyn, their leading scorer was their big man Brook Lopez. Lopez scored 26 points on 10-of-16 shooting and 3-of-7 from long range.
More from Nothin' But Nets
Brooklyn shot the ball extraordinarily well tonight with a 55.3 percent rate on the night. Unfortunately, Brooklyn shot over 30 three-point shots yet again, but they did make 12 of them for a percentage of 36.4.
The key to this game came down to points in the paint. Brooklyn surprisingly won this battle 54-42. Brook Lopez outplayed Karl-Anthony Towns, which was a key to this game going in. The only issue, still, with Lopez is his rebounding. Lopez only brought down three rebounds tonight which is really not good. On the up side, Lopez did swat three shots for blocks.
Brooklyn's bench played very well yet again led by their man Sean Kilpatrick. Kilpatrick had 14 points and fellow bench player, Joe Harris, scored 11. Brooklyn's bench is the reason they are competing night in and night out.
Getting a win in the absence of Jeremy Lin is huge for this team. After a close loss to the Hornets the other night, this was a nice change. If Brooklyn can acquire a couple more wins in his absence, they will be in solid shape going forward.
Brooklyn, sitting at 3-4, heads down the A train to Madison Square Garden for an inner city battle with the New York Knicks tomorrow night. Minnesota, meanwhile, are hopping on a plane to Orlando tonight for a bout with the Magic tomorrow night.
This article originally appeared on